Daily Comment (January 5, 2018)
by Bill O'Grady and Thomas Wash
[Posted: 9:30 AM EST] Happy employment day!  We show all the details below but the quick analysis is that the report was a bit soft; payrolls came in below forecast and wage growth remains tepid.  The report was dollar bearish, Treasury bullish and neutral for equities.  Here is what we are watching today:
Korean talks: North and South Korea appear headed for talks as Pyongyang is trying to drive a wedge between South Korea and the U.S.  The South Korean leadership likely welcomes the talks as they are fearful the U.S. will trigger a conflict in which they would suffer most of the damage,[1] but we doubt negotiations will go anywhere because South Korea can't deliver what North Korea wants.  In other words, North Korea wants sanctions lifted and the elimination of the threat of regime change.  Only the U.S. can give Pyongyang those outcomes.  And, the U.S. has no interest in giving North Korea those goals without the latter giving up its nuclear threat.  However, talks will give North Korea some space to further develop its nuclear weapons; after all, the U.S. and South Korea have delayed military exercises without Kim giving up anything.
The Wolff book: We are not going to go into any of the sensational revelations from the Wolff book but there are two takeaways that we see as important.  First, Steve Bannon is becoming increasingly isolated.  His funding source has abandoned him and the media firm he is associated with, Breitbart, may be forced to cut ties with him or cease to exist.  This is significant because Bannon was the real standard bearer of right-wing populism in the White House.  It's important to remember that Bannon's trial balloon for tax policy was a 44% marginal tax rate on incomes above $5.0 mm.[2]  His "defrocking" will increase the power of the right-wing establishment surrounding the president and steer that path of policy in a more traditional GOP direction.  Trade policy remains the item we are watching most closely and the president is inclined to put restrictions in place.  But, losing Bannon may hurt that effort.  Second, our primary concern is the impact on financial markets.  If the Wolff book causes tumult and undermines the presidency, the most likely negative impact will be on the dollar.  After all, the tax bill is now law and will continue to support equities.  Thus, concern about political stability will likely shift to the exchange rate market.
Energy recap: U.S. crude oil inventories fell 7.4 mb compared to market expectations of a 5.0 mb draw.

This chart shows current crude oil inventories, both over the long term and the last decade.  We have added the estimated level of lease stocks to maintain the consistency of the data.  As the chart shows, inventories remain historically high but stockpiles have declined significantly this year, by 114 mb.  This decline doesn't take into account the withdrawal from the SPR, which added an additional 31 mb to supply.  Taking the SPR into account, inventories fell a whopping 145 mb.
As the seasonal chart below shows, inventories fell this week.  We are now at the end of the late Q4 seasonal draw.  Next week, stockpiles will begin their largest seasonal build that lasts from January into early April.  This seasonal factor will become a major test for oil prices; if oil prices can hold their current levels as stockpiles rise it will be bullish for the commodity (assuming, of course, that they do rise because if they don't oil prices could rise significantly).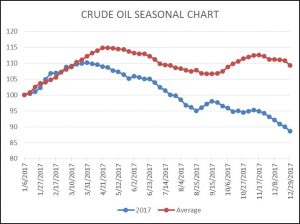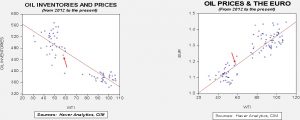 Based on inventories alone, oil prices are undervalued with the fair value price of $62.27.  Meanwhile, the EUR/WTI model generates a fair value of $64.46.  Together (which is a more sound methodology), fair value is $66.17, meaning that current prices, although elevated, are below fair value.  Overall, oil prices are within normal ranges of current fundamentals but we are generally bullish toward crude oil at this time.   
---
[1] https://www.theatlantic.com/international/archive/2017/08/lindsey-graham-north-korea/535578/
[2] http://fortune.com/2017/07/31/steve-bannon-tax-cuts-paul-ryan/