Daily Comment (January 5, 2017)
by Bill O'Grady, Kaisa Stucke, and Thomas Wash
[Posted: 9:30 AM EST] Initial comments from the Fed minutes yesterday suggested they were somewhat hawkish.  Market action this morning, especially the dollar's retreat, has led commentators to suggest that the minutes were, in fact, dovish.  We suspect they were neither.  The FOMC is in the same situation as all of us—there is a good bit of uncertainty surrounding future fiscal and regulatory policy and until legislation emerges, there is little point in doing too much.  We did note that Chair Yellen's recent trial balloon of allowing the economy to "run hot" by allowing the unemployment rate to fall below what is considered the "natural rate" was mostly downplayed.  Simply put, the FOMC won't let the unemployment rate approach 4% without considering rate hikes.  The minutes also suggested that the FOMC may raise rates at a quicker pace if fiscal stimulus does ramp up the economy.  It is worth remembering that Chair Yellen downplayed the need for fiscal stimulus in her last press conference, and so increased government spending will likely be taken as a call for tighter monetary policy.
The big news overnight came from China as the CNY staged a strong rally.  It has all the elements of a short squeeze as the PBOC and Chinese officials use various methods to cut off avenues of capital flight.  In addition, the Xi regime has been instructing companies to repatriate funds from overseas to slow the loss of foreign reserves.  These measures apparently caught traders short, leading to what appears to be an aggressive short covering rally.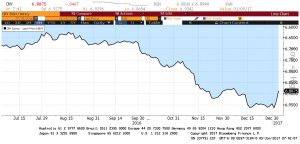 This chart shows the CNY/USD rate on an inverted scale.  Note the strong recovery.
In fact, the recovery has outpaced the offshore yuan.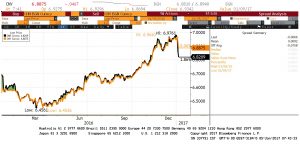 The offshore rate is shown in yellow and is usually considered the market rate for the currency.  The fact that the official rate is strengthening faster than the offshore rate hints at official intervention.
What is China trying to do here?  We view this as a successful official intervention.  The government wants to undermine the notion that the CNY is a one-way bet and is using means to punish speculators.  However, this action does carry a cost in that the PBOC has been forced to steadily raise interest rates.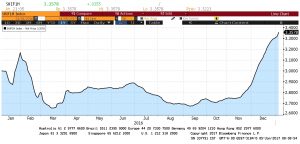 This chart shows the one-month Chinese LIBOR rate. Since mid-November (about the time of the Trump victory), the PBOC has been guiding rates higher, most likely in a bid to make shorting the CNY more expensive.  We doubt China will want to take rates much higher and so we view the strength in the CNY as temporary; we view dollar weakness today in the same light.
Finally, as a side note, bitcoin is down almost 17% today, reflecting the rally in the CNY.