Daily Comment (January 4, 2018)
by Bill O'Grady and Thomas Wash
[Posted: 9:30 AM EST] It's a rather quiet morning.  Here is what we are following:
Economic momentum is rising: The ISM manufacturing index continued to hold near the 60 mark, which is an unusually high level.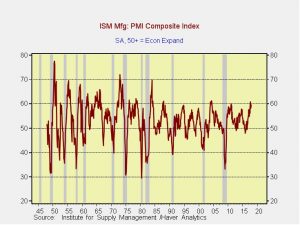 The ISM manufacturing index exceeds 59.0 only 17% of the time.  Equally impressive is the new orders index.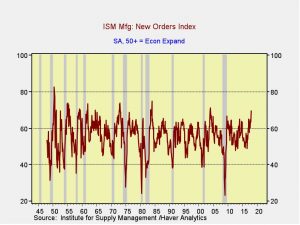 The current reading of 63.5 is the highest since 2004 and only happens about 16% of the time.  The ISM indices are sentiment indicators; purchasing managers indicate if conditions are "better, the same, or worse" for various subsectors, such as orders, supplier performance, etc.  In general, there is a positive relationship between the ISM manufacturing index and equity performance.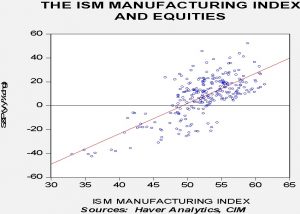 This chart shows a scatterplot of the ISM manufacturing index and the yearly change in the S&P 500.  The regression line shows that readings of 60 for the ISM index are consistent with yearly growth of 20% for the S&P 500.  Thus, the strength we are seeing in equities is consistent with economic activity.
Iran: Although protests continue in Iran, the intensity appears to be waning, as we expected.  Poor citizens don't have the financial resources for weeks of protests.  We will be watching to see how the government responds to the recent unrest.  This issue is the topic of next week's Weekly Geopolitical Report.
Winter storm: The Northeast is getting slammed by a winter storm that will reduce travel and boost energy demand in the short run.  So far, natural gas prices have not jumped significantly because supply capacity remains high.  There have been local price spikes but this is mostly due to the lack of pipeline capacity; adding pipeline capacity is usually unpopular but this is the cost of not overcoming NIMBY complaints.  We may see some impact on market liquidity but it will probably be much less of a factor than in the past due to continued trading automation.