Daily Comment (January 19, 2021)
by Bill O'Grady, Thomas Wash, and Patrick Fearon-Hernandez, CFA
[Posted: 9:30 AM EST] | PDF
Our Comment today opens with the latest news on President-Elect Biden's incoming administration, followed by a discussion of China's success in growing its economy in 2020.  We also touch on other key foreign news before turning to the latest developments related to the coronavirus pandemic.
U.S. Politics:  Reports indicate that Biden's inauguration speech tomorrow will emphasize themes of national unity and recovery from the pandemic.  After that, Biden's team has indicated he will embark on a ten-day policy sprint to push forward executive orders and legislation aimed at the pandemic, the economy, the environment, and racial issues.  The package will reportedly include a proposal for an eight-year path to citizenship for 11 million people living in the U.S. without legal status.
China:  Official data yesterday showed the Chinese economy managed to grow in 2020 by an inflation-adjusted 2.3%, slightly beating expectations and making it the only major economy to post an annual expansion during the "Year of COVID-19."  Looking at the fourth quarter alone, Chinese gross domestic product (GDP) was 6.5% larger than in the same period one year earlier, which means the economy has already returned to its pre-coronavirus trend.  China's ability to get back to a normal economy so quickly would seem to bode well for Chinese equities.  However, it is important to remember that economic and financial risks abound because of the rising bipartisan pushback in the U.S. against China's geopolitical, economic, and domestic aggressions.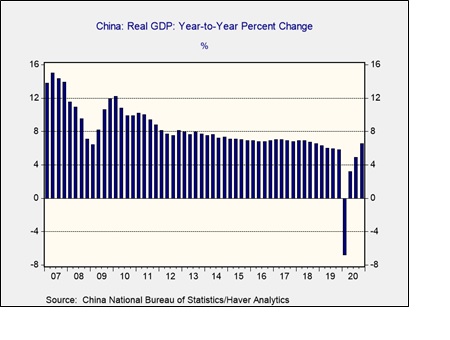 Russia:  Opposition activist Alexei Navalny, who was recovering in Germany from a poisoning last summer, returned to Russia on Sunday and was immediately arrested on what appear to be trumped-up charges aimed at silencing him.  Illustrating how badly the government wanted to keep his arrest under wraps, it diverted Navalny's flight at the last moment away from a Moscow airport where his supporters were waiting to welcome him.  Despite his detention, Navalny immediately punched back against the Putin government by calling for massive street protests.  Navalny's arrest has already drawn condemnation from a range of European leaders and President-Elect Biden's nominee for National Security Advisor.  If the Kremlin cracks down on Navalny too strongly, we would expect further sanctions against Russia and new headwinds for the Russian economy.
Italy:  Prime Minister Conte today faces a crunch vote of confidence in the country's Senate after Matteo Renzi, the former prime minister, removed his small party's backing for the government last week.  Conte won a confidence vote in Italy's lower chamber yesterday, but the vote in the Senate today is expected to be much tougher.  If Conte is unable to win in the upper house, he will be forced to hand in his resignation to President Mattarella, who will then ask parliamentarians to attempt to form a new coalition.
Tunisia:  As the 10th anniversary of the Arab Spring approaches, nightly riots by Tunisian youths this week have underscored the depth of the economic crisis in the Arab world's only democracy as it grapples with rising poverty and widespread unemployment.  We have also noted that when global grain prices are rising rapidly, as they were in the Arab Spring and as they are right now, they often spark domestic instability in developing countries like Tunisia.
COVID-19:  Official data show confirmed cases have risen to 95,668,817 worldwide, with 2,043,713 deaths.  In the United States, confirmed cases rose to 24,079,744, with 399,008 deaths.  Vaccine doses distributed in the U.S. now total 31,161,075, while the number of people who have received at least their first shot totals 10,595,866.  Finally, here is the interactive chart from the Financial Times that allows you to compare cases and deaths among countries, scaled by population.
Virology
 Economic and Political Impacts
 U.S. Policy Response