Daily Comment (January 14, 2019)
by Bill O'Grady and Thomas Wash
[Posted: 9:30 AM EDT] It's risk-off this morning.  Global equities are lower on fears of a Chinese economic slowdown and on the U.S. government shutdown.  Here is what we are watching this morning:
China: December exports fell 4.4%,[1] well more than forecast, but imports fell even more, slumping 7.6%.  The decline in export growth was exacerbated by a 3.8% decline in sales to the U.S.  The export decline was the largest in two years.[2]  Although tariffs played a role, the size of the decline points to weaker global demand.  Meanwhile, the drop in Chinese imports indicates a rapidly softening Chinese economy.  The combination of imports falling faster than exports led to a widening of the trade surplus.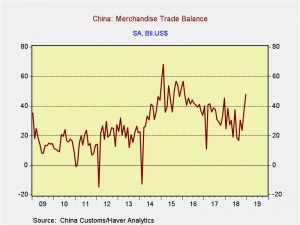 This chart shows China's monthly trade balance; note the sharp rise in December.
Adding to evidence of a Chinese slowdown are reports that car sales fell 13% in December compared to last year, the sixth straight month of declines.[3]  Although there are reports that Chinese officials are planning policy stimulus, we are not seeing signs that Beijing is doing anything significant.  If China fails to move aggressively, it will mean slower global growth.[4]
We have been reporting that there appears to be some progress on trade talks with China.  However, the reality may be less than meets the eye.  Much like what we saw with Japan in the 1980s, China has mastered the art of non-tariff trade barriers, using regulation and approval delays to protect critical industries.  Today we learn that U.S. credit card companies are the latest firms to have received official approval for entry into China, only to find they are facing other impediments.[5]  This is exactly the behavior that the U.S. and others complain about with China.
Brexit: PM May delivered a letter today in which she suggested that if her proposal loses the most likely outcome will be no Brexit at all.[6]  Her argument is that the majority of MPs don't want to leave and support for a hard Brexit is nil, so if her plan is rejected it is unlikely the majority will vote for a hard Brexit.[7]  She may be right on this point.  Although support for her exit plan is very weak and it will almost certainly lose in tomorrow's vote, there is no consensus on what should occur.  There is increasing talk that the government should suspend the Article 50 declaration until the U.K. can figure out what it really wants.[8]  Assuming May's plan falls to a stinging defeat, Labour Leader Corbyn is promising to hold a vote of no-confidence designed to bring down the government and trigger new elections.  For the Tories, suspending Article 50 and delaying Brexit is a better outcome than a Labour government.
We have seen the GBP rise steadily on the prospects of a delay in Brexit.[9]  If the whole plan fails to occur, we could see a strong rally in the currency.  However, the prospects of a populist Labour government facing a permanently divided opposition due to the Brexit failure would tend to temper any rallies.  We are expecting a rather tumultuous week for the U.K.
Shutdown issues: Up to this point, financial markets have mostly ignored the government shutdown.  After all, markets have seen this sort of thing before and, until now, none have had lasting effects.  However, in a world where uncertainty surrounding the strength of the economy is increasing, one of the fallouts of the shutdown is that economic data will likely start to be delayed.  For example, we probably won't see this week's retail sales and housing data for December.[10]  Both numbers come from the Commerce Department, which lacks funding.  Financial market confidence is still rather shaky; uncertainty about the path of the economy won't help matters.  In related news, we are hearing increasing reports of airport delays caused by falling numbers of TSA workers who have been working without pay.[11]  We are not sure how this plays out but we would not be shocked to see some airports attempt to hire private security to man the lines (we are not sure if this is legal, by the way).  When air travel starts to become affected, pressure to resolve this matter will increase.
The bill comes due: Last year, when the tax bill passed, the administration moved to recalculate the withholding tables to increase after-tax pay.  Now, that action will likely have an impact.  Many households use the tax refund as a sort of self-funded bonus; although it is rather obvious that a tax refund is simply an interest-free loan to the government, some people who lack the discipline to save use it as a tool to receive an annual lump sum of money.  The changes to withholding mean that refunds will likely be smaller this year, which may affect the sales of consumer durables, such as autos[12] or appliances.
Turkey threatened: Although there is still confusion on the timetable of the U.S. troop withdrawal from Syria, worries that the withdrawal will spell doom for the Kurds were countered over the weekend by a threat from President Trump.  The president indicated that Turkey would face "economic devastation" if it attacks Kurdish forces in Syria.[13]  Turkey argued that it isn't against all Kurds, just terrorists.  However, the Erdogan government has characterized the groups the U.S. is allied with in Syria as terrorists.  We will be watching to see if the White House follows through on the threats or if Turkey avoids confronting the Kurds due to Trump's comments.
Iran war?  According to reports, National Security Director Bolton asked the Pentagon for military options to attack Iran.[14]  Bolton has a long history of supporting attacks on Iran[15] and opposed President Trump's plans to withdraw U.S. troops from Syria.  Although it would seem that such aggression won't be supported by the president, who seems to want to leave the Middle East, we caution that Trump leans Jacksonian and this foreign policy archetype[16] is sensitive to honor.  Thus, Trump may be swayed to act militarily if Iran does something that he perceives as besmirching the U.S.  We note the president wanted to attack Iran's "fast boats," which are small vessels that often harass U.S. Naval ships in the Persian Gulf.[17]  The important characteristic about Jacksonians and war is that they prefer conflicts with clear objectives and quick outcomes.  Although they will fight long wars, they want unconditional surrenders and ticker tape parades when they are over.  War with Iran would probably not have such outcomes.  Iran's terrain consists of mountains, deserts and salt flats; imagine invading Utah.  While the U.S. would certainly prevail, it would not be a short war and it isn't clear what the ending would look like.  Defeating Tehran is one thing, but controlling it post-conflict would be a whole other matter.  Nevertheless, the U.S. could stumble into a conflict with Iran if the Iranians did something provocative.  Our belief is that Iran understands this and will likely avoid doing anything rash.  On the other hand, it's hard to control all your proxies.
Greek trouble: The naming issue with the former Republic of Macedonia has been a sore spot with Greece for years.  The Greeks object to the term "Macedonia" as this refers to a region that was part of ancient Greece.  However, as long as the Republic of Macedonia remained outside the EU, the tensions were mostly an issue for Greece only.  However, the Republic of Macedonia wants to join the EU and NATO and Greece can veto that goal.  So, there was an official name change over the weekend; we now have the Republic of North Macedonia.  Unfortunately for the current Greek government, accepting that outcome has weakened the ruling coalition as the right-wing Independent Greeks Party has withdrawn from the government.  The move triggered PM Tsipras to call for a confidence vote in his government.[18]  This outcome is problematic; if Tsipras wins, he will be ruling a minority government and we doubt this arrangement will endure.  New elections are more likely.  Austerity has wrecked the Greek economy and new elections might bring a radical government to power.  With tensions already simmering between Italy and the EU, new issues with Greece would not be helpful.
Political violence: The mayor of Gdansk was stabbed while on stage at a political rally over the weekend.[19]  Unfortunately, according to recent reports this morning, Pawel Adamowicz did not survive the attack.  The incident raises concerns about political stability in Poland.[20]
U.S. sanctions on Germany: The U.S. is warning German companies that their involvement in the Nord Stream 2 natural gas pipeline could trigger financial sanctions.[21]  The U.S. has been concerned that German dependence on Russian natural gas could compromise its relations with Europe and the U.S.  In addition, America would prefer that Germany buy U.S. LNG.
---
[1] https://www.reuters.com/article/us-china-economy-trade/china-posts-strongest-export-growth-in-seven-years-in-2018-despite-trade-war-idUSKCN1P8047
[2] https://www.ft.com/content/713ee398-179a-11e9-9e64-d150b3105d21
[3] Op. cit., Reuters.
[4] https://www.ft.com/content/32576258-1651-11e9-9e64-d150b3105d21
[5] https://www.ft.com/content/8dee4b22-13ef-11e9-a581-4ff78404524e?emailId=5c3c19af40142700048786e9&segmentId=22011ee7-896a-8c4c-22a0-7603348b7f22
[6] https://www.politico.eu/article/theresa-may-brexit-deal-rejection-risks-democratic-catastrophe/ and https://www.ft.com/content/99879042-1714-11e9-9e64-d150b3105d21
[7] https://www.ft.com/content/99879042-1714-11e9-9e64-d150b3105d21?emailId=5c3c19af40142700048786e9&segmentId=22011ee7-896a-8c4c-22a0-7603348b7f22
[8] https://www.theguardian.com/politics/2019/jan/13/eu-preparing-to-delay-brexit-until-at-least-july
[9] https://www.reuters.com/article/uk-britain-eu-donors-exclusive/exclusive-leading-brexit-donors-say-britain-will-reverse-decision-to-leave-eu-idUSKCN1P50UU?utm_source=newsletter&utm_medium=email&utm_campaign=newsletter_axiosmarkets&stream=business
[10] https://www.apnews.com/2eac470724434029b728f54abe364557
[11] https://www.chron.com/business/bizfeed/article/TSA-closes-security-checkpoint-at-IAH-Terminal-B-13530619.php
[12] https://www.axios.com/automobile-sales-trump-tax-plan-smaller-refunds-13c98a56-a442-4be0-98ee-9e15e3e7eea3.html
[13] https://www.ft.com/content/9967e02a-1797-11e9-9e64-d150b3105d21?emailId=5c3c19af40142700048786e9&segmentId=22011ee7-896a-8c4c-22a0-7603348b7f22
[14] https://www.wsj.com/articles/white-house-sought-options-to-strike-iran-11547375404
[15] https://www.nytimes.com/2015/03/26/opinion/to-stop-irans-bomb-bomb-iran.html?mod=article_inline
[16] See WGR, The Archetypes of American Foreign Policy: A Reprise (4/4/2016).
[17] https://www.countable.us/articles/19241-don-t-sink-trump-s-obsession-iranian-boats-tormented-mattis
[18] https://www.nytimes.com/2019/01/13/world/europe/greece-tsipras-confidence-vote-kammenos.html
[19] https://www.reuters.com/article/us-poland-stabbing/mayor-of-gdansk-stabbed-onstage-at-polish-charity-event-idUSKCN1P70T8?wpisrc=nl_todayworld&wpmm=1
[20] https://www.theguardian.com/world/2019/jan/13/gdansk-mayor-stabbed-on-stage-during-charity-event-in-poland?wpisrc=nl_todayworld&wpmm=1
[21] https://www.reuters.com/article/us-germany-usa-russia-pipeline/u-s-warns-german-firms-of-possible-sanctions-over-russia-pipeline-idUSKCN1P70FR