Daily Comment (January 24, 2022)
by Patrick Fearon-Hernandez, CFA, and Thomas Wash
[Posted: 9:30 AM EST] | PDF
In today's Comment, we open with the building of geopolitical tensions along the Russia-Ukraine border and in the waters off the coast of China.  We next review various political and economic developments around the world, including a brief comment regarding this week's Federal Reserve meeting on U.S. monetary policy.  We wrap up with the latest news on the coronavirus pandemic.
Russia-Ukraine:  As Russia continues its menacing military buildup along the northern, eastern, and southern borders of Ukraine, the State Department instructed the families of U.S. diplomats in Ukraine to leave the country and authorized some embassy staff members to leave as well.  The department also recommended that all U.S. citizens in Ukraine consider leaving now on the grounds that the U.S. Embassy won't be in a position to help Americans depart if a Russian attack is underway.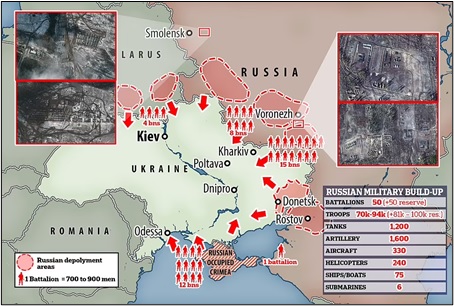 Source:  The Daily Mail
 China-Taiwan-Japan:  Although the Russia-Ukraine crisis has garnered the most attention recently, it's important to remember that military tensions also continue to rise in the waters between China, Taiwan, and Japan.  For at least the last six months, the Chinese navy has maintained the continual presence of at least one warship in the waters south and east of the southernmost Japanese islands.  That marks China's first consistent deployment of naval forces beyond the "first island chain" and demonstrates the military and economic threat it poses to Japan, especially if it were ever able to control Taiwan.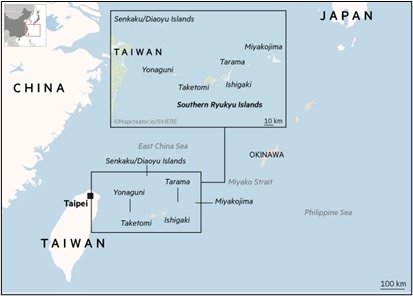 Source:  Financial Times
 China:  In a sign that President Xi continues to clamp down on powerful private businesses and what he sees as threats to China's moral fabric, the government has launched an investigation into "disciplinary violations" by vaping tycoon Chu Lam You.  In Hong Kong, news of the investigation sent her company, Huabao International Holdings (336 HK, HKD, 4.86), tumbling by over 65%.
 Italy:  Parliament members and other senior politicians today begin the process of voting for the country's new president, with all eyes on whether they will keep Italy's most celebrated technocrat, former ECB chief Mario Draghi, as prime minister, allowing him to forge ahead with an ambitious EU-funded reform program, or elevate him to head of state, potentially triggering a paralyzing crisis over a successor to head the government.
Yemen-United Arab Emirates:  The UAE intercepted two missiles launched by the Iran-allied Houthi rebels in Yemen, one week after a strike by the group killed three people in Abu Dhabi.  The attack highlighted the growing threat from the Houthis, who have targeted neighboring Saudi Arabia with missile and drone strikes for years.
U.S. Monetary Policy:  Fed officials begin their next two-day policy meeting tomorrow, after which Chair Powell is expected to confirm that the central bank's asset purchase program will end by March and set the stage for a new round of interest-rate hikes.  As if that isn't unsettling enough for the financial markets, some policymakers' statements have recently sounded almost panicky about inflation, creating uncertainty about how fast or how far they will hike rates.
COVID-19:  Official data show confirmed cases have risen to 351,903,261 worldwide, with 5,598,042 deaths.  In the U.S., confirmed cases rose to 70,700,678, with 866,540 deaths.  (For an interactive chart that allows you to compare cases and deaths among countries, scaled by population, click here.)  Meanwhile, in data on the U.S. vaccination program, the number of people who have received at least their first shot totals 250,763,600.  The data show that 75.5% of the U.S. population has now received at least one dose of a vaccine, and 63.4% of the population is fully vaccinated.
Virology
The seven-day average of people in U.S. hospitals with confirmed or suspected cases of COVID-19 declined for the third consecutive day, reaching 157,425 on Sunday. The number of new COVID-19 admissions to hospitals across the U.S. was also down.
Even though the highly transmissible Omicron mutation is quickly subsiding in much of the country, a monthly poll by the U.S. Census Bureau indicated almost 8.8 million people were out of work in January because they were sick or caring for someone with COVID-19. That's by far the highest such figure since the survey began in mid-2020, exceeding the 6.6 million recorded in January 2021 and three million from December's survey.

In addition, the number of people reporting they weren't working due to concern about getting or spreading the disease rose to 3.2 million in the January survey from 2.6 million in December.
Other recent studies suggest concern about COVID-19 is continuing to push people into retirement.
The resulting business disruptions could be a key reason for the jump in initial jobless claims reported last week.  Some economists fear "peak Omicron" could even lead to a decline in January nonfarm payrolls, although the momentum in the economy would probably quickly reverse any payroll decline.
 Economic and Financial Market Impacts
In the U.K., airlines still battling to get ridership up to pre-pandemic levels, have warned they will be forced to run half-empty and highly polluting "ghost flights." New government rules compel carriers to fly more regularly to retain their lucrative take-off and landing slots at busy airports.  The Department for Transport today said airlines would have to hand back airport slots if they were not used 70% of the time from March 27, up from the current threshold of 50%.