Daily Comment (January 21, 2022)
by Patrick Fearon-Hernandez, CFA, and Thomas Wash
[Posted: 9:30 AM EST] | PDF
Good morning! Today's report begins with Treasury Secretary Yellen's outlook on inflation. We then turn to a report from the Federal Reserve regarding digital currencies and comment on a few other U.S. economic and policy news items. Next, we discuss details about China's investigation into the Ant Group. International news follows, and we wrap up with our pandemic coverage.
In an interview with CNBC, Treasury Secretary Janet Yellen stated she expects inflation to slow down close to 2% by the end of the year. Her forecast assumes the pandemic is somewhat controlled by that time. Although we are more sanguine about inflation relative to our peers, we must admit that a prediction of 2% is a bit overly optimistic. In explaining her prediction, she mentioned that a key to lowering inflation would be to resolve the supply chain issues. Even though we agree that improving supply chains will help, our research suggests energy prices also must be addressed if the administration wants to successfully lower inflation.
In 2021, the average price of Brent Crude Oil rose nearly 60%, its sharpest rise in over 30 years. The strong rally in oil prices was driven by a surge in demand due to the reopening of the global economy, falling inventories, and shrinking capacity. We do not expect oil prices to have a similar rise in 2022, but a significant increase in oil prices will likely prevent inflation from reverting to 2% by year-end.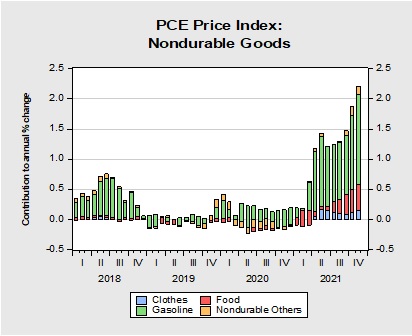 The chart above shows the primary driver in nondurable goods (which also includes food and apparel) inflation in 2021 was gasoline prices, a by-product of oil. With more analysts, including our firm, predicting the price of Brent Crude will reach $100 a barrel this year, we think it will be very difficult for inflation to fall to 2% in 2022. However, we still believe inflation will ease throughout the year to around 4.0-3.5%.
Economics and policy: 
China:
The Ant Group, an affiliate company of Alibaba (BABA, $131.03), has been implicated in a corruption scandal. A documentary alleged private companies made "unreasonably high payments" for private land to a brother of a Chinese Communist Party member in exchange for government favors. Although the Ant Group was not named directly in the documentary, public records seemed to link the group with the transaction. The crackdown on Alibaba shows Chinese regulators are still trying to rein in big tech companies.
International news:  
COVID-19:  The number of reported cases is 342,928,762, with 5,576,274 fatalities.  In the U.S., there are 69,309,309 confirmed cases with 860,248 deaths.  For illustration purposes, the FT has created an interactive chart that allows one to compare cases across nations using similar scaling metrics.  The CDC reports that 655,282,365 doses of the vaccine have been distributed, with 531,864,871 doses injected.  The number receiving at least one dose is 250,028,635, the number of second doses is 209,842,610, and the number of the third dose, the highest level of immunity, is 82,450,772. The FT has a page on global vaccine distribution.
EU countries are set to update their rules on traveling. The new rules will allow travelers with a COVID-19 certificate to avoid additional testing or quarantine if they are not coming from a high-risk area. The European Center for Disease Prevention and Control coronavirus map, which tracks the rise in cases for most of Europe, will be used to determine whether travelers will be required to undergo additional screening.
There is growing concern that China will not be able to maintain its no-tolerance COVID-19 policy. The city has struggled to contain the virus despite extreme measures such as mass testing, stringent border controls, extensive contact tracing, and snap lockdowns. If COVID-19 cases continue to spread in China, it could lead to worsening supply chain problems.
Germany expects to see as many as 400,000 COVID-19 cases per day by mid-February.