Daily Comment (January 10, 2022)
by Patrick Fearon-Hernandez, CFA, and Thomas Wash
[Posted: 9:30 AM EST] | PDF
In today's Comment, we open with geopolitical news and a focus on Russia's aggressive stance toward the countries surrounding it.  Notably, we discuss today's U.S.-Russian security talks seeking to de-escalate the situation in Ukraine.  We next turn to other international news and a couple of notes related to U.S. monetary and regulatory policy.  We close with the latest developments related to the coronavirus pandemic.
United States-Russia:  U.S. and Russian officials today formally begin a round of high-level talks designed to de-escalate the situation on the Russia-Ukraine border, where President Putin has positioned over 100,000 troops as a way to pressure the U.S. and its allies into providing security guarantees for Russia.  On Wednesday, Russian officials will sit down in Brussels to meet with officials from NATO. The following day, officials from the Organization for Security and Cooperation in Europe, which includes Russia and a host of regional countries, will gather in Vienna to begin a broad conversation on European security.
Putin's key demands include a commitment from NATO that it will not admit Ukraine or other new Eastern European members into the defense alliance, and it rolls back its military infrastructure and deployments in the former Soviet states. Ahead of today's meeting with U.S officials, Russia's Deputy Foreign Minister Sergei Ryabkov took an uncompromising stance on the Russian demands and expressed pessimism about striking an agreement.
While the U.S. and its European allies have rejected Putin's demands out of hand, reporting over the weekend said the Biden administration is prepared to discuss reciprocal limits on intermediate-range missiles in Europe as well as reciprocal restrictions on the scope of military exercises on the continent.
If no agreement is reached and Russia invades Ukraine, the U.S. has threatened massive economic sanctions, including possibly cutting Russia off from the SWIFT system of international dollar payments. U.S. officials have also discussed more targeted measures, including erecting export barriers to block international sales to Russia of products with a certain percentage of American content, as well as preventing Moscow from getting access to cutting-edge microchips used in everything from aircraft to consumer electronics.  Those options would likely impose steep costs on the Russian economy and financial assets.
Russia-Kazakhstan:  Not only is Putin trying to make Russia safe for authoritarianism, but he is also doing the same for the other authoritarians ruling former Soviet states in the region.  In a statement today on Russia's deployment of troops to Kazakhstan to help put down popular protests there, he vowed Russia will protect its allies from "color revolutions" sparked by unnamed outside actors.  Putin's commitment will help solidify Russia's influence over the many post-Soviet states led by authoritarians, such as Belarus and Kazakhstan.
Press reports indicate at least 164 people have been killed in the Kazakh protests so far, including three children.
Kazakh authorities say they have arrested almost 8,000 of the 20,000 "terrorists" they claim are behind the protests.
China:  Illustrating the economic impact of China's recent crackdown on high-flying technology companies, the chief executive of New Oriental Education & Technology Group (EDU, $1.86), one of the country's top online tutoring firms, said the crackdown cost his firm $3.1 billion and forced it to lay off 60,000—more than half its workforce.  He also said the new regulations cut his firm's operating income by 80%.
U.S. Monetary Policy:  Richmond FRB President Barkin said he supports the central bank's hawkish outlook for monetary policy and is open to raising interest rates when its bond-buying stimulus effort winds down in March.  Barkin isn't a voting member of the policy committee this year, but his views likely reflect the body's growing impatience to address inflation by tightening policy.
U.S. Financial Regulation:  Concerned about the influence and risks arising from "unicorns" and other fast-growing private companies, the SEC has begun work on a plan to require more private firms to routinely disclose information about their finances and operations. It is also considering tightening the qualifications that investors must meet to access private markets and increasing the amount of information that some nonpublic companies must file with the agency.
Climate Change:  New data from Copernicus, the European Earth monitoring program, showed that global average temperatures in 2021 were 1.1-1.2 degrees Celsius above the pre-industrial average (1850-1900), making it slightly cooler than 2019 and 2020 but still much warmer than preceding decades.  According to the data, the last seven years have been the hottest on record, with 2021 being the fifth warmest.
Even though climate issues have become hopelessly politicized, it's important to keep track of the data because the temperature figures will probably drive efforts to develop and implement climate stabilization policies.
Climate fluctuations and policies to moderate them will likely result in substantial economic and financial opportunities as well as risks. For example, last summer's disastrous floods in Europe are expected to boost sales of property catastrophe insurance on the continent.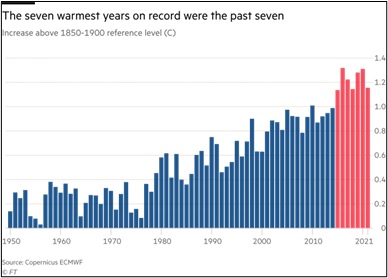 COVID-19:  Official data show confirmed cases have risen to 307,422,417 worldwide, with 5,490,247 deaths.  In the U.S., confirmed cases rose to 60,090,637, with 837,664 deaths.  (For an interactive chart that allows you to compare cases and deaths among countries, scaled by population, click here.)  Meanwhile, in data on the U.S. vaccination program, the number of people who have received at least their first shot totals 246,812,939.  The data show that 74.3% of the U.S. population has now received at least one dose of a vaccine, and 62.5% of the population is fully vaccinated.