Daily Comment (January 3, 2022)
by Bill O'Grady, Thomas Wash, and Patrick Fearon-Hernandez, CFA
[Posted: 9:30 AM EST] | PDF
In today's Comment, we open with a major new U.S. regulatory initiative and further indications the U.S. and its NATO allies are trying to scare off Russia from any invasion of Ukraine.  We next turn to a range of other international developments that have the potential to affect the financial markets today.  We wrap up with the latest news on the coronavirus pandemic.
U.S. Regulatory Policy:  President Biden today is launching a crackdown on the country's largest meat producers, including a push for tighter "Made in America" labeling rules that could fuel tensions with U.S. trading partners.
The Biden administration has singled out excessive market concentration in the meat industry as a key source of vulnerability in the country's food supply chain and as one cause of high inflation.
The White House says just four companies controlled 85% of the beef market, 70% of the pork market, and 54% of the poultry market.
United States-Russia-Ukraine:  In a phone call yesterday, President Biden assured Ukrainian President Zelensky that the U.S. and NATO would "respond decisively" if Russia invades Ukraine as feared.  Tensions over the possible invasion remain high, despite a pre-Christmas agreement for a series of de-escalation talks beginning January 10 between Russia and the U.S., NATO, and the Organization for Security and Cooperation in Europe.  Separately, in a year-end address, Zelensky struck a defiant tone toward Moscow, saying, "No army on the other side of the border frightens us . . . because a great army on our side of the border protects us."
In a sign of how Russia's threatening stance on Ukraine affects politics in Europe, Finland's president, Sauli Niinistö, and prime minister, Sanna Marin, used New Year addresses to underscore that the country reserved the option of seeking NATO membership at any time.
Russia's foreign ministry said last week that Finland and Sweden joining NATO "would have serious military and political consequences that would require an adequate response from the Russian side."
European Green Policies:  The European Commission has recommended that nuclear energy and natural gas be considered "green" for investment purposes.  The controversial Commission push is part of the so-called "taxonomy" list, which will be crucial to channeling billions of euros in investments toward technologies needed to build clean power plants and decarbonize the bloc's economy.  Some EU governments, including Germany's, have already criticized the move, but reports indicate they will not be able to block it.  The move should therefore be positive for nuclear and gas producers in the EU.
China:  The Hong Kong stock exchange today suspended trading in defaulted real estate developer Evergrande (3333 HK, HKD, 1.59) following reports that the government instructed the firm to demolish 39 buildings in the southern province of Hainan because its planning permit was obtained illegally and had been revoked.
Such legal problems would add to the company's inability to borrow following the government's crackdown on real estate debt.  These legal problems might also signal the crackdown on the real estate sector may go beyond just debt issues.
In any case, the news raises further questions about investing in Chinese assets amid President Xi's regulatory drive, although it's important to remember that the regulatory issues have had much less impact on domestically-traded shares than on shares traded outside of China.
Turkey:  As President Erdogan continues pressuring the central bank to cut interest rates and the currency plunges, the country's December consumer price index was up a whopping 36.1% from the same month one year earlier.  That marks Turkey's highest inflation rate since Erdogan came to power almost two decades ago.  Nevertheless, Erdogan shows no sign of any major reversal of his low-interest-rate policy.  The lira looks set to remain weak, and economic instability remains a serious risk in Turkey.  The chart below shows how Turkey's annual inflation rate has fluctuated since 2000.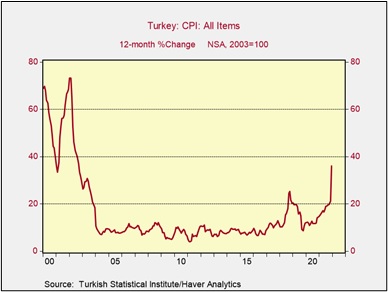 International Trade:  On Saturday, the Asia-Pacific region's new free-trade grouping, known as the Regional Comprehensive Economic Partnership (RCEP), officially began operating.  The RECP will eventually eliminate more than 90% of tariffs on commerce among its 15 member countries in what economists say will be a boon to trade in the region.  It could also give China a more prominent role in setting trade rules in the region at the expense of the U.S., which has declined to join.
COVID-19:  Official data show confirmed cases have risen to 290,319,169 worldwide, with 5,445,346 deaths.  In the U.S., confirmed cases increased to 55,114,128, with 826,065 deaths.  (For an interactive chart that allows you to compare cases and deaths among countries, scaled by population, click here.)  Meanwhile, in data on the U.S. vaccination program, the number of people who have received at least their first shot totals 243,527,564.  The data show that 73.3% of the U.S. population has now received at least one dose of a vaccine, and 62.0% of the population is fully vaccinated.
Virology
Reflecting the high transmissibility of the newly dominant Omicron mutation, as well as seasonal factors, new U.S. infections continue to soar and set new daily records.  The seven-day rolling average of new cases neared 400,000 on Saturday, its highest daily tally since the start of the pandemic and more than double the average registered on Christmas Day.  According to the Pentagon, the recent new cases include Defense Secretary Austin, although he reportedly only has mild symptoms.

Compared with earlier variations of the coronavirus, a smaller percentage of Omicron patients get seriously sick and need hospitalization.  However, if total cases expand enough, even that smaller share of hospitalizations would put added stress on the healthcare system.
In addition, even less serious cases can keep people out of work and contribute to staffing disruptions, as discussed below.

Only a week after the CDC sparked controversy by saying that people who are infected but asymptomatic may leave isolation after five days, provided they wear masks around others for five more days, chief administration pandemic officer Dr. Anthony Fauci yesterday said that could change this week to require a negative test after five days of isolation.  Several countries facing unprecedented levels of new infections due to the Omicron mutation are also cutting back on isolation requirements in order to limit mass staffing shortages.
In Britain, a senior government official said recent data suggests the country's latest wave of infections, driven by Omicron, is starting to plateau.  If so, the official said, the government may be able to avoid imposing further social distancing measures.
 Economic and Financial Market Impacts