Daily Comment (February 7, 2020)
by Bill O'Grady, Thomas Wash, and Patrick Fearon-Hernandez, CFA
[Posted: 9:30 AM EST]
It's employment Friday!  We cover the data in detail below, but the quick take is that the data did come in a bit better than forecast.  However, the Bureau of Labor Statistics has conducted benchmark revisions and the changes suggest the labor market was much less robust than the initial data indicated.  Thus, a read on the report is difficult.  We have an update on the Wuhan virus.  There is German political turmoil in the midst of a renewed economic slump.  Irish elections are tomorrow.  Here are the details:
Wuhan virus: The number of confirmed cases is now 31,532 with 638 fatalities.  Although equity markets have risen despite this event, we are seeing a modest pullback this morning.  President Trump and General Secretary Xi had a phone call this week.  It doesn't appear anything of substance was revealed; we are watching to see if China asks the U.S for additional time to meet its import promises as part of Phase One.  We expect China to ask, and it will be interesting if the USTR recommends giving Beijing time.  Chairman Xi is facing a potential political threat—a doctor who was arrested for trying to warn about the Wuhan virus has died from the illness.  We expect the propaganda machine in China to prevent his death from harming Xi, but it will take some manipulating.  Sometimes, a human story becomes hard to contain and the CPC looks bad with this one.  If the doctor's warning had been heeded, containing the Wuhan virus would have been much easier.  In other virus news, China is testing an anti-viral that has shown some promise in combating the disease.  There is growing concern that the Chinese property market could be especially hard hit from this crisis and may reduce GDP by 2%.  The PBOC is promising to support the economy.
Germany: Yesterday, we reported that the AfD acted as "kingmaker" for the German state of Thuringia.  Chancellor Merkel has decided this outcome is intolerable and is calling for a different outcome.  The governor, Thomas Kemmerich of the Free Democrats, has offered to step down.  For the CDU, teaming up with the AfD has overtones of the center-right parties that tried to co-opt the Nazis in the early 1930s.  It is no surprise that Merkel has reacted so strongly; it is a mystery why her designated successor, AKK, did not.  Meanwhile, German industrial production has rolled over, seeing its largest monthly decline since 2009.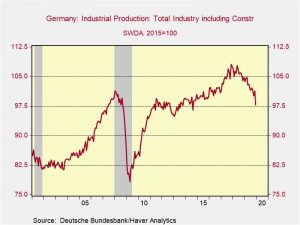 A drop of this magnitude is usually consistent with recession.
Irish elections: The current PM, Leo Varadkar, called for new elections in the wake of Brexit, assuming that his management of that issue would carry him to victory.  It appears that was a mistake.  Polls suggest it is quite likely he will lose on Saturday.  Sinn Fein, the political arm of the IRA, has been rising in the polls as it campaigned against the austerity that followed the 2008 Financial Crisis.  The lack of housing has become a key issue.  We doubt Sinn Fein can form a government and don't expect the centrist parties to invite it into a coalition.  But, the rise of Sinn Fein will likely force the mainstream parties to address the policy issues it is raising.  It also shows a generational issue; we are now far enough away from the Troubles that younger Irish voters have no experience of Sinn Fein's ties to the IRA and simply view it as a leftist party that addresses their concerns.
Huawei (002502, CNY 2.73): A couple items of note.  First, President Trump was apparently not happy with PM Johnson over the U.K.'s decision to use Huawei equipment.  For a country looking to make a free trade deal with the U.S., this isn't a good sign.  Second, Attorney General Barr has suggested the U.S. government should make direct investments in order to gain controlling stakes of Ericsson (ERIC, 8.32) and Nokia (NOK, $4.20).  To some extent, this second item shows how far we have traveled down the road of opposing China.  Such intervention into private companies by the government smacks of the "military/industrial complex" of the 1950s.
Odds and ends: The U.S. has reportedly killed the leader of al Qaeda in Yemen.  U.S. troops and Russian military contractors are coming into greater contact in Syria, raising the potential for an incident.  The Fed is indicating that leveraged loans and private equity will be a focus of upcoming stress tests.  The Fed is also considering allowing bank Treasury holdings to be part of reserves which, if allowed, would lift market liquidity.  China's foreign reserves were essentially unchanged in January.