Daily Comment (February 7, 2018)
by Bill O'Grady and Thomas Wash
[Posted: 9:30 AM EST]
Looking for something to read?  In our travels we are often asked about books we recommend.  As a result, we have created The Reading List.  The list is a group of books, separated by category, that we believe are interesting and insightful.  Each book on the list has an associated review to help you decide if you want to read it.  We will be adding to the list over time.  Books marked with a "*" are ones we consider classics and come highly recommended.
Equity markets are attempting to stabilize this morning.  As noted above, Asia was mostly lower while Europe is in the green.  Here is what we are looking at this morning:
Is this it?  By our calculation, the current decline from the recent high (basis the S&P 500) was just under 10%, but would round up to that level, which is generally considered a full correction.  Despite the sudden drop after months of calm, investors have been relatively sanguine.  We do note the Ned Davis Crowd Sentiment Poll fell from around 75 to just under 67.  Usually, this index would need to decline to around 61 to signal that excessive optimism has "washed out."  We note some of the major wirehouses have given "all clear" signals and are suggesting we should move higher from here.  We don't necessarily disagree, but would note that in our personal experience equity corrections don't usually end without a greater degree of fear.  It is possible that some of the usual panic has been transferred to other markets, perhaps cryptocurrencies or the volatility products, but we would not be surprised to see at least a retest of recent lows before a recovery develops.  In other words, this probably isn't a "V" bottom in equities.
At the same time, there is no strong evidence of recession, which is the usual trigger for a major bear market.  Recent market action is rather normal behavior; in recent years, persistently supportive monetary policy has dampened market volatility and thus made corrections less common.  As monetary policy normalizes, choppy equity markets are a likely outcome.
No change in policy expectations: Fed funds futures are still indicating about an 83% chance of tightening at the March 21st FOMC meeting.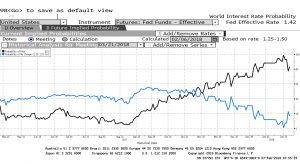 This chart shows the probability of a rate hike for the March meeting.  At the end of January, the fed funds futures indicated near certainty of a rate hike.  Recent equity market action did add a degree of doubt but odds still strongly favor a rate hike.
The budget process: The House has passed a stopgap measure while Senate leaders are indicating they are nearing a two-year budget deal that would not only address the upcoming spending limit issue but also address the debt ceiling that is looming next month.  The keys to the emerging Senate deal are (a) immigration is to be dealt with outside the budget process, and (b) spending will rise to bring enough members on board for passage.  The Senate version will not be popular with the Freedom Caucus in the House, which means passage will rely mostly on Democrats and enough moderate Republicans to vote for the measure.  We may see another shutdown later this week, but would not expect much market impact.
Merkel has a deal: Chancellor Merkel will give the SPD the finance and foreign ministries in a new grand coalition government, which was apparently enough to get the SDP leadership to agree to form a government.  Although the SDP rank and file still need to vote on the measure, getting these two key ministries should be enough to sway most members.  Merkel's CDU/CSU party is not pleased, according to reports.  The general expectation was that the SDP would get one of these two ministries, but not both.  Assuming the SDP approves the deal (and they would be making a huge mistake if they didn't), Germany's stance on the EU could soften dramatically, which could mean a more French vision is in the offing.  A more French vision would include more fiscal unity and relaxed rules of fiscal spending by individual states.  Although a new government is likely, it may not last very long; most Germans are fearful of providing a "credit card" to the rest of Europe and the SDP's version of the EU won't be popular with the CDU/CSU or the AfD.