Daily Comment (February 4, 2020)
by Bill O'Grady, Thomas Wash, and Patrick Fearon-Hernandez, CFA
[Posted: 9:30 AM EST]
Optimism on the Wuhan virus; equity markets rise.  Iowa caucus fiasco.  Syria heats up; Iraq has a new PM. Here are the details:
Wuhan virus:  There are now 20,696 confirmed infections and 427 fatalities, including one in Hong Kong.  Macau announced it will close its casinos for 15 days starting tomorrow.  Oil markets are lifting today but only after a decline of more than 10%; WTI briefly fell below $50 per barrel yesterday.  OPEC is discussing an output cut but nothing official has been announced yet.  We are starting to see the ramifications of shutting down transportation networks as 300 million chickens in Hubei province are threatened with starvation due to the lack of feed.
And yet, despite everything, equity markets are up worldwide, with U.S. equity futures on a tear this morning.  Even Shanghai lifted today.  What is going on?  First, we were seeing evidence that the global economy was on the mend after weakening last year.  If the Wuhan virus turns out to be a temporary problem (as we expect), recovery should follow.  Second, we have already seen policy stimulus from China.  It would not be a stretch to see the Fed or ECB offer support if there is a slump from this issue.  Third, there is ample liquidity in the world looking for a home and the TINA syndrome (There Is No Alternative) appears to be active.  Fourth, although the virus is clearly spreading, the pace is falling further below trend.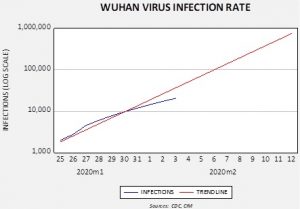 Although it is a rudimentary model, this chart does show that reported cases are not rising as fast as they were earlier.  In reality, the reported cases should be taken with a large grain of salt.  We suspect there are a large number of cases that go unreported because the symptoms are undisguisable from the common cold.  If that assumption is correct, the lethality of the Wuhan virus is very low.  The harsh measures China and the rest of the world is taking to slow travel are probably working, although we suspect historians will argue that the measures were an overreaction to the threat.
If all this is true, the effect on the global economy should be notable but short-lived.  As infections fall and the virus passes, we should see a rebound in economic activity as inventories are rebuilt and pent-up demand is satisfied.  We are concerned about the impact on supply chains.  As we saw with Fukushima in 2011, when a nation that is key to global supply chains is taken offline, it does have a global impact.  Thus, we could see shortages of some items this year that may affect individual companies.
Iowa:  We pay close attention to politics in our analysis but only viewed from the prism of market effects.  Iowa held its caucuses yesterday; we still await results.  The political parties in Iowa manage this process.  It appears that in an attempt to speed up the process, the Democratic Party in Iowa used an untested app and other electronic measures that failed miserably.  Although we should get results later today, the glitch will tend to reduce the impact of the process.  In other words, winners will likely have less momentum and losers will grumble that the process, not the voters, failed them.  On to New Hampshire…
Middle East:  After six Turkish soldiers were killed by artillery strikes in Idlib province, Turkey dispatched F-16s against Syrian positions, reportedly "neutralizing" 35 Syrian troops.  Turkey also warned Russia not to interfere.  Turkey supported rebel forces in Syria and would like to see Assad removed; this puts Ankara in direct opposition to Moscow over this issue.  Meanwhile, in Iraq, Mohammed Allawi has been designated as PM.  He is the cousin of former PM Iyad Allawi and was communications minister in the previous government.  Although Shiite groups loyal to Iran have supported Allawi in this role, other groups are protesting his elevation.
Germany:  The government has proposed giving its Federal Cartel Office the power to police any monopolistic behavior of "big, market-dominating digital companies."  Although France has recently backed down from its proposal to tax digital revenues, the German proposal is a reminder that big U.S. tech firms operating in Europe also face a growing regulatory threat.
Japan:  As an aging population produces more labor shortages and fiscal challenges, the government is proposing a new law that would encourage firms to let more people keep working up to age 70.  The draft law calls on firms to choose one of five options, including: 1) raising the retirement age; 2) scrapping mandatory retirement altogether; 3) allowing employees to keep working past the firm's retirement age; 4) outsource some operations to retirees who start their own business or become freelancers; and 5) assign older workers to philanthropic projects run by the firms.
Japan and coal:  Japan announced it will build 22 new coal-fired electricity plants to replace nuclear facilities that were closed nearly a decade ago after the Fukushima incident.  Although this decision flies in the face of pledges to curtail greenhouse gases, the government found itself stuck between the need for reliable power and climate issues.  However, we are somewhat surprised that Japan didn't consider natural gas-fired plants.  Given the global glut of LNG (with more coming from the U.S. soon), natural gas would seem to be a better alternative.
What would Minsky say?  Two headlines caught our attention this morning.  First, emerging markets set a new record for foreign currency-denominated debt issuance in January.  This category sold $118 billion of new foreign currency-denominated debt (mostly USD and EUR) last month.  An example?  Saudi Arabia recently issued $5.0 billion of USD bonds with a term of 35 years and 3.84% yield.  Second, global high yield issuance hit a new monthly record in January, with $73.6 billion of new debt sold, eclipsing the old record of $70.8 billion set in March 2017.  The late Hyman Minsky, whose work was plucked from obscurity during the Great Financial Crisis, argued that business cycles end because of credit quality deterioration.  Just sayin'…