Daily Comment (February 3, 2020)
by Bill O'Grady, Thomas Wash, and Patrick Fearon-Hernandez, CFA
[Posted: 9:30 AM EST]
Happy Super Monday!  There is a lot going on this morning.  We have an update on the Wuhan virus.  Chinese equity markets reopen and the PBOC eases.  Tensions rise on EU/U.K. trade.  Iowa caucuses are tonight.  We see a turn in Venezuela.  Here are the details:
Coronavirus:  There is growing speculation that we may be on the verge of a global pandemic.  The current confirmed infection count is 17,205, with 361 fatalities, the first death outside of China, and a fatality in the Philippines.  Building on its earlier move to reduce travel from China on account of the Wuhan coronavirus, Hong Kong today ordered that 10 of its 13 border crossings with the mainland be totally closed.  Separately, the Chinese foreign ministry has blamed the United States for spreading fears about the disease and not helping to stop it.  China has completed building a hospital in 10 days.  In many respects, the Wuhan virus shows the strengths and weaknesses of China's authoritarian system.  It is amazing that the country can build a facility so quickly; a powerful government can simply override opposition to move fast.  On the other hand, there is growing evidence that doctors in Wuhan were dealing with a unique virus in early December but officials there quashed the discussion on social media.  A more open society might have been able to use this information to move quickly and contain the disease before it spread.  China's political system is bad at processing and gathering information it doesn't want to hear, but effective at taking mass action once a crisis occurs.
We have enough data on infections to put some charts together.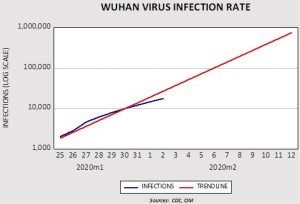 This is a "good news, bad news" chart.  We took the infection rate, log-transformed it and regressed a linear trend through it.  The good news is that the rate of infections appears to be falling below the trendline.  The bad news is that the trend would suggest 100k infections worldwide by Friday.  The disruption from the Wuhan virus will likely be with us for several months, although the impact will lessen over time.
As expected, the reopening of China's equities led to a sharp selloff, but for the most part it matched other markets in the region.  The PBOC took action, cutting repo rates by 10 bps and injecting CNY 1.2 trillion ($173 billion) into the financial system.  Although China's equities were weaker, the Hang Seng was mostly steady and Western equities are rallying.  OPEC, facing a plunge in oil prices, is considering further supply cuts to bolster prices.  Overall, the Wuhan virus will weaken global growth but the impact is expected to be transitory.
EU/U.K. trade talks:  We are now heading into the next phase of Brexit, which is establishing trade relations.  The EU wants Britain to remain closely knit to EU rules so as to not create conditions of regulatory arbitrage.  The Johnson government wants a looser arrangement; otherwise, leaving the EU was pointless.  Why would the U.K. give up representation only to follow EU rules that it can no longer influence?  At this point, both sides are bellowing.  The EU is staking out a maximalist position; the U.K., a minimalist one.  In the end, we expect they will eventually agree on something between these two points, but, in the meantime, the fear that a hard Brexit will occur after all sent the GBP falling today.  We doubt that a comprehensive plan can be put together in less than a year and would not be surprised if the two sides follow the arrangement Switzerland has with the EU, which is a series of narrow treaties that cover various areas of trade.  Meanwhile, the sniping is escalating; Donald Tusk, the former European Council president, suggested he would favor Scotland rejoining the EU, seeming to support a breakup of the U.K.  Such support might end up leading to separatist activity elsewhere in the EU.
Iowa caucuses:  Iowa will hold its caucuses to kick off the primary season, and thus the official political season begins today.  Usually there is a poll from the Des Moines Register but a glitch led it to be pulled, meaning we are sort of flying blind into tonight's vote.  Axios has an easy-to-follow flow chart of the process involved.
Taiwan-United States:  The U.S. government has given its permission for Vice President Elect Lai Ching-te to visit Washington and New York this week for meetings with high-level business and political leaders.  The move is likely to provoke strong condemnation from China, which sees Taiwan as a renegade province.  It could also further strain China-Taiwan ties, though it will be interesting to see what will happen with China distracted by the coronavirus crisis.
Japan-South Korea:  The Japanese government has filed a fresh complaint with the WTO over South Korean shipbuilding subsidies.  The move points to a possible new round of bilateral trade tensions between the countries, following a period when their World War II-era dispute seemed to be cooling.  If tensions do rise again, it would be negative for Japanese and Korean stocks.
Eurozone:  In an interview with the Financial Times, ECB Chief Economist Philip Lane said the EU's consumer price index is undercounting inflation because it doesn't take into account the cost of owner-occupied housing and only assigns a weight of 6.2% to rental costs.  He said he has started presenting policymakers with adjusted inflation figures that give extra weight to housing.  Those figures are currently 0.2% to 0.3% higher than the official data.  As central banks around the world keep falling short of their inflation goals, Lane's action is a signal that they may start "moving the goalposts" to suggest they're being more successful and fend off pressure for even lower interest rates.  Such a move would be negative for bonds.
United Kingdom:  The final Markit/CIPS purchasing managers' index for manufacturing was revised upward to a nine-month high of 50, beating expectations that it would be unchanged from the initial estimate of 49.8.  The reading provides further evidence that the British economy has regained some strength after the divisive election over Brexit in December.
Turkey-Syria-Russia:  After Syrian troops shelled Turkish observation posts in northwest Syria over the weekend, President Erdogan said Turkish forces have launched massive retaliatory attacks on Syrian positions in the Idlib province.  Erdogan also accused Russia of not supporting efforts to de-escalate the civil war between Syrian government forces and the remaining rebels.
Odds and ends:  We are seeing the Maduro administration in Venezuela back away from its interference in markets and, lo and behold, conditions appear to be improving somewhat (arguably from a low base).  However, the benefits of the thaw appear to be mostly falling to the rich, which is in opposition to the goals Hugo Chavez established during his presidency.  Those benefiting from the boom should be cautious; Cuba has a history of easing up on market interference during downturns only to return to controls when the recovery develops.
In Ireland, Sinn Fein is surging in the polls in front of this weekend's election; although it isn't running enough candidates to govern alone, it may do well enough to force the centrist parties into a coalition or lead to a minority government.  U.S. farm bankruptcies hit an eight-year high in 2019.