Daily Comment (February 20, 2020)
by Bill O'Grady, Thomas Wash, and Patrick Fearon-Hernandez, CFA
[Posted: 9:30 AM EST]
Global equities are mixed this morning with U.S. equity futures taking a breather.  We update the COVID-19 news.  The Fed is warming up to the economy.  U.K. changes immigration rules.  A new DNI.  The president is off to India.  Trouble in Argentina.  Here are the details:
COVID-19:  The number of reported cases are 75,776 with 2,130 fatalities.  On its face, this appears to be good news as the daily increase in cases is clearly declining.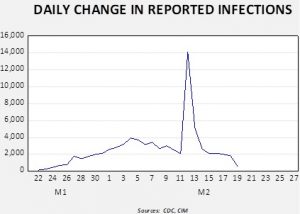 However, it is not clear whether the decline is anything more than another change in reporting standards.  One of the problems with analyzing China is that there is clear manipulation of data in normal circumstances.  Thus, the temptation is strong to jigger the numbers to make it appear that the virus is under control.  We aren't saying the data is necessarily tainted but simply unreliable.  However, that doesn't stop researchers from trying to capture what is really happening.
China cut its lending rate by another 10 bps.  There are reports that Chinese bond investors are getting hit again on bonds from state-owned enterprises.  Meanwhile, overall yields have declined in China, falling to four-year lows on expectations of slower growth.  China's credit growth slowed to 12.1% from last year, in line with expectations.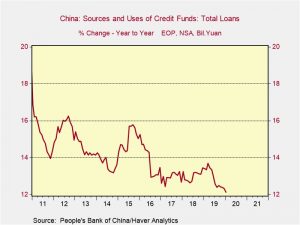 Overall, our stance remains the same; the COVID-19 virus will most likely be a one- to two-quarter event with a recovery fueled by global fiscal and monetary stimulus.
Fed minutes:  There were no surprises in the report (there seldom are).  Although the tone was a bit more upbeat on the economy than what we have seen previously, there was nothing in the content to suggest the FOMC is thinking about raising rates.  Worries about the fallout from COVID-19 are probably going to keep the Fed on hold; recent dollar strength should also give policymakers pause.
Westminster goes Canberra:  Australian immigration policy is based on a "points" system that tends to screen immigrants for desired skills.  The U.K. unveiled a similar system yesterday that is designed to reduce the number of unskilled immigrants, while increasing the openings for skilled labor.  This move has raised fears of labor shortages for firms that employ low-skilled workers; it appears the government wants to reduce labor competition for low-skilled Brits in a bid to raise their wages.
Off to India:  President Trump will visit India next week and there are hopes that a mini-trade deal might be in the offing.  India tends to be protectionist and this has caught the ire of U.S. trade negotiators.  However, India has strategic value as a foil for China, so we may see an attempt by the president to improve relations.
Japan:  Environment Minister Koizumi, a rising star of the ruling Liberal Democratic Party and the son of a former prime minister, has been forced to apologize for skipping a government meeting on the COVID-19 epidemic in favor of attending a party thrown by his supporters.  The incident shows the epidemic is now able to impact political fortunes even outside China.
A new DNI:  German Ambassador Richard Grenell has been named acting Director of National Intelligence.  There is concern over Grenell's lack of experience.  In general, the longer a president is in office, the more they tend to prize loyalty more than other values.  This is because as a president gains experience he usually wants someone who will do what he is asked rather than offer guidance.
Germany:  A right-wing extremist killed nearly a dozen people near Frankfurt before apparently killing himself.  Many of the victims were ethnic Kurds, and the killer left behind a letter calling for the extermination of "certain peoples" that could no longer be expelled from Germany.  The killings highlight the ongoing ethnic tensions and right-wing pushback against immigrants at the center of Europe.
Argentina:  The IMF said Argentina's public debt position has become so precarious that a restructuring is necessary, including a "meaningful contribution" from private creditors.  With Argentina continuing to struggle with ballooning debt, falling international reserves, and a weakening peso, the outlook for the country's stocks and bonds is deteriorating rapidly.
Odds and ends:  Global car sales are expected to fall significantly this year.  EU leaders are trying to create policies to boost their tech industries after falling behind the U.S. and China.  There are rising fears of bankruptcies in the shale oil patch.  The drug lobby in the U.S. finds itself with few friends as attacking the industry is taking on a rare bipartisan tone.