Daily Comment (February 18, 2021)
by Bill O'Grady, Thomas Wash, and Patrick Fearon-Hernandez, CFA
[Posted: 9:30 AM EST] | PDF
We have several recent multimedia offerings.  First, we have a new chart book recapping the recent changes we made to our Asset Allocation portfolios.  As we noted last week, we've also posted a new Confluence of Ideas podcast. We also have a new Asset Allocation Weekly, chart book, and podcast.  You can find all this research and more on our website.
Good morning from St. Louis, where it is a balmy 14o!  The midsection of the U.S. all the way to Texas continues to deal with a vicious cold snap, which has affected the energy industry and chip makers, too.  Mercifully, it looks like the Arctic blast will dissipate by the weekend, with much warmer temperatures forecast for next week.  U.S equity futures are lower this morning as markets grapple with the steady rise in interest rates.  We discuss the Fed minutes and look at recent equity market activity and breakeven rates.  From there, we discuss policy and economics, highlighting the continued tussle between Australia and the tech industry.  Pandemic news follows.  We close with a roundup of international news.
Fed minutes and markets:  In general, the comments from the recent FOMC meeting were rather upbeat, with the FOMC members arguing that fiscal stimulus measures, coupled with expected improvement in virus control, would lift economic growth over time.  Still, given the gap between current and full employment, monetary policy was projected to remain accommodative for the foreseeable future.
In equity market action, we are seeing a "good news is bad news" trade, usually confined to bonds.  Yesterday, for example, we saw equity futures reverse, moving from green to red in the wake of the strong retail sales numbers.  Below are a couple of charts highlight what we are seeing.  First, the Atlanta FRB's GDPNow forecast shows Q1 GDP coming in at a blowout 9.5% growth rate.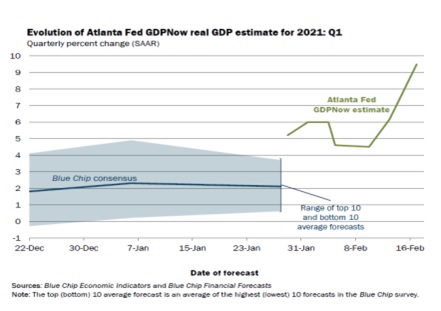 (Source:  Atlanta FRB)
Although we expect this estimate to decline (some of the retail sales yesterday were likely imported goods, for example), GDP is coming in much stronger than we expected.
Second, the TIPS/T-note spread, the measure of inflation expectations, is now up to 2.2%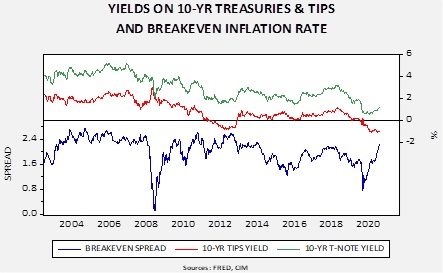 We have been looking at the relationship between equities and Treasury yields.  Although it wasn't mentioned in the Fed minutes, we do expect the FOMC to eventually "sit" on Treasury yields, engaging in some form of yield curve control to prevent higher rates from adversely affecting the economy.  There are a lot of unknowns surrounding this decision.  The most immediate is whether the Fed will take this step outside of a crisis.  Another is what level of rates would trigger a reaction; our best estimate is around 2% on the 10-year Treasury.  It is important to note that rising yields are, in part, a function of economic recovery.  The fact that equities are, at least so far, reacting adversely to better economic data suggests that accommodative monetary policy is the prime driver of equity values.  That may change in the coming weeks, but in the short run, it does suggest at least some degree of churn in equities.
Policy and Economics:  Here are some of the highlights.
COVID-19:  The number of reported cases is 110,002,089 with 2,432,607 fatalities.  In the U.S., there are 27,827,801 confirmed cases with 490,717 deaths.  For illustration purposes, the FT has created an interactive chart that allows one to compare cases across nations using similar scaling metrics.  The FT has also issued an economic tracker that looks across countries with high-frequency data on various factors.  The CDC reports that 72,423,125 doses of the vaccine have been distributed with 56,281,827 doses injected.  The number receiving a first dose is 40,268,009, while the number of second doses, which would grant the highest level of immunity, is 15,471,536.  The Axios map shows marked declines in infection rates.
Virology
International news:  North Korea, Italy, Germany, and China were all in the news.  The latter, which usually has its own report, had a dearth of news due to the Lunar New Year.