Daily Comment (February 17, 2017)
by Bill O'Grady, Kaisa Stucke, and Thomas Wash
[Posted: 9:30 AM EST] Equity markets are lower this morning.  We suspect two issues are weighing on sentiment.  First, the two left-wing candidates in France, Socialist Benoit Hamon and hard-left Jean-Luc Melenchon, are holding talks that may lead one of these candidates to drop out of the race.  Hamon is the candidate from the established Socialist party, while Melenchon used to be a member of that center-left group but found it too centrist and started his own party.  Polls show that neither would make it into the second round runoff, most likely against National Front Leader Le Pen.  Latest polls show Le Pen winning 26% of the vote and winning the first round.  Emmanuel Macron, the leader of the breakaway party En Marche!, is getting 19.5% of the vote, while Republican Party François Fillon is third with 18.5%.  Fillon has been hit by a corruption investigation alleging he paid family members to work for him but they did no actual work.  Most polls suggest that Le Pen will lose against either Fillon or Macron in the second round.
However, it should be noted that, combined, Melenchon and Hamon are polling at 25%; if either drops out and can sway those supporters to stay with the remaining candidate, Le Pen will be running against a leftist candidate.  Given the deep unpopularity of the Socialists, if Hamon is the remaining candidate, Le Pen may very well win.  Melenchon may fare better against Le Pen but he is calling for a 100% marginal tax rate on incomes in excess of €360k.  That may prove to be unpopular enough to give Le Pen the presidency.
The chart below shows the spread between German and French 10-year sovereigns.  The average spread runs around 35 bps (with French rates usually exceeding German rates).  The spread has nearly doubled as elections loom.  The first round will be held on April 23; if no candidate attains a majority in the first round (and none have since the 5th Republic was formed in 1958), a second round is held between the two top performers.  That round would be held on May 7.  The polls show that Le Pen's support peaks at 35% to 40% against either Fillon or Macron.  However, no polls have been run against the leftist candidates so the markets are justifiably concerned about a Le Pen win if the leftists join forces.  Although negotiations do raise this possibility, we suspect that Melenchon and Hamon won't be able to reach an agreement.  They have sharp differences and it's difficult to see either stepping down.  If they do come to a deal, the risks of a Le Pen win in the second round probably rise.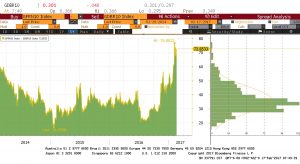 The other issue weighing on sentiment is that it looks like the Ryan corporate tax reform is failing to gain traction; the sticking point is the border adjustment tax, which is proving to be quite unpopular.  Without this provision, it doesn't appear that the tax change would be revenue-neutral unless the cut is inconsequential.  We suspect the White House would be more than happy to see deficits but much of the Congressional GOP won't agree with deficit increases.  Much of the equity and dollar rally has rested on corporate tax cuts; if these can't get passed, it will be bearish for both equities and the dollar.