Daily Comment (February 5, 2021)
by Bill O'Grady, Thomas Wash, and Patrick Fearon-Hernandez, CFA
[Posted: 9:30 AM EST] | PDF
Good morning.  U.S. equity futures are higher this morning, the yield curve has steepened, and oil prices have risen as optimism grows over another round of fiscal stimulus.  We begin our discussion with possible student loan forgiveness and an update in Biden's inaugural address to the State Department.  We will review policy and economic news, including the Treasury Department investigation into the GameStop (GME, $53.50) rally.  We then discuss international news, specifically why Rihanna and Greta Thunberg have gone viral.  Our coverage of the pandemic is next, and we close with China news.  Being Friday, we have our new Asset Allocation Weekly, podcast, and chart book available on our website.
Student loan forgiveness: On Thursday, Senate Majority Leader Chuck Schumer (D-NY) pressured President Biden to use an executive order to forgive up to $50,000 in student loan debts for each borrower.  Congressional Democrats have also added pressure through a proposed non-binding resolution urging Biden to take this approach.  Although we suspect any executive order to forgive student loans will likely be challenged in court, the actions aren't as straightforward as most people would assume.  The reasons are as follows:
There is a moral hazard problem. Over the last thirty years, college tuition has outpaced CPI by a wide margin.  Increases in tuition prices haven't always been used to improve the quality of education as schools have instead invested heavily in living standards on their campuses.  As a result, schools have offered better food and lodging, while simultaneously relying more on part-time faculty to teach classes.  In addition, there also seems to be a pricing issue as students pay the same tuition regardless of majors, despite some fields being more expensive to teach.  Hence, if student debt is truly in crisis, it makes sense to treat the sickness before the actual symptoms.  By not doing so there is a risk that this action could likely make this problem much worse.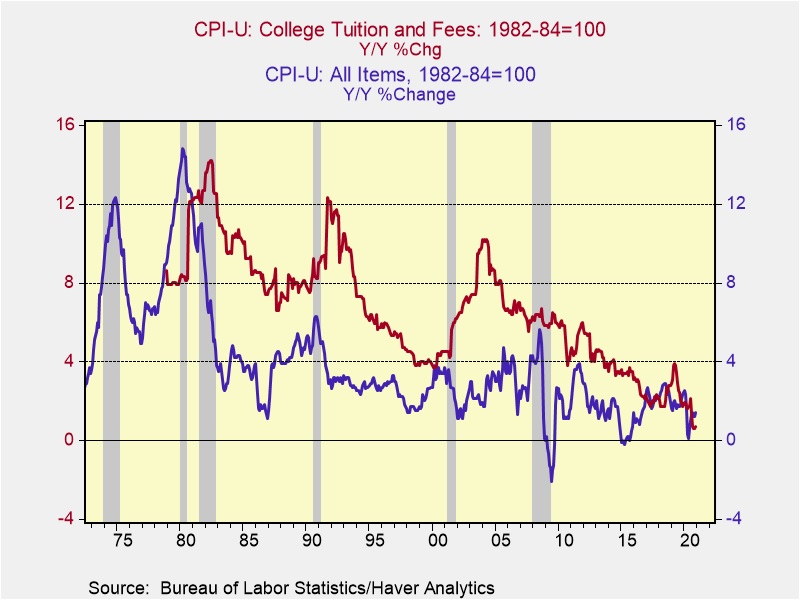 There is a tax liability problem. The way the tax system is set up is that forgiveness of debt is generally treated as a write-off by the creditor and as additional income to the debtor.  Hence, student loan forgiveness would likely result in a huge tax bill if Congress doesn't pass legislation.  Biden would still need congressional approval at some point in order to avoid burdening the people that this executive order is designed to help.
Finally, an executive order is limited in its overall scope. The government can only forgive loans that it owes; therefore, only federal student loans and not individual loans to the private student can be forgiven.  The problem will still leave a lot of people in debt.
Our thought on student loan forgiveness is that although it may not be a good policy, it is generally positive for equities and real estate.  It is estimated that over 36 million people will be free of federal student loan debt with this order, freeing up more money to be used to invest in equities and to support home prices.
 America is back?  In his inaugural address to the State Department, President Biden announced his desire for the U.S. to take a larger role in the world.  During the speech, he announced he would reverse several policies from the previous administration, including a drawdown of troops in Germany and an end to the support of offensive operations in Yemen, including arms sales. He emphasized that his administration would not seek to do it alone and would focus more on establishing diplomacy abroad.
The immediate market impact from the speech will be limited; the changes outlined in his address were well anticipated.  As we noted in our WGR The 2021 Geopolitical Outlook, Biden is going to try to implement an establishment foreign policy, a reversal of the past two administrations.  However, the world cannot "unsee" the changes wrought by the last two administrations.  This is especially true in the rapidly evolving situation with China.  As we have documented recently, tensions over Taiwan have increased.  The Trump administration took steps to enhance the visibility of relations with Taipei, angering the Xi regime.  There are other issues as well.  The desire to work with allies in Asia to build containment will face two difficulties.  First, the countries in question have to wonder about the durability of America's commitment to the policy.  Second, the countries themselves are loath to choose.  After all, aligning with the U.S. may have negative effects on trade and commerce conducted with China.  Of course, China is an actor in all of this too, and is prone to "own goals."  For example, its continued aggression toward India in the Himalayas is driving New Delhi into the arms of an American alliance.  The capriciousness of China's behavior is leading some countries to reconsider their supply chains in China.  As we noted yesterday, Japan is increasing subsidies for firms considering moving from China.  At the same time, the EU (read: Germany) is trying to tighten economic relations.
This is an area of geopolitical concern.  Although we don't think the odds of a kinetic event with China are high, they are clearly not zero.  Anytime carrier groups are targeted, the chances of a mistake are elevated.  It should be noted that the goal of American foreign policy toward China isn't changing; the goal is to isolate and contain China's rise.  The tactics between the Trump and Biden administrations are the only difference.  The former was more interested in a unilateral policy, the latter multilateral.  In practice, it's easier to implement a unilateral policy, but if it works, a multilateral policy, as evidenced by the Cold War, is probably more effective.  We have doubts that the American people are willing to accept the policies that would make multilateralism work, e.g., persistent trade deficits and allowing other nations to "free-ride" American security.  So, for now, we continue to closely monitor the situation.
Policy and Economics:  Here are some of the highlights.
The Senate approved a budget bill early Friday that paves the way for passage of President Biden's $1.9 trillion coronavirus relief package, with Vice President Harris casting the tiebreaking vote on the measure that will be key to enacting Biden's first major legislative initiative. The House, which approved its own budget bill on Wednesday, must now act on the Senate's version, expected to be done within a day.

The final passage of a relief package bill is anticipated in mid-March.

The Senate overwhelmingly approved a proposal from Senators Joe Manchin (D-WV) and Susan Collins (R-ME) that would bar high-income households from receiving another round of stimulus checks. The budget amendment does not offer much detail about what it classifies as high-income, but there has been a push to begin phasing out stimulus for those making around $50,000 for individuals and $100,000 for couples.  This bill is notable not only because it comes on the heels of President Biden agreeing to stricter eligibility requirements, but it also signals that Senator Manchin, the key Democrat holdout, may support additional stimulus.
Treasury Secretary Janet Yellen met with fellow regulators on Thursday to discuss recent market volatility and a few wild weeks on Wall Street, during which a crush of retail investors sent stocks soaring — in GameStop's case, more than 1,700 percent — and then plunging back to earth.
Senator Mitt Romney (R-Utah) on Thursday proposed providing at least $3,000 per child to millions of American families, lending bipartisan support to President Biden's push to expand child benefits dramatically.
A global semiconductor shortage is expected to impact vehicle output for automakers in the first quarter of this year.  The computer-chip crunch has hit the auto industry hard.  Ford (F, $11.37) has announced that it expects its output to drop by 20%.

German carmakers are considering building up semiconductor stockpiles to prevent a crisis from happening again in the future.

Former head of the U.S. Cybersecurity and Infrastructure Security Agency Chris Krebs told the Financial Times that the country needed to be more aggressive in going after hackers who use ransomware. He suggests publishing the hackers' public information online, a tactic known as doxing, to deter these criminal activities.
International roundup:
COVID-19:  The number of reported cases is 104,816,294 with 2,281,024 fatalities.  In the U.S., there are 26,663,251 confirmed cases with 455,259 deaths.  For illustration purposes, the FT has created an interactive chart that allows one to compare cases across nations using similar scaling metrics.  The FT has also issued an economic tracker that looks across countries with high-frequency data on various factors.  The CDC reports that 57,489,675 doses of the vaccine have been distributed with 35,203,710 injected.  The number receiving a first dose is 27,905,197, while the number of second doses, which would grant the highest level of immunity, is 6,926,050.  The Axios map shows declining infections across the country.
Virology
Russian developers are in talks with China's CanSino Biologics Inc. (CASBF,$38.70) to test a vaccine that could potentially protect against new virus strains.
Johnson & Johnson (JNJ, $161.99) is seeking an emergency use authorization for its vaccine with the Food and Drug Administration (FDA).

The vaccine has a 66% efficacy rate and only requires one shot.

The FDA is drawing up new rules to speed the approval process for vaccines targeting variants.
Daily cases of COVID-19 are currently falling across most of the world, and deaths — which had been climbing globally until late January — are also beginning to decrease.
Bloomberg has created a model estimating the time it will take for the world to reach herd immunity. According to its calculations, assuming vaccinations maintain their current pace, it will take 7.4 years.
In the most extensive real-world test so far, Israel has demonstrated that a robust, rapid coronavirus vaccination program can have a quick and powerful impact. Among people who were vaccinated, cases of COVID-19 and hospitalizations have dropped significantly within just a few weeks, according to new studies in Israel.
Britain has launched a 13-month study to determine whether mixing vaccine doses, in this case, Pfizer-BioNTech and AstraZeneca, still protect people from infection.

Britons returning from coronavirus hot spots abroad will have to quarantine in hotels starting February 15, the BBC

Younger Black adults are far more hesitant to get the vaccine than their elders, according to the new survey of 1,340 respondents released by the National Foundation for Infectious Diseases.
The International Federation of Red Cross and Red Crescent Societies announced a $110 million plan to help distribute vaccines, after warning of the "potentially devastating" consequences if poorer countries lagged behind their richer counterparts in inoculations.
The New York Times found that at least 24 states and Washington, D.C., are providing shots to some teachers of kindergarten through high school. Some of those states, however, consider teachers eligible for the vaccine only in certain counties.
China:  Tensions between China and the West are heating up.