Daily Comment (February 3, 2021)
by Bill O'Grady, Thomas Wash, and Patrick Fearon-Hernandez, CFA
[Posted: 9:30 AM EST] | PDF
Our Comment today opens with a quick update on the Reddit-related trading frenzy, but it then pivots to key European news, including former ECB chief Mario Draghi's agreement to try to form a new government in Italy.  That development has boosted Italian stocks and bonds so far this morning, though there is no assurance that Draghi will be successful.  Finally, we end with the latest coronavirus news.
Reddit Craze:  Last night, Treasury Secretary Yellen called a meeting of top financial regulators to discuss recent volatility in financial markets related to GameStop (GME, 90.00) and other financial products.  The meeting, which could take place as early as Thursday, would include officials from the Securities and Exchange Commission, the Federal Reserve, the New York Fed, and the Commodity Futures Trading Commission.  Meanwhile, shares in GameStop, AMC Entertainment, and other heavily promoted favorites on Reddit are flat or up so far today after getting crushed Tuesday. Silver, another "WallStreetBets" favorite, is up slightly.
European Union:  Headline consumer inflation in January jumped far more than expected to 0.9% year-over-year from -0.3% in December.  Stripping out the volatile food and energy components, the January Core CPI was up 1.4% from the same month one year ago, versus an annual gain of 0.2% at the end of last year.  The surge in inflation was the largest in over a decade, but it appears to have stemmed in large part from one-off factors, such as a regular update to the product weightings in the index and the end of a tax holiday in Germany last month.  As in the U.S., most observers in Europe expect that resurgent inflation in the coming months will prove temporary and shouldn't force the major central banks to tighten monetary policy just yet.  The following chart shows the key measures of Eurozone inflation since just before the previous recession.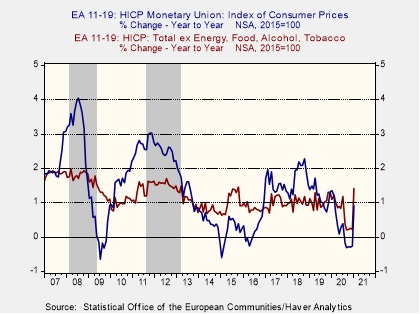 Italy:  Following the collapse of Prime Minister Conte's government last week, President Mattarella today asked former ECB chief Draghi to try to form a new government that can lead the country out of the coronavirus crisis.  Because of Draghi's strong reputation, at least among many mainstream investors, his appointment will probably be taken well by the markets.  Indeed, Italian stocks and bonds are rallying this morning.  However, it's not clear whether Draghi would take the job or that he could actually garner a majority in parliament, especially since he has no history in parliamentary politics.  One bad sign:  Hours after the president's office confirmed today's meeting with Draghi, the acting leader of the populist Five Star Movement, a former anti-euro party that is the largest in the current parliament, announced that he would not back a purely technocratic government led by the former ECB president.
Russia:  Opposition activist Alexey Navalny was sentenced to three-and-a-half years in prison yesterday, in an apparent attempt by the Putin government to silence him.  Police have also cracked down hard on demonstrators protesting in his defense in recent weekends.  We still expect President Putin to weather the crisis, although Russia could be in for a period of political instability, renewed international condemnation, and potentially new international sanctions.
Iran:  The Defense Ministry yesterday launched a new solid-fuel rocket with updated technology that could be used to improve the country's intercontinental ballistic missiles and make its budding nuclear weapons' capability more potent.  The missile launch was probably aimed toward improving Iran's bargaining position ahead of the Biden administration's effort to lure it back into the 2015 nuclear deal.
COVID-19:  Official data show confirmed cases have risen to 103,982,364 worldwide, with 2,255,754 deaths.  In the United States, confirmed cases rose to 26,436,867, with 446,910 deaths.  Vaccine doses distributed in the U.S. now total 52,657,675, while the number of people who have received at least their first shot totals 26,440,836.  Finally, here is the interactive chart from the Financial Times that allows you to compare cases and deaths among countries, scaled by population.
Virology
 U.S. Policy Response
In a virtual meeting with Senate Democrats yesterday, President Biden and Treasury Secretary Yellen urged the lawmakers to press ahead with the administration's proposed $1.9 trillion pandemic relief plan rather than a smaller plan like the $618 billion one suggested by Republicans.  Despite Biden's professed desire to pass a bipartisan plan, he urged the Senators to pass the larger package even if it required using the "reconciliation" process without Republican support.  Of course, it's not entirely clear whether that is just a negotiating tactic or a way to keep the left-wing of the Democratic Party on board with the process.  It would not be surprising if the Democrats ultimately accept some compromises to garner at least some Republican votes or keep conservative Democrats from opposing the bill.  One element of Biden's proposal that could be jettisoned is his idea of raising the minimum wage to $15 per hour, which many lawmakers oppose because it could cut jobs.