Daily Comment (February 2, 2021)
by Bill O'Grady, Thomas Wash, and Patrick Fearon-Hernandez, CFA
[Posted: 9:30 AM EST] | PDF
Our Comment today opens with key trade and international news, including an important sign of where the Biden administration will go with the protectionist trade policies it inherited from the Trump administration.  Eurozone economic activity held up better than anticipated late last year, although fourth quarter GDP still posted a decline.  We wrap up with the latest coronavirus developments.  The good news is that new U.S. infections and hospitalizations continue to moderate.  The less positive news is that virus mutations continue to be a concern.
Reddit Craze:  Rep. Maxine Waters, chairwoman of the House Financial Services Committee, announced her panel will hold hearings on February 18 regarding the short squeeze of GameStop (GME, 225.00) and the related volatile trading.  Meanwhile, both GameStop and silver prices are down sharply so far this morning as the Reddit-fueled market craze, at least temporarily, unwinds.
United States-United Arab Emirates:  In an important signal that the Biden administration will likely maintain many of the Trump administration's protectionist policies, President Biden yesterday reversed a last-minute decision by former President Trump to lift aluminum tariffs on the UAE.  The exemption would have gone into effect on February 3, but Biden blocked it on grounds that "the available evidence indicates that imports from the UAE may still displace domestic production, and thereby threaten to impair our national security."
Eurozone:  After stripping out price changes and seasonal impacts, the bloc's fourth quarter GDP declined just 0.7%, erasing only a small part of its 12.4% rebound in the third quarter.  The renewed decline largely reflected lockdowns associated with the recent coronavirus resurgence in Europe, but the downturn wasn't nearly as bad as anticipated.  Compared with the fourth quarter of 2019, Eurozone GDP was down just 6.8%, helping to buoy equity markets in Europe and the U.S. so far this morning.  The chart below shows the Eurozone's quarterly change in GDP (blue columns) and its year-over-year growth (red line).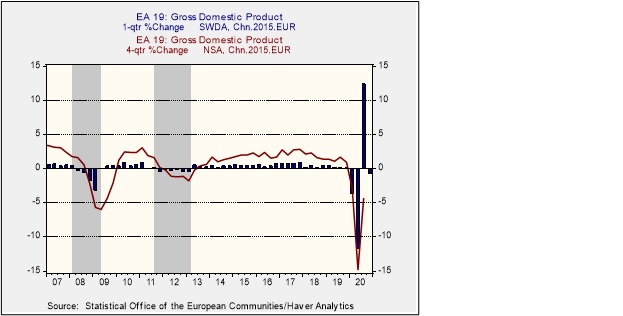 China-United States:  In the first speech by a Chinese official to a U.S. audience since President Biden took office, Chinese Foreign Minister Yang blamed Donald Trump for the dismal state of U.S.-China ties and warned Biden not to meddle in Beijing's affairs.  In the speech to the National Committee on U.S.-China Relations, Yang argued, "The U.S. should stop interference in the affairs of Hong Kong, Tibet, and Xinjiang, which all matter to China's sovereignty and territorial integrity."  The pushback suggests that Biden's tougher-than-expected rhetoric on China so far has struck a chord with Chinese officials and will likely serve to keep U.S.-Chinese tensions high.  We note that the Chinese pushback has also been seen in a recent incident in which Chinese warplanes conducted a simulated attack on a U.S. aircraft carrier southwest of Taiwan.  To help explain how the tensions could evolve, our latest WGRs continue to examine the U.S.-China balance of power from a military and economic perspective.
Russia:  At a hearing yesterday, Russian prosecutors asked a Moscow court to sentence opposition leader Alexei Navalny to three and a half years in prison in a case widely seen as an attempt to neutralize President Putin's most prominent critic.  Although Navalny is far from a popular figure in Russia, his detention on trumped-up charges and his exposure of government corruption has struck a nerve among Russian citizens who are tired of the lack of justice that many perceive under Putin.  We still suspect Putin will survive the crisis, but some instability has been introduced into the system, including the possibility of additional U.S. sanctions.  That could be a headwind for Russian stocks in the near term.
Iran:  The Defense Ministry yesterday launched a new solid-fuel rocket with updated technology that could be used to improve the country's intercontinental ballistic missiles and make its budding nuclear weapons' capability more potent.  The missile launch was probably aimed at improving Iran's bargaining position ahead of the Biden administration's effort to lure it back into the 2015 nuclear deal.
COVID-19:  Official data show confirmed cases have risen to 103,514,983 worldwide, with 2,241,062 deaths.  In the United States, confirmed cases rose to 26,322,368, with 443,613 deaths.  Vaccine doses distributed in the U.S. now total 49,936,450, while the number of people who have received at least their first shot totals 26,023,153.  Finally, here is the interactive chart from the Financial Times that allows you to compare cases and deaths among countries, scaled by population.
Virology
 Economic and Political Impacts
 U.S. Policy Response
President Biden yesterday met with a group of 10 mostly moderate Republicans, led by Sen. Susan Collins of Maine, to begin negotiations over his proposal for a new pandemic relief bill.  After the meeting, Collins described the meeting as "very productive, cordial," but all indications are that Biden is sticking to his call for a $1.9 trillion package instead of the $618 billion plan offered by the Republicans.