Daily Comment (February 28, 2022)
by Patrick Fearon-Hernandez, CFA, and Thomas Wash
[Posted: 9:30 AM EST] | PDF
Our Comment today opens with an extensive update on the Russia-Ukraine crisis.  Among many significant developments over the weekend, the Russian offensive seems to have stalled, prompting talks between Russian and Ukrainian officials this morning.  All the same, the U.S. and its allies have imposed sweeping sanctions against Russia, contributing to disruptions in many financial markets so far today.  Given our expansive treatment of the Russia-Ukraine crisis, we provide only a limited overview of some other important U.S. and international developments.  We wrap up with the latest on the coronavirus pandemic.
Russia-Ukraine:  Some developments over the weekend were positive, and some were negative, but on balance, we judge that security, economic, and financial-market risks have increased.  Among the positive developments, multiple reports suggest the Russian offensive has stalled out because of stronger-than-anticipated resistance from the Ukrainians and the Russian military's own logistical, tactical, and morale shortcomings (for a map of Russia's surprisingly limited military gains so far, see below).  Additional strong sanctions by Western governments and corporations announced over the weekend may help explain why both sides have agreed to negotiations on Monday at the Belarusian-Ukrainian border.  On the negative side, however, it appears Russian President Putin has become so frustrated with Russia's slow progress that he is increasingly apt to adopt stronger, more dangerous measures.  On Sunday, he announced he was putting Russia's nuclear forces on heightened alert, and many observers believe he will try to reinvigorate the Russian invasion by unleashing much more destructive attacks against civilian targets.  It also appears he is making sure that Belarusian President Lukashenka helps with his dirty work.  Over the weekend, Lukashenka pushed through constitutional changes that would increase his power and rid Belarus of its non-nuclear status, which would allow Russia to base nuclear missiles there.  Reports indicate Belarus will also send troops into Ukraine to support the Russian forces there.  In any case, the tensions continue to push energy prices sharply higher today and are weighing on most major equity markets.  The tensions also threaten new supply shortages that could push prices up for a range of globally traded commodities.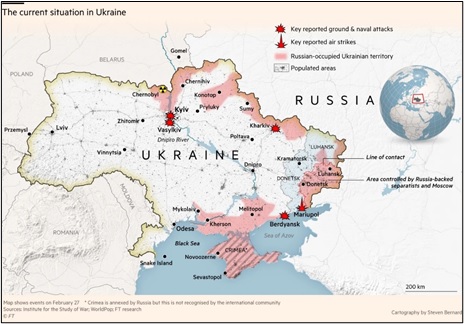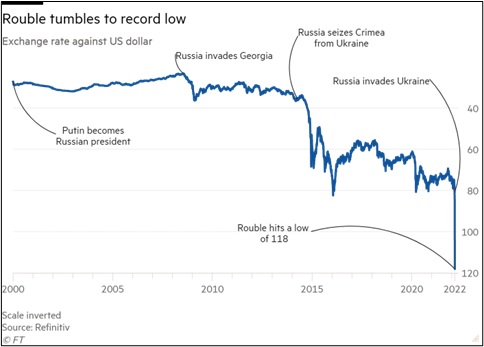 Among the longer-term impacts of the crisis, multiple European governments have recognized their military vulnerabilities after decades of excessively low defense spending, and they are now hiking their military budgets.

Summing up the change, former NATO Deputy Secretary-General Alexander Vershbow said in an interview that "Real power comes from military power. Putin certainly feels that way. And I think NATO is going to have to develop a culture of readiness and start talking Putin's language."
This change of policy is already driving up defense stocks.  Given how much military modernization and rebuilding will be necessary for some NATO countries, we suspect the trend could be attractive for investors for an extended period.

Even more fundamentally, it appears to us that the crisis has profoundly altered Western assessments of the threat from authoritarian leaders in key countries like Russia and China and galvanized Western resolve to oppose them.

At one level, Western perceptions are being driven by the leadership of Ukrainian President Zelensky, who has vowed to stay in the capital city of Kyiv and fight shoulder-to-shoulder with his countrymen until the end.  Few would argue that this former television comedian is perfect, but people worldwide have embraced his patriotic commitment to defending Ukraine.  In a quote that will live for the ages, Zelensky, over the weekend, responded to Western offers to help him escape by saying, "The fight is here . . . I need ammunition, not a ride."
Broadly, the sight of Ukrainian popular resistance and self-sacrifice is proving to be an inspiration.  Examples include a video of Ukrainian civilians facing down Russian tanks, Ukraine's "Ghost of Kyiv" air force pilot who has already downed six Russian jets, and the story of 13 Ukrainian border guards who responded to a Russian navy ship's radioed demand to surrender by responding, "Russian Navy Ship:  Go f*** yourself," at which point they were killed.  Some of those stories have already been called into question, but that's not the point.  The point is that the Ukrainians fighting for their independence and democratic government have proven to be a sympathetic underdog that only serves to highlight the ugliness of authoritarian aggression.  As we've mentioned before, the result will probably be a continued rift between the world's liberal democracies and the authoritarian blocs led by Russia and China.  Complete globalization is now dead, and the result is likely to be a world in which the liberal democracies are largely decoupled from the Russian and Chinese blocs, the defense industry is growing and invigorated, and global supply chains are shorter and costlier.
U.S. Economy:  New research from the Atlanta FRB shows the country's youngest workers are securing the fastest wage increases of any age group.  Median hourly wages for workers aged 16 to 24 were 10.6% higher in January than a year earlier, far exceeding the 4% overall gain for all workers.  The gains largely reflect the post-pandemic economic recovery, especially at restaurants and other venues that employ a lot of younger people.
Australia:  Huge rainstorms over the weekend have submerged cities and towns in Queensland and New South Wales, triggering thousands of insurance claims and stoking criticism of Prime Minister Morrison's stance on climate change.
China:  New research by consultancy AidData highlights the extent to which President Xi's "Belt and Road Initiative" of big infrastructure loans to generally poor countries leaves them saddled with debt and under the influence of China.  The new research shows that BRI contracts have not only required collateral in the form of escrow accounts funded by the projects themselves, but also accounts funded by the overall revenues of a borrowing entity.
North Korea:  According to Japanese and South Korean intelligence officials, North Korea launched a suspected ballistic missile off its east coast on Sunday morning, restarting weapons tests after nearly a month of inaction and highlighting that destabilizing military activity remains a threat in the Asia-Pacific region.
COVID-19:  Official data show confirmed cases have risen to  435,483,792 worldwide, with 5,950,144 deaths.  In the U.S., confirmed cases rose to 78,939,203, with 948,397 deaths.  (For an interactive chart that allows you to compare cases and deaths among countries, scaled by population, click here.)  Meanwhile, in data on the U.S. vaccination program, the number of people who are considered fully vaccinated now totals 215,457,016, equal to 64.9% of the total population.