Daily Comment (February 23, 2022)
by Patrick Fearon-Hernandez, CFA, and Thomas Wash
[Posted: 9:30 AM EST] | PDF
Our Comment today opens with an update on the Russia-Ukraine crisis, where the U.S. and other Western nations have now imposed sanctions on Russia for its deployment of troops into the Donbas region.  Those sanctions are seen by many observers to be lighter than expected, but they could still be ratcheted up if Russia takes further steps against Ukraine.  We next review other U.S. and international news that could affect the financial markets today.  We end with the latest developments related to the coronavirus pandemic.
Russia-Ukraine:  President Biden yesterday characterized President Putin's deployment of troops into Ukraine's eastern Donbas region as "the beginning of a Russian invasion of Ukraine" and "a flagrant violation of international law," setting the stage for a series of steep economic punishments.  The U.S. sanctions will target two major Russian financial institutions and their subsidiaries, as well as five Russian elites and their family members with connections to the Kremlin.  The sanctions will also restrict investor purchases of any new sovereign debt issued by Russia.  Other key Western nations, and the EU, also imposed sanctions on top of Germany's decision to freeze certification of the new Nord Stream 2 natural gas pipeline from Russia to Germany.
In each case, however, the Western leaders held some sanctions in reserve to leave room for diplomacy and maintain leverage against further Russian aggression.  For example, the sanctions announced yesterday did not include the threatened export controls on advanced technology or the blacklisting of major state-owned industrial giants. Sanctions on Russian oil and gas exports were also not imposed in order to avoid further upward pressure on consumer energy prices.  The measured nature of the sanctions allowed the ruble to rebound yesterday, although it is probably still at risk of additional downward moves if more severe sanctions are imposed in the future.
Separately, President Biden also has authorized additional movements of U.S. forces and equipment already stationed in Europe to help protect Lithuania, Latvia, and Estonia.  Roughly 800 U.S. troops based in Italy will head toward the Baltic states, along with eight F-35 fighter jets from Germany and Greece.  Almost three dozen Apache helicopters based in Germany and Greece will also be deployed forward, with 12 sent to Poland and 20 to the Baltics.  British Prime Minister Johnson said the U.K. would send additional defensive weapons directly to Ukraine "in light of the increasingly threatening behavior" displayed by Russia.
In Ukraine, President Zelensky announced a national state of emergency, mobilized military reserves, and recalled contract military personnel to active duty.  He also mobilized Ukraine's new territorial defense brigades for exercises but said he wouldn't announce a general call-up of civilians for now.  On the non-military front, Zelensky warned Ukrainian citizens to leave Russia, while Foreign Minister Kuleba begged for the West to impose even tougher sanctions.
More broadly, the Russian move against Ukraine continues to reinvigorate NATO and energize stronger defense efforts.  For example, Poland's government yesterday approved a bill boosting its defense spending and launching a doubling in the size of its military to 300,000 troops.  At that level, Poland would have one of the largest armies in Europe.
Other than the risks of direct combat damage to Ukraine and sanctions on Russia, we continue to believe the primary near-term economic and financial impacts of the conflict will come from the risk to Russian energy and mineral shipments.  Such supply disruptions would likely boost energy and raw materials prices, especially in Europe but also to some extent in the U.S., just as the world's major central banks are planning to tighten monetary policy.  A recent European Central Bank simulation exercise showed that a 10% shortage in gas could knock 0.7% off Eurozone Gross Domestic Product, with the effects most pronounced among countries with large gas and electricity sectors and industries most dependent on gas (see chart below). As expected, the result has been additional downward pressure on equity prices, driving the S&P 500 stock price index into correction territory as of yesterday's close.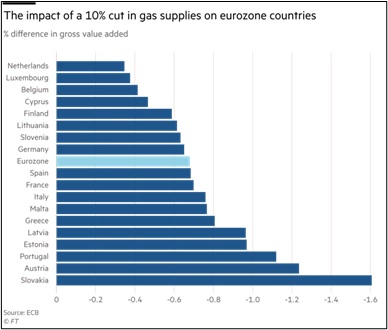 United States:  Several winter storms are forecast to bring frigid temperatures, strong winds, and heavy snow and rain to swaths of the U.S. this week, potentially leading to disrupted travel, school closures, and other economic disruptions in some states.  The storms are expected to span from Texas to the Dakotas and as far east as Maine.
Canada:  The Finance Ministry has already told banks to unlock financial accounts belonging to individuals involved in the Ottawa truckers' protest against COVID-19 mandates, which police shut down this past weekend.  It isn't clear whether the quick reversal of the lockdowns was because they weren't effective or because the government believes it already has control of the situation and wants to minimize any antagonisms caused by the action.
United Kingdom:  In its annual review of the British economy, the IMF said the government should try to limit the risk of persistently high inflation by bringing forward planned tax hikes, especially on higher-income people.  In contrast, the organization warned the Bank of England should not increase interest rates rapidly, or it could risk tipping the economy into recession.
EU Information Technology Regulation:  The European Commission has proposed new legislation that would force big technology companies to share more of the non-personal data generated by connected products like smart appliances or automobiles.
The proposal is part of the biggest proposed expansion of global tech regulation in decades. The EU is in the final stages of settling on the texts of two new laws aimed at large tech companies.  One seeks to limit potential abuses of dominance, and the other aims to force them to take more responsibility for policing online content; significant fines back both.
As we've said before, the global technology industry faces increased regulatory risks, not only in Europe but in countries such as Canada and the U.S.  Increased regulation would threaten tech firms' profits and take even more wind out of their stock prices.
Global Energy Technology:  We're always on the lookout for up-and-coming technologies that could not only change how we all live but also offer future investment opportunities.  In one such development, European aerospace giant Airbus (EADSY, $32.03) said it would work with France's Safran (SAFRY, $31.94) and General Electric (GE, $94.15) of the U.S. to develop an engine that can run on hydrogen. Executives said that a converted A380 test aircraft would fly by the end of 2026 and that a zero-emissions plane could be in service by 2035.
COVID-19:  Official data show confirmed cases have risen to  428,190,863 worldwide, with 5,909,581 deaths.  In the U.S., confirmed cases rose to 78,649,877, with 939,202 deaths.  (For an interactive chart that allows you to compare cases and deaths among countries, scaled by population, click here.)  Meanwhile, in data on the U.S. vaccination program, the number of people who are considered fully vaccinated now totals 215,006,201, equal to 64.8% of the total population.
Virology
In the U.S., data continues to suggest that the highly transmissible Omicron mutation is in retreat.  The seven-day average of people hospitalized with a confirmed or suspected COVID-19 infection fell to 62,464 yesterday, down 44% from two weeks ago.
Despite the downward trend in Omicron infections and hospitalizations in the U.S. and many other countries, scientists say a more transmissible subvariant of the mutation, designated BA.2, has surged to account for more than a third of global COVID-19 cases sequenced recently and could extend the current infection waves.  Nevertheless, we still believe most developed countries will continue to ratchet down their economically disruptive pandemic restrictions because of Omicron's reduced morbidity, a better understanding of how to live with the disease, and voter fatigue with social distancing measures.
As Hong Kong continues to grapple with its big infection wave with draconian testing and lockdown measures, the municipal government said it would give spending vouchers of HK$10,000 (US$1,280) to 6.6 million adult residents in order to help preserve demand and support the economy.
 Economic and Financial Market Impacts