Daily Comment (February 22, 2023)
by Patrick Fearon-Hernandez, CFA, and Thomas Wash
[Posted: 9:30 AM EST] | PDF
Our Comment today opens with a few additional remarks on how the swaggering monetary policies of the major central banks have once again unsettled global stock markets.  We next review a wide range of other international and U.S. developments with the potential to affect the financial markets today, including renewed threats to commodity supplies because of the war in Ukraine and evidence that global inflation is pushing up wages, even in Japan.
Global Monetary Policy:  This afternoon the Federal Reserve will release the minutes of its latest policy meeting, and investors are bracing for any additional signs that the policymakers are intent on continuing to raise interest rates further and keep them there for an extended period, as Chair Powell insists.  At the same time, yesterday's surprisingly strong economic data in Europe has boosted expectations that the European Central Bank could hike its benchmark interest rate to a record high.  European swap markets now suggest investors are expecting the ECB to hike its key rate to 3.75% by September, up from 2.50% currently.
In the U.S., the yield on 10-Year Treasury notes temporarily rose above 4.00% yesterday, surpassing their level from the end of 2022. The burgeoning concerns about surging interest rates drove U.S. stock prices sharply lower.
European stocks yesterday fell less dramatically than in the U.S., although they continue to falter so far this morning.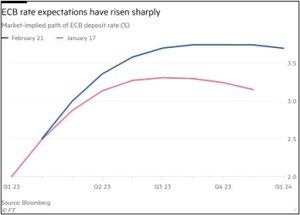 Japan:  In an example of how global price inflation has dramatically changed economic trends,
Toyota Motor Corp. (TM, $139.18) said it had fully accepted its Japanese labor union's wage demands and will give its employees their biggest pay increase in two decades.  The move by the bellwether manufacturer is likely to encourage other major Japanese employers to follow suit.
In fact, Honda Motor Co Ltd (HMC, $25.90) also accepted its union demands in full to raise overall wages by about 5%, including base pay and seniority-based pay.
Such moves in Japan and elsewhere are likely to keep concerns alive about a wage-price spiral that could keep inflation high for longer than investors currently expect.
China:  In recent days, there have been numerous reports that an influential Chinese technology investment banker, Bao Fan, has gone missing.  Bao and his investment bank have been instrumental in bringing many of China's key technology companies to market.  His disappearance, which may indicate he is under investigation by the government, has raised fears that the country's technology companies are about to face a new round of corruption and regulatory scrutiny despite recent hopes that Beijing was easing up on the sector.
Pakistan:  Former Prime Minister Khan plans to launch mass protests across the country today in a bid to topple incumbent Prime Minister Sharif, his arch rival, and force new elections.  The protests come as the government is struggling to convince the International Monetary Fund to release the next tranche of a $7 billion assistance package it needs to avoid defaulting on its foreign debts.
Russia-Ukraine War:  As Russian forces continue their underwhelming counteroffensive in the eastern Donbas region, the Ministry of Defense and the Wagner Group mercenaries owned by financier Yevgeny Prigozhin continue trying to undercut each other, exposing an important political rift within the Russian war effort.  To illustrate the damage, Prigozhin has even accused the MOD of withholding ammunition needed by his mercenaries.  For months Prigozhin has been trying to bolster his political power by highlighting the shortcomings of Russia's official military organizations and demonstrating his mercenaries' success, but it now appears that at least some officials in the Kremlin are trying to cut him down to size before he gets too powerful.
U.S. Artificial Intelligence:  Microsoft (MSFT, $252.67) said yesterday that it will ease some of the caps it imposed just last week on users of its new artificial-intelligence search engine.  The company had limited the number of questions a user could ask the search engine each session after determining that long conversations confused it and led it to provide disturbing answers.  The company said it was easing the limits based on feedback from users.
With interest in natural-language artificial intelligence systems growing rapidly, Microsoft's decision to let everyday users essentially serve as testers has the potential to popularize the new technology even further.
Workers in a range of industries have already started experimenting with the system, raising expectations that artificial intelligence could revolutionize many knowledge jobs in the future.
U.S. Cryptocurrency Regulation:  The Securities and Exchange Commission is reportedly investigating whether Paxos Trust's stablecoin, BUSD, violates investor-protection laws.  If the SEC eventually brings a lawsuit and wins against Paxos, the agency could gain much broader authority to regulate the evolving cryptocurrency marketplace.  However, securities lawyers say the SEC faces an uphill climb to convince a court that stablecoins fall under its jurisdiction.
U.S. Winter Storm:  A major winter storm this week is causing heavy snowfall, high winds, and plummeting temperatures from the Rocky Mountains through the northern Great Plains and from the Midwest into New England.  The storm is expected to ground many airline flights and impede ground transportation for much of the nation, potentially causing temporary economic disruptions.