Daily Comment (February 16, 2022)
by Patrick Fearon-Hernandez, CFA, and Thomas Wash
[Posted: 9:30 AM EST] | PDF
In today's Comment, we open with an update on the Russia-Ukraine crisis, where there still seems to be no concrete evidence that Russia is really pulling back its troops.  We next cover several developments in U.S. economic policy, including a statement by the Biden administration that it is open to temporarily suspending the federal gas tax in order to reduce inflation.  We then discuss a few international developments.  We close with the latest news on the coronavirus pandemic.
Russia-Ukraine:  Following the Russian government's statements yesterday and today that it had withdrawn a small number of troops from the Ukrainian border, U.S. and European officials said they have seen no evidence of a significant pullback.  Indeed, NATO Secretary General Stoltenberg today said alliance intelligence indicates Russia is still building up its forces close to Ukraine, and President Biden yesterday warned that an invasion is still "distinctly possible."  Officials in Ukraine voiced skepticism that Russia's position was softening and said it was unclear what signals Moscow intended to send.  As if to justify the continued caution, yesterday, the Russian parliament passed a resolution urging President Putin to recognize two Russian-backed separatist republics in eastern Ukraine as independent states. And, the Ukrainian government said a suspected cyberattack hit the country's Defense Ministry and two state banks.
Although it's still not clear that Putin really is backing down, he will soon be constrained by the calendar.  The Russian way of war emphasizes heavy armor, and as the weather starts to warm and the Ukrainian soil begins to thaw, Russian vehicles will find it hard to travel.  If you have any doubt of that, check out this video of Russian tanks stuck in the mud during exercises just north of the Ukrainian border.
Until there is concrete evidence one way or the other regarding any Russian de-escalation, global financial markets will be caught in limbo.  We continue to monitor a wide range of information sources to gauge where the crisis might be headed.
U.S. Fiscal Policy:  The White House yesterday said it is open to temporarily suspending the federal gas tax after a high-profile group of Democratic lawmakers proposed scrapping the levy until at least next year in an effort to curb inflation.  According to a White House press secretary, "Every tool is on the table to reduce prices."  The openness to the idea comes as the Biden administration continues to have no luck trying to convince Saudi Arabia to pump more oil in order to bring down prices.
With gasoline prices currently averaging approximately $3.50 per gallon, eliminating the federal gas tax of 18.4 cents per gallon would amount to a price cut of about 8%.
However, gas station operators may not pass all the savings on to their customers.  While gas prices are highly visible to consumers, explaining the political benefit of reducing them, they are also just one part of the typical household budget.  The overall impact on inflation would probably be only modest.
Of course, there is also a political downside to the administration's efforts to lower the price of gasoline.  Those efforts directly contradict the administration's commitment to reduce U.S. global warming emissions.  Indeed, the gas-tax proposal is already generating pushback from both Congressional Republicans and some Democrats.
U.S. Monetary Policy:  Republicans in the Senate yesterday refused to attend a committee vote on President Biden's nominees to the Federal Reserve, delaying the reconfirmation of Chair Powell and the initial approval of all four of the other picks.
The Republicans said they still have concerns about Sarah Bloom Raskin, the nominee for Fed Vice Chair for Supervision, primarily because of her past comments that bank regulators should promote the transition away from fossil fuels.
At this point, it isn't clear how long the dispute will delay confirmation of the officials or if Bloom Raskin or any of the other nominees will have to give up.  In any case, we would still expect the Fed to start raising its benchmark short-term interest rate in March, although we continue to believe rates won't ultimately be raised as fast or as far as most investors currently seem to think.
European Monetary Policy:  In an interview with the Financial Times, ECB executive board member Isabel Schnabel said the central bank must consider the "unprecedented" rise in European house prices when assessing the high level of inflation and deciding how fast to tighten monetary policy.
Unlike the U.S., the Eurozone does not include the cost of owner-occupied housing in its consumer price index.  According to Schnabel, including it would have added 0.6% to the Eurozone's third-quarter core inflation of 1.4%.
Schnabel is an influential hawk on the ECB board, so her arguments are likely to bolster the minority of board members who are pushing for faster monetary tightening.  If and when the Russia-Ukraine crisis recedes, investors would likely return their attention to the prospect of tightening monetary policy in the Eurozone and beyond.  In other words, financial markets could well remain volatile even with peace in Ukraine.
Separately, the Bank of England is likely to face continued pressure to keep raising its benchmark interest rate after the U.K.'s January Consumer Price Index (CPI) showed a year-over-year increase of 5.5%.  As shown in the chart below, that marks the country's highest inflation rate in almost three decades.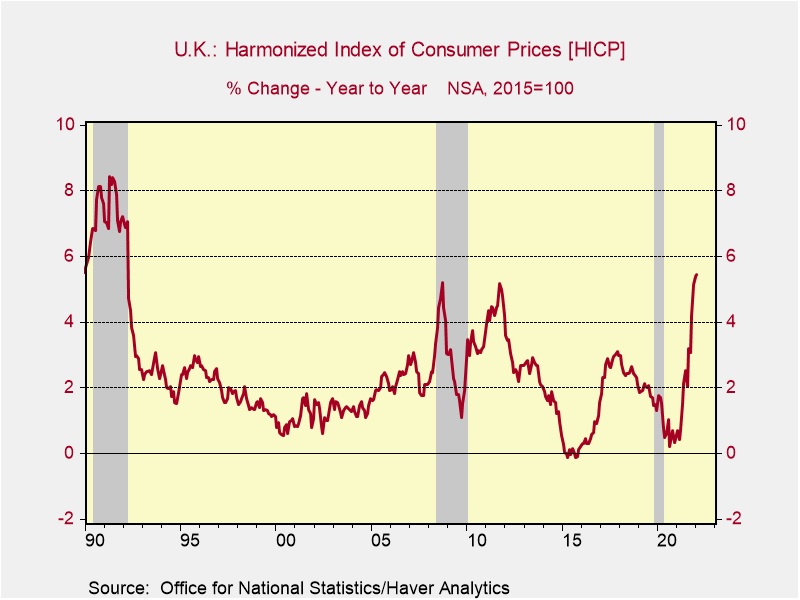 European Union Politics:  The European Court of Justice approved a new EU budget mechanism that allows Brussels to withhold funds from member countries that don't meet EU legal standards.  Brussels will now be free to use the mechanism to punish Poland and Hungary for their violations of EU rule-of-law principles.
Global Digital Currencies:  The Financial Stability Board, which makes recommendations to the G20 nations on financial rules, today warned that cryptocurrencies are a growing risk to global financial stability.  The report argued that policymakers must act quickly in crafting rules covering the digital asset market, given the tightening link with the traditional financial system.
COVID-19:  Official data show confirmed cases have risen to  415,769,578 worldwide, with 5,839,809 deaths.  In the U.S., confirmed cases rose to 78,039,888, with 925,560 deaths.  (For an interactive chart that allows you to compare cases and deaths among countries, scaled by population, click here.)  Meanwhile, in data on the U.S. vaccination program, the number of people who are considered fully vaccinated now totals 214,104,148, equal to 64.5% of the total population.
 In the U.S., data continues to suggest that the highly transmissible Omicron mutation is in retreat.  The seven-day average of people hospitalized with a confirmed or suspected COVID-19 infection fell to 85,086 yesterday, down some 38% from just two weeks earlier.