Daily Comment (February 15, 2023)
by Patrick Fearon-Hernandez, CFA, and Thomas Wash
[Posted: 9:30 AM EST] | PDF
Our Comment today opens with a new forecast indicating that global oil demand is expected to rebound to a record high in 2023.  We next review a wide range of other international and U.S. developments with the potential to affect the financial markets today, including a report showing modestly cooler price inflation in the U.K., a dramatic jump in Turkish stocks, and the latest on the U.S.-China balloon saga.
Global Oil Market:  In its monthly forecast update, the International Energy Agency boosted its expectation for global oil demand in 2023 to an all-time high of 101.9 million barrels per day, up 0.2 mpbd from its previous forecast.  That would mark an increase of 2.0 mbpd, or 2.0%, from the demand of 99.9 mbpd in 2022.  The agency ascribed the increase largely to China's decision to end its strict Zero-COVID lockdowns.
U.K. Politics:  Scottish leader Nicola Sturgeon resigned her position as first minister and as leader of the Scottish National Party today, responding to a backlash against her strategy for securing independence and a fall in her popularity over proposed gender laws.  The resignation adds to the political upheaval Britain has faced over the last year owing to a churn in the position of prime minister, rampant inflation, and a wave of public sector strikes over pay.
U.K. Economy:  The January Consumer Price Index was up just 10.1% year-over-year, coming in cooler than both the expected rise of 10.3% and the December increase of 10.5%.  British inflation is also now noticeably slower than its most recent peak of 11.1% in October.  Nevertheless, price increases remain far stronger than targeted by the Bank of England, which suggests that its policymakers will continue to hike interest rates aggressively in the near term.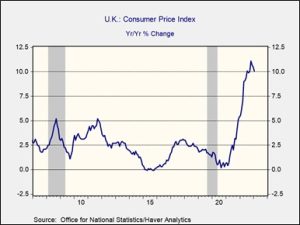 Russia-Ukraine War:  The British Defense Ministry estimates that 97% of Russia's entire army has now been deployed to Ukraine in preparation for its new offensive there, which we described in yesterday's Comment.  The massive Russian deployment is exacerbating a disagreement in which some U.S. military officials believe that the Ukrainians should abandon the eastern city of Bakhmut to preserve forces, but some leaders in Kyiv believe it is worthwhile to attempt to hold the city. The Ukrainian officials believe that they should continue inflicting heavy losses on the Russians to prevent them from deploying more forces elsewhere along the front lines.
Turkey:  The Istanbul stock market reopened today following its shutdown in response to last week's devastating earthquakes, and the government's order that private pension funds increase their allocation to Turkish stocks appears to be giving the market a major boost.  So far this morning, Turkish equity prices are up some 9.7%, and are on track for their best daily performance since 2008.
Brazil:  In an interview with the Wall Street Journal, Former President Bolsonaro stated that he will return to Brazil next month to defend himself against accusations that he fomented January's rioting at the Brazilian capitol, despite the legal risks in doing so.  He also said he would lead the conservative opposition against leftist President Lula da Silva, although he was undecided as to whether he would run for the presidency again.  In any case, Bolsonaro's return could worsen the country's political polarization and could potentially be a headwind for Brazilian stocks.
China-Philippines:  Philippine President Ferdinand Marcos, Jr., summoned China's ambassador yesterday to complain about an incident last week in which a Chinese coast guard ship trained a military-grade laser on Philippine Navy sailors trying to resupply a contingent of marines at a South China Sea outpost.  The laser temporarily blinded the Philippine sailors, prompting Manila to lodge a formal protest against China earlier this week.
As we noted in our Comment in recent days, Marcos has recently been mending Philippine security ties with the U.S. with moves to give the U.S. more basing rights and laying the groundwork for a tripartite U.S.-Japan-Philippines security treaty.
The Chinese laser incident could well be meant as a warning against such a rapprochement and serve as a reminder that Beijing asserts territorial rights to much of the waters claimed by the Philippines.
U.S.-China Surveillance Balloon Crisis:  Unidentified officials have told The Washington Post that the U.S. tracked the first Chinese balloon shot down earlier this month from the time it took off from China's Hainan Island in late January.  The balloon was evidently tracked as it passed over the U.S. territory of Guam, with its important military installations.  It then took an unusual turn northward to Alaska, possibly because it was captured by strong winds in the upper atmosphere, until southeasterly winds finally pushed it down to the U.S. mainland.
The pattern of events suggests there may be some credence to China's claim that the balloon was blown off course.
Nevertheless, the balloon's initial passage over Guam would still suggest that it was meant for spying.
U.S. Economy:  At an industry conference yesterday, the leaders of some of the country's biggest banks remarked that they have been surprised by the recent resilience of the U.S. economy and now believe the country could avoid a recession.  However, we are now only at the very beginning of the period in which our various models suggest a recession could begin.  We think it remains far too early to call a "soft landing."  In fact, it would not be surprising to us if the recession began perhaps even late in the third quarter, which means we couldn't confirm it in the data until well into the fourth quarter.  For investors, that means there is still a heightened risk that the stock market could embark on another downward leg before starting to trend upward for good.
U.S. Regulatory Policy:  The Federal Trade Commission's only Republican member, Christine Wilson, has announced she will resign in protest against Chair Khan's leadership strategy and ethics.  Until Republican leaders nominate a replacement for Wilson and for the other current Republican vacancy, the move will leave the commission's three Democratic members with a freer hand to pursue their planned intensification of antitrust and consumer protection rules.