Daily Comment (December 7, 2020)
by Bill O'Grady, Thomas Wash, and Patrick Fearon-Hernandez, CFA
[Posted: 9:30 AM EDT] | PDF
Good morning and happy Monday.  It's the 79th anniversary of Pearl Harbor.  Equity markets are lower this morning.  Our coverage starts with Brexit; negotiations are coming to an end, and the "level playing field" issue appears to be the final sticking point.  An update on the EU budget follows.  Pandemic news is next.  There is an update on China; export data was stellar.  Economic news follows. A roundup of news from India, Venezuela, Saudi Arabia, and Russia wraps things up.  Here are the details:
Brexit:  Where to begin?  The EU Commission President von der Leyen and PM Johnson issued a short statement about continued negotiations.  The EU chief negotiator Barnier warns that he "cannot guarantee" a deal after 10 hours of talks yesterday.  Talks are said to be on a "knife edge."  The GBP fell hard on reports of this friction.  There are also reports that the fisheries issue has been resolved, although we still don't have official confirmation.  In the end, the last real sticking point is that the U.K. wants the freedom to make its own regulations and rules; the EU worries that if it gives Britain trade access, it will face an unequal regulatory environment that will give the U.K. an advantage.  Thus, the EU wants the U.K. to follow EU rules if it wants access; the U.K. views this as undermining the whole point of Brexit.  However, it isn't just this issue; there are long-standing differences between Britain and the continent that are tied to centuries of history.  Reports are that France is hewing to a hardline position.  This should come as no surprise.  At the same time, a hard Brexit isn't necessarily the most likely outcome.  It should be possible to create mechanisms that allow the EU to apply sanctions if the U.K. engages in regulatory arbitrage.  Thus, there is an element of political theater, and we still expect that a deal will be made.  Albeit, only at the last moment.  At the same time, it doesn't look like the U.K. is ready for the trade environment that it has already agreed upon.  Some degree of disruption is likely even with a deal.  If there is no deal, expect a sharp drop in the GBP, to the $1.15/$1.20 area.  This won't last and should be seen as a buying opportunity for U.K. assets.
EU Budget:  Budget talks continue with a meeting scheduled for Thursday to get final approval on the €750 billion aid budget.  The sticking point is that the law denies fund access to countries deemed to not have an independent judiciary, a rule targeted at Hungary and Poland.  Last week, it appeared that Poland may have been willing to make concessions.  Over the weekend, the right-wing press thundered about Polexit.  We don't think Poland will leave the EU anytime soon, but it does suggest discussions will be tense.  This budget deal is historic; the creation of a Eurobond would be a huge step in making the euro a competitor to the dollar for reserve purposes.  Chancellor Merkel's support for this measure could be her lasting legacy, so we will be watching to see if she can manage to get this budget passed.
COVID-19:  The number of reported cases is 67,178,542 with 1,537,975 fatalities.  In the U.S., there are 14,761,542 confirmed cases with 282,345 deaths.  For illustration purposes, the FT has created an interactive chart that allows one to compare cases across nations using similar scaling metrics.  The FT has also issued an economic tracker that looks across countries with high-frequency data on various factors.  U.S. hospitalizations have hit a new record.  The chart below shows that U.S. infection levels are rising, while the EU appears to have peaked.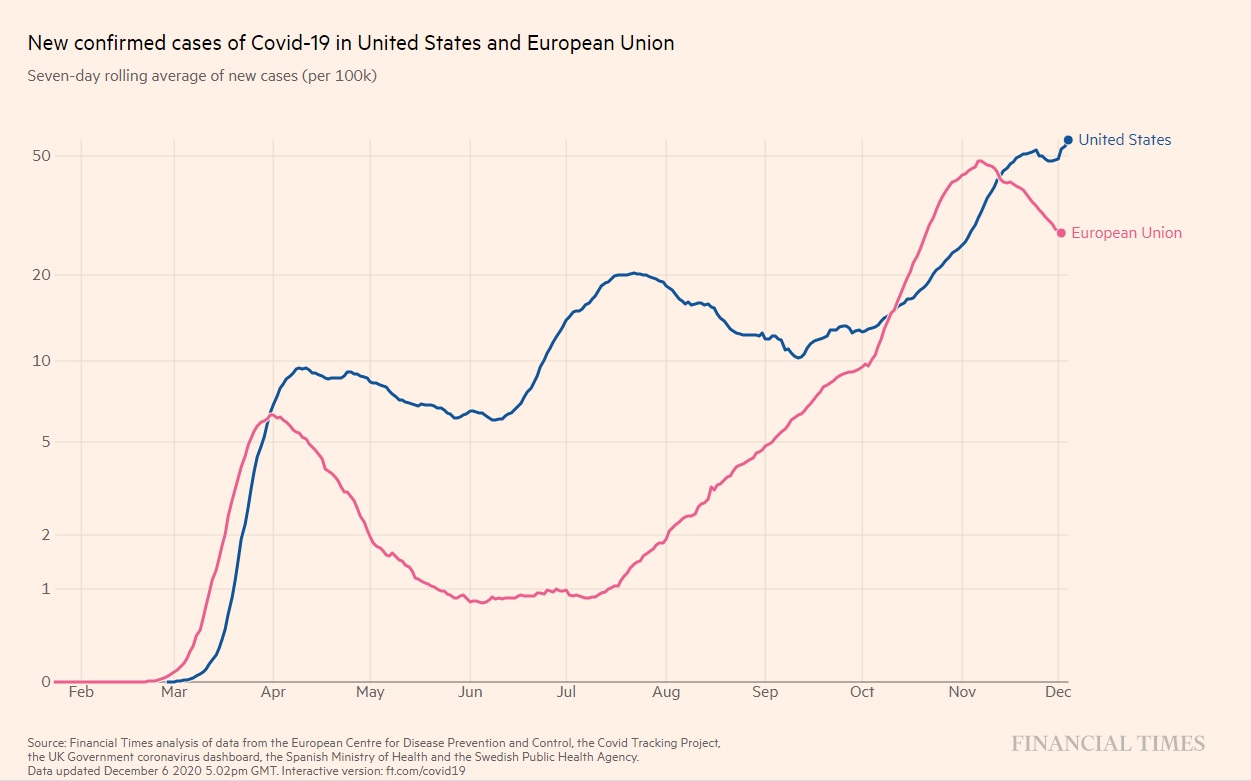 Virology
China:  Exports rose sharply in November, up 21.1% from last year in dollar terms.  Imports rose by 4.5%.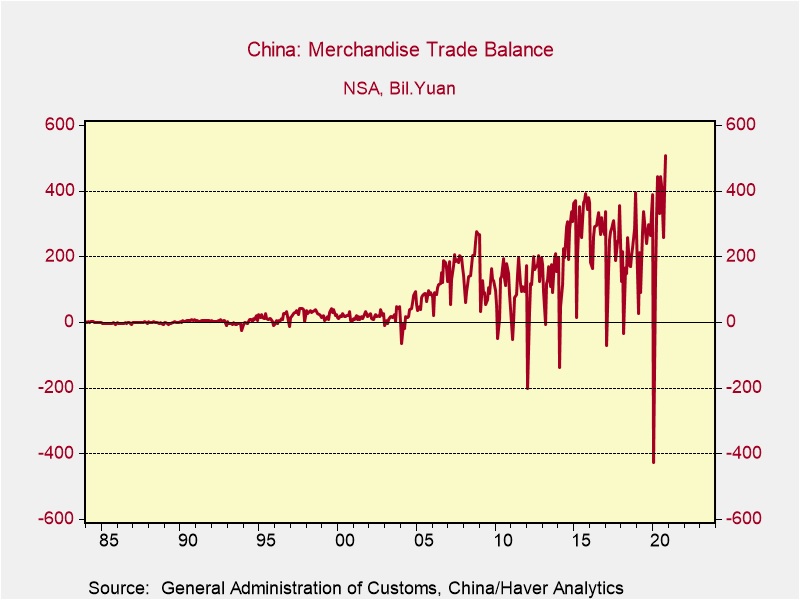 On a non-seasonally adjusted basis, this is a record trade surplus.  Goods demand has been elevated while services have been depressed, which boosted China's exports.
Economics and Policy:  It's a busy week for policymakers.
Foreign roundup: