Daily Comment (December 6, 2017)
by Bill O'Grady and Thomas Wash
[Posted: 9:30 AM EST] Global equities continue to struggle this morning.  Here is what we are watching:
Why the struggle in equities?  There is a plethora of reasons why equities have started to tread water.  The tax bill may fail.  If it does pass, we could easily see a bout of profit-taking (buy rumor, sell fact).  The next policy action from the Trump administration may be on trade.  The combination of tax cuts (which raise the fiscal deficit) and trade restrictions (which would limit foreign saving from offsetting the fiscal deficit) would force domestic saving higher by either (a) cutting investment, or (b) forcing higher household and business saving, probably by boosting unemployment.  That would weaken the economy and likely hurt earnings.  The Fed may have too much credibility and the tax cuts may lead to faster monetary policy tightening and a stronger dollar.  The fact that small caps seem to be holding up better than their larger brethren suggests the Fed concern may be playing a role; at the same time, small caps will probably benefit more from corporate tax cuts since they have not enjoyed the benefit of lobbying action to reduce their effective tax rates.  The government may shut down.  Chinese growth may slow next year.  The bottom line is that we have seen a very strong equity market this year and a period of consolidation would make sense.  And, the fact that there are so many "reasons" why equities are stalling suggests this is probably more of a consolidation than anything else.  Why?  Because the primary reason to worry about a bear market is either (a) recession, or (b) geopolitical event.  Recession still appears to be a ways off.  Geopolitical worries are a concern but we haven't had one, so far, that would put the economy at risk.
The Jerusalem issue: The Trump administration is moving to recognize Jerusalem as the capital of Israel.  We don't have any strong feelings either way on the basis for this decision.  However, it will complicate diplomacy in the region as the Arab states generally oppose the action.  In other words, if the U.S. decides it wants to build an anti-Iranian coalition, this decision will make that harder.  On the other hand, in the end, if the fear of Iran is great enough, it probably won't matter.  At this point, our take is that it will foster lots of punditry but probably doesn't change much on the ground.
Bitcoin: We have been getting lots of questions on the cryptocurrency and it has been on a tear.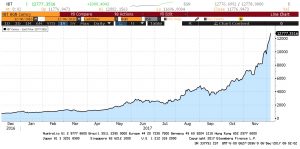 As the chart shows, the XBT/USD exchange rate is going parabolic.  The debate around bitcoin, in particular, and cryptocurrencies, in general, is intense (Is it a real currency? Is it all a scam?).  An issue we are monitoring related to bitcoin and cryptocurrencies is another cryptocurrency called "Tether" that uses the symbol "USDT."  What does Tether do?  Unlike other cryptocurrencies, it is pegged 1:1 to the USD.  So, why does this exist?  Tether is designed to allow a holder of a cryptocurrency to shift it to Tether which, according to reports, is easier than converting bitcoin to USD.  The operators of Tether say that there is one USD backing each USDT.  Currently, there is 814 mm USDT circulating, meaning that there should be $814 mm sitting in a bank somewhere—except that the managers of Tether have not allowed audits and Wells Fargo (WFC, 58.55) has ended its correspondent relationship with the manager.  The manager of Tether has also decided to no longer do business in the U.S., although that might be hard to do given the proto-anonymous nature of cryptocurrencies.  There is growing speculation that USDT is being created without a reserve backing (in other words, USDT is simply being "printed") and the manager is buying bitcoin with the inflows, further boosting the price of bitcoin.
So, what's the problem?  Tether's contracts clearly indicate it is under no obligation to redeem USDT on demand (which, in theory, could eliminate the bank run problem).  However, if the price of bitcoin were to fall rapidly for some reason (maybe because of the opening of futures contracts), then the backing of USDT, which may be bitcoin, would collapse.  For most investors, this won't be a big deal.  But, it should be a cautionary note for investors who are considering participating in the cryptocurrency space.[1]
---
[1] See https://seekingalpha.com/article/4129543-bitcoin-one-way-go-true?page=2 and https://www.bloomberg.com/news/articles/2017-12-05/mystery-shrouds-tether-and-its-links-to-biggest-bitcoin-exchange for more details.