Daily Comment (December 2, 2019)
by Bill O'Grady, Thomas Wash, and Patrick Fearon-Hernandez, CFA
[Posted: 9:30 AM EST]
Welcome back!  Hope all had a great holiday; it's now December, the last month of 2019.  Ursula von der Leyen finally gets to take over as head of the EU commission.   It's a modest risk-on morning.  Here are the details:
China:  A few news items of note.  First, PMI data (see below) came in better than forecast. The official manufacturing PMI for November rose to a seasonally-adjusted 50.2, up from 49.3 in October and 49.8 in September.  For the first time since April, the index now stands above the 50 level that points to expanding activity.  The November Caixin-Markit PMI, which is more heavily weighted toward private firms and exporters, remained in expansion territory for a fourth straight month and rose to a three-year high of 51.8.  The figures are being taken as a tentative sign that the Chinese economy may be on the verge of accelerating again.  That's proving to be a positive for global risk assets so far today.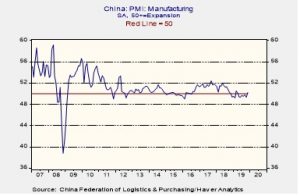 Second, PBOC governor Gang suggested the world economic downturn "will stay for a long time" and dismissed unconventional easing as a policy tool.  Third, positions on trade appear to have hardened; the Global Times, a mouthpiece for the CPC, indicated that a Phase 1 trade deal will require the rollback of current tariffs, something unlikely to occur.  With both the U.S. and Chinese economy looking somewhat better, both sides likely believe their position has been strengthened and thus the urgency to make a deal is reduced.  Fourth, although Chinese officials are unhappy with the recent Hong Kong human rights bills, Beijing is not tying the bills to trade.  Instead, it is limiting the actions of U.S. NGOs[1] and has said it will no longer allow U.S. military ships or aircraft to visit Hong Kong.
A world of unrest:  There are a plethora of protests around the world; here is a quick guide;
There is a common theme in all these protests—a growing disenchantment with the ruling elites who are seen as protecting their own interests against the needs of the majority.  There are clearly local catalysts, but the common element is anger against government leaders.
OPEC:  The cartel and Russia meet this week in Vienna to discuss extending current output curbs. On Friday, doubts about the extension sent crude prices tumbling.  We are seeing a partial recovery this morning as Saudi Arabia is lobbying for extending current cuts to mid-2020.  Additionally, in a surprise move, Iraq is touting an additional cut of 400 kbpd.
Germany:  Chancellor Merkel's junior coalition partner, the Social Democratic Party, elected two new leaders that have vowed to pull their support for the government unless it veers sharply to the left.  Merkel's fall isn't necessarily imminent, but the development confirms that her days in power are numbered.  It also suggests that in the coming years, Germany could adopt much more fiscal stimulus than at present.
Hong Kong:  The city government released a forecast showing Hong Kong's budget will be in deficit in fiscal year 2019-2020, marking its first shortfall in 15 years.  The deficit stems from the economic disruptions from months of mass anti-China protests.  The government also said Hong Kong's October retail sales were down a whopping 24.3% year-over-year.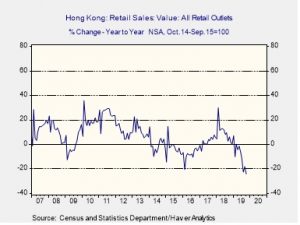 United States-Brazil-Argentina:  Opening an unexpected new trade battle, President Trump said he would restore retaliatory tariffs on steel and aluminum from Brazil and Argentina.  To justify the move, the president suggested Brazilian and Argentine officials have been deliberately devaluing their currencies, even though the depreciations make sense in the context of economic issues like falling interest rates in Brazil and political fears in Argentina.  The unexpected new trade battle has taken a bit of wind out of the market, in spite of the positive news on Chinese manufacturing.
European Union:  Finland's government (which currently holds the EU's rotating presidency) proposed cutting "cohesion" funding to poorer countries to 1.07% of gross national income.  That would fund the program at much less than the 1.30% of GNI proposed by the European Parliament and the 1.11% proposed by the European Commission, but it would be much closer to the 1.0% of GNI demanded by rich countries like Germany.
Brexit:  In an interview with the Financial Times, EU financial services chief Dombrovskis warned British financial firms could lose access to the EU market if Britain's post-Brexit rules on financial stability and consumer protections stray too far from EU standards.  Other EU officials have recently made similar threats, which suggests:  a) EU officials fear the economic competition that could come from a lightly regulated "Singapore-on-the-Thames" Britain after it leaves the EU, and b) Those officials may be willing to play hardball to keep Britain bound more closely by EU rules.  With the election a mere 11 days away, the Tories continue to poll around 43%; however, Labour is surging, and given the collapse of the Brexit party, a Labour-Liberal/Democrat-SNP coalition would actually pull 50% of the vote.  It isn't completely clear if such a coalition can form, but it may be the only real threat to a Tory government.
---
[1] Who are already restricted.
[2] Venezuela also offered cheap petrol.