Daily Comment (December 12, 2017)
by Bill O'Grady and Thomas Wash
[Posted: 9:30 AM EST] Market activity is quiet this morning, but we are monitoring a number of interesting news themes.
The Alabama Special: Special elections are being held in Alabama today to replace Jeff Sessions, who left the seat to become Attorney General.  Polling has been wildly divergent but the prediction markets are signaling a Roy Moore victory, although we have seen some weakness develop in the past 48 hours.  We assume Moore will win; how the GOP Senate leadership deals with this outcome remains to be seen.
Mixed reports from North Korea: First, the positive news.  The Manila Times[1] reports that U.N. envoy Jeffrey Feltman, the undersecretary general for political affairs, was in Pyongyang for five days of talks with North Korean officials.  Although no breakthrough occurred (in fact, official statements look like it was more of a rantfest by DPRK negotiators), there were two positive outcomes.  First, the fact that discussions occurred at all is a welcome development.  This is the first time in five years that anyone of this rank from the U.N. has been in North Korea.  Second, there were promises made to conduct more meetings.  Although there isn't any evidence to suggest a softening tone from North Korea, the fact that they are interested in more talks is positive.  Second, the negative news.  The NYT reports that China is planning refugee camps on its border with North Korea.[2]  The article confirms temporary housing has already been constructed.  The fact that China is taking this step suggests that the Xi government is expecting some sort of crisis that will lead to a refugee problem.  It should be noted that this report emerged after China's vice minister for foreign affairs, Zheng Zeguang, made an unscheduled visit to Washington last week to discuss the rising tone of confrontation between the U.S. and North Korea.  Although war is a constant worry, the Chinese may also be concerned about Kim Jong-un's hold on office.  A refugee crisis could come from internal instability.
FOMC: The FOMC meeting begins today and ends tomorrow with new forecasts, an updated dots chart and a press conference—and, with almost 100% certainty, a rate hike.  The key component we will be watching is the dots chart, which will likely signal at least three, and perhaps four, rate hikes for 2018.  We may see two dissents to a hike from Minneapolis FRB President Kashkari and Chicago FRB President Evans.  One of the key factors is the voting rotation next year.  We will get four new regional bank president voters and this group will be more hawkish than the 2017 group.  The table below shows the voting roster for this year and next year along with an estimate of what the FOMC will be at mid-year.  We also include our estimate of the participants' policy stances, with five being most dovish, three being moderate and one being most hawkish.  The overall current FOMC is moderately hawkish, with an average of 2.81.  The 2017 voting roster was a 3.20 average, a moderately dovish policy stance and clearly more dovish than the overall average.  The 2018 voting roster average falls to 2.50, much more hawkish than the current roster.  The last column of the chart shows what the FOMC might look like by mid-year.  We are assuming the Richmond FRB will install Thomas Barkin as its new president (we assume he will be at least somewhat hawkish given the "DNA" of that bank).  We also assume Mohammad El-Erian as vice chair along with John Taylor and Marvin Goodfriend as governors.  With those appointments, the FOMC would be even a bit more hawkish.  This increases the odds of four hikes next year.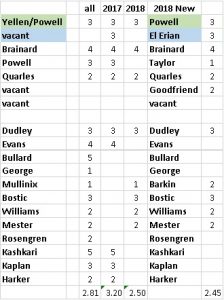 Tax bill update: The current plan is to have a bill to the president by December 22.  Still, there are gaps on a number of issues, including the corporate AMT and SALT.  The momentum to get something done is very strong and we do expect that a bill will be signed by the president.  At the same time, because it is being rushed, a plethora of distortions and loopholes will emerge and we have doubts that there will be legislative "energy" to address fixes.  The administration is moving to shift its focus to welfare reform and infrastructure in 2018.
---
[1] http://www.manilatimes.net/new-hope-defusing-tensions-korean-peninsula/367943/ and https://www.wsj.com/articles/amid-north-korea-tensions-a-narrow-diplomatic-window-opens-1513010394
[2] https://www.nytimes.com/2017/12/11/world/asia/china-north-korea-border.html?_r=1