Daily Comment (December 10, 2019)
by Bill O'Grady, Thomas Wash, and Patrick Fearon-Hernandez, CFA
[Posted: 9:30 AM EST] Looking for something to listen to while shopping?  Episode #4 of the Confluence of Ideas Podcast is now available.  It's all about the Equality/Efficiency Cycle.  Enjoy!
Equities were trending lower this morning; worries about new tariffs scheduled for Dec. 15th were blamed.   However, prices have flipped into positive territory on reports from China that the scheduled tariffs will be delayed.  Broader trade news is improving.  Russia and Ukraine are in a standoff.   China data was mixed; German data was improved.  Here are the details:
Trade:  It appears the USMCA is near completion in the House with a vote likely before year's end.  If passed (and we think it is likely) it will be a major win for the Trump administration.  Although there are worries that the U.S. will add new tariffs on Monday, we doubt that the tariffs will be applied this month which should give equities a lift into year's end.
Russia-Ukraine:  Russian President Putin and Ukrainian President Zelenskiy have reportedly agreed to another ceasefire, troop pullback, mine removal and prisoner exchange in the eastern Ukrainian territory currently held by pro-Russian separatists.  However, there have been many such ceasefires in the five years since Russia annexed the Crimean Peninsula and the separatists rose up in the areas near Donetsk and Luhansk.  The new agreement seems little more than a reiteration of the moribund Minsk agreement of 2014, as we described in this week's WGR.  Indeed, President Zelenskiy reiterated that the conflict can't be solved until the Ukrainian government gets full control over its border again.
Foreign data:  China's November CPI soared to 4.5%, led by a 110.0% rise in pork prices.  Food prices overall were up 19.2%.  However, core inflation fell to 1.5% from 1.6%, suggesting that the food price spike isn't leading to higher prices in other sectors.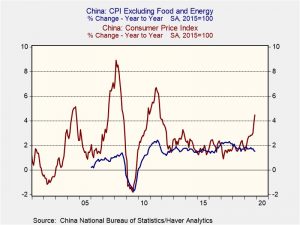 Meanwhile, deflation continues at the producer level, with PPI coming in at -1.7%.  China's total loan growth was 12.4%, roughly steady with October.  The lack of growth suggests the PBOC will be inclined to ease policy further.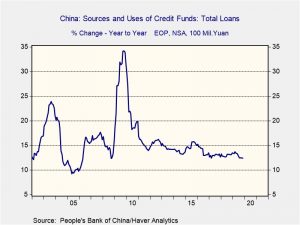 Reflecting the domestic challenges to China's growth, November auto sales were down 3.6% year-over-year, marking their 17th straight annual decline.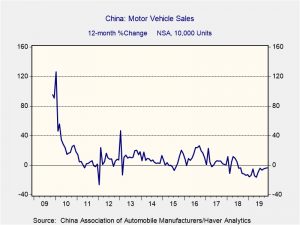 German investor sentiment improved in December.
North Korea:  After a tweet from President Trump that "Kim Jong Un is too smart" to not denuclearize North Korea as promised, North Korean state media quoted the chairman of its Asia-Pacific Peace Committee as denouncing Trump as a "heedless and erratic old man."  Increasingly provocative rhetoric and military activities suggest North Korea may be reverting to its risky, confrontational stance of previous years.  Despite recent friction, the U.S. has protected North Korea from U.N. human rights scrutiny.
Odds and ends:  Chinese companies are finding that shifting production to Southeast Asia to avoid tariffs has limits.  The Washington Post reports that internal documents indicate the lack of strategy in the Afghanistan conflict.  There are reports of an ANC plot to push President Ramaphosa out of office.  Protests continue in Malta.  Congress is considering a ban on Chinese rail and bus products.  Blue collar jobs are requiring higher education levels, reducing the ability of manufacturing to create high paying unskilled jobs.