Daily Comment (December 1, 2017)
by Bill O'Grady and Thomas Wash
[Posted: 9:30 AM EST] There was a lot of overnight news, but below are the stories we are following today:
Tax bill hits a snag: In an attempt to appease the deficit hawks, Senate Republicans have agreed to pare back $350 bn in tax relief.  The two proposals being floated are an alternative minimum tax for wealthy individuals and a revenue trigger that would roll back tax relief if economic growth fails to meet expectations.  Tea Party members have expressed their displeasure with these proposals, specifically tax hikes of any sort, but, despite their reluctance, they have not publicly come out against the tax bill.  Even though the bill is planned to be put to a vote sometime this morning, there is growing speculation that it could be pushed into next week.
Possible shutdown looming: Congressional Republicans are working on a temporary stop-gap spending bill to keep the government funded through December 22.  Democrats have rejected an initial offer from the Senate GOP that would link concessions on DACA with funding for a border wall.  Meanwhile, President Trump appears to be using the threat of a possible government shutdown in order to gain leverage in negotiations with Democrats.  According to the NYT, the president has told people close to him that a shutdown would be beneficial to him politically.  Although we are inclined to believe the president has a better understanding of his base than most, in the past, government shutdowns have been risky for everyone involved.  Moreover, a government shutdown would almost certainly mean that tax reform gets pushed into early next year and possibly even further if Republicans lose the Senate seat in Alabama.  We will continue to monitor this situation.
White House year-end cleanout? Reports suggest that SOS Rex Tillerson, Gary Cohn and Jared Kushner could all be headed for the exit door.  Yesterday, multiple reports linked SOS Rex Tillerson with an imminent departure from the State Department; his replacement is rumored to be CIA Director Mike Pompeo.  SOS Tillerson and President Trump have expressed alternative approaches to foreign policy.  President Trump has favored a hawkish foreign policy compared to the diplomatic approach of Tillerson, and Mike Pompeo is believed to be more aligned with the president's way of thinking.  In other news, Gary Cohn is rumored to be considering leaving the White House following the conclusion of the tax bill; rumors have circulated about his departure since he came out publicly against Trump.  In addition, Jared Kushner, who has seen his role diminish in the White House, might be considering an exit in order to deal with legal matters associated with the Russia investigation.
Russian influence spreading: Russia appears to be expanding its influence throughout the Middle East.  According to the NYT, Russia and Egypt have reached a preliminary agreement that would allow Russian military jets to use the airbases in Egypt.  In addition, The Economist reports that Turkey, a NATO member, has considered purchasing Russian-made weapons such as the S-400 missile-defense system.  This comes on top of news that Trump ceded Syrian postwar planning to Russia earlier this year.  It appears that Russia is taking advantage of the Trump administration's willingness to take a step back from the U.S. superpower role.  If this pattern persists, we expect there to be more uncertainty in global markets as other countries will likely compete to fill the power vacuum following U.S. withdrawal.
Tensions rise in Catalonia: Early this morning, effigies were seen hanging from a bridge in Catalonia bearing logos of parties from the remain camp in Spain.  This is likely an effort to intimidate voters into supporting separatist parties in the December 21 regional election in Catalonia.  Polls suggest that separatist parties may be losing support; however, there are concerns that PM Rajoy's aggressive response following the October 1 referendum could lead to more violence within Catalonia, similar to separatist groups' actions in the Basque Country.  Tensions are likely to escalate further as separatists await the ruling on Monday as to whether politicians and advisers who supported the October 1 referendum will be freed from prison.  Following the Catalan declaration of independence, several politicians and advisers we arrested on grounds of sedition, misappropriation of funds and treason.  Rajoy is supposedly in favor of freeing them so there will be no excuses following the results of the upcoming election.  We will continue to monitor this situation.
Eurozone reform: The leader of the Social Democrats (SDP), Martin Schulz, has named his price to link the SDP with the CDU/CSU.  In an interview with the German publication Der Speigel, Schulz suggested that supporting Eurozone reforms similar to those proposals made by French President Macron would be key to gaining his party's support.  Earlier this year, Macron expressed interest in setting up a Eurozone finance minister, budget and parliament, in addition to allowing the currency bloc to issue its own bonds.  With the exception of a Eurozone bond, Chancellor Merkel has expressed a level of interest in implementing some of Macron's ideas; as a result, we are still optimistic that a grand coalition will be formed between the SDP and CDU/CSU.
Energy recap: U.S. crude oil inventories fell 3.4 mb compared to market expectations of a 3.5 mb draw.

This chart shows current crude oil inventories, both over the long term and the last decade.  We have added the estimated level of lease stocks to maintain the consistency of the data.  The DOE has revised its data (an exercise it does periodically) and inventories are falling faster than previously estimated.  As the chart shows, inventories remain historically high but have declined significantly this year.  We also note the SPR fell by 2.4 mb, meaning the net build was 0.1 mb.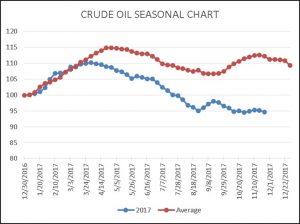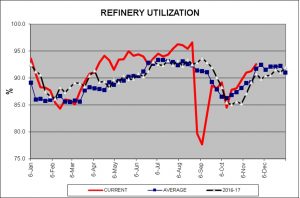 Refinery operations continued to rise last week, in line with seasonal norms.  We expect them to peak very soon.