Daily Comment (December 7, 2022)
by Patrick Fearon-Hernandez, CFA, and Thomas Wash
[Posted: 9:30 AM EST] | PDF
Good morning, on this 81st anniversary of the surprise attack on Pearl Harbor.  Only a few surviving servicemen will visit this site today, a reflection of the aging of the WWII generation.  A 17-year-old serviceman in 1941 would be 98 today. In the markets it is another rather quiet morning.  Earlier this morning, U.S. equity futures and oil were lower but have turned higher in the past hour while the dollar is mixed.
In today's Comment, our coverage begins with China news.  International news comes next, and our update on the war in Ukraine follows.  Coverage of economic and market news is next in line, and we close with a roundup of U.S. news.
China News:  China is moving rapidly to ease COVID restrictions and there is some evidence of a thaw in U.S./China tech relations.
International News:  Germany uncovers a right-wing coup plot, and Argentina's vice-president has been found guilty of fraud.
Twenty-five people were arrested from three countries on suspicion of a coup to overthrow the German government. Among those detained is a former AfD lawmaker, and a member of Germany's special forces.  It isn't obvious if the plot was gaining traction or close to operational capacity.  Some members did contact Russian intelligence, but there isn't any evidence that the Russians were involved.  Germany has a neo-Nazi undercurrent that resurfaces on occasion.  During the 1970s, left-wing groups associated with communist factions, such as the Baader-Meinhof Gang, were prevalent.  None, so far, have seriously threatened the government.
Cristina Fernández de Kirchner, the current vice-president, a former president, and the wife of a late president, was convicted of fraud by an Argentine court. She was sentenced to six-years in prison and barred from public office for steering public works funding to a family associate while she was president and first lady.  In the short run, nothing will change.  She will appeal her conviction and during the appeal process, she will remain in office.  Her term ends next December, so it is likely she will leave office without the case being resolved.  The Kirchners are polarizing figures in Argentina; though, if the conviction sticks, it may mean the end of her family's influence in the country.
The U.K. is facing a wave of labor discontent. PM Sunak is considering anti-strike legislation to stem the tide.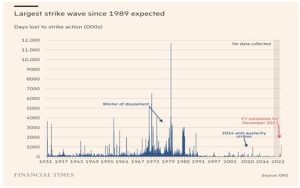 War in Ukraine:  More on the Ukraine strikes inside Russia, and Hungary blocks aid.
Markets, Economics and Policy:  Lumber futures rise, and supply chain issues slow arms sales.
Lumber prices soared during the pandemic, as there was a lift in housing and remodeling. However, the rally failed as time passed, and prices slid.  Although prices remain well below pandemic highs, prices jumped to their daily futures limit on reports that Canfor (CFPZF, $17.20) has cut mill output due to the falling demand.
Arms demand is elevated due to the war in Ukraine and the general rebuilding of defense. However, supply chain issues and rising costs have cut sales over the past few months.
U.S. News:  Part of North Carolina remains without power, and the Georgia Senate seat remains with Democrats.
Utilities are struggling to fix the sabotaged substations in North Carolina. It is still uncertain who was behind the attacks, but the event highlights the need for redundancies.  It would be prohibitively expensive to defend all infrastructure, but holding inventory of critical parts would likely speed recovery.  Of course, inventory costs money and reduces efficiency.
Raphael Warnock (D-GA) won a new six-year term by defeating Hershel Walker. This gives the Democrats a 51-49 advantage in the Senate.
Rackspace Technology (RXT, $3.95) reported a massive ransomware attack. The company hosts emails and cloud computing, mostly for business.