Daily Comment (December 10, 2021)
by Bill O'Grady, Thomas Wash, and Patrick Fearon-Hernandez, CFA
[Posted: 9:30 AM EST] | PDF
Good morning! Today's report begins with a discussion about Starbucks (SBUX, USD,115.35). We then turn to U.S. economic and policy news, followed by China-related stories. International news is next, and we end with our pandemic coverage.
Baristas in a Starbucks store in Buffalo voted to form a union on Thursday. The vote reflects how a tight labor market can give workers the confidence to push for concessions from their employers. Since the pandemic began, restaurant workers, who are grouped as Leisure and Hospitality by the BLS, have seen their wages accelerate faster than inflation.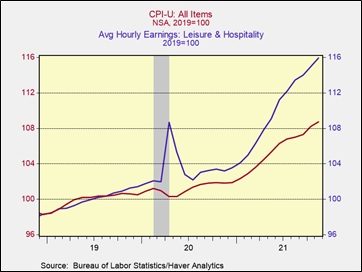 In fact, there is some evidence suggesting the pickup in wages may have leaked into the inflation data.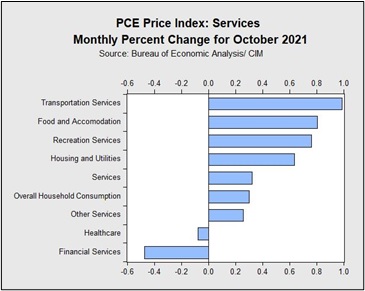 The chart above shows that in October, the rise in service inflation for Food and Accommodation and Recreation Services were only exceeded by Transportation Services. Hence, the PCE Price Index, the Federal Reserve's preferred inflation gauge, may already show signs that the labor tightness is pushing up prices. It is worth noting that the jump in inflation for Food and Accommodation can also be attributed to an increase in food and drink prices. Meanwhile, price increases for Recreational Services were likely boosted by a surge in demand due to the lifting of pandemic restrictions and will eventually fade away. That being said, if more workers start to unionize, especially in low-skill and critical industries like food processing, we could see sustained inflationary pressure, margin contractions, or possibly both in the upcoming year. In this event, we think the Fed may decide to respond by enacting more hawkish policy that could slow GDP growth. It could be beneficial for industries with relatively low overhead and stable revenue (i.e., tech).
Economics and policy:
China:
International news: 
COVID-19:  The number of reported cases is 268,663,978, with 5,290,569 fatalities.  In the U.S., there are 49,664,506 confirmed cases with 794,648 deaths.  For illustration purposes, the FT has created an interactive chart that allows one to compare cases across nations using similar scaling metrics.  The FT has also issued an economic tracker that looks across countries with high-frequency data on various factors.  The CDC reports that 588,422,575 doses of the vaccine have been distributed with 477,433,765 doses injected.  The number receiving at least one dose is 237,468,725, the number of second doses is 200,717,387, and the number of the third dose, the highest level of immunity, is 49,900,089. The FT has a page on global vaccine distribution.