Daily Comment (December 9, 2021)
by Bill O'Grady, Thomas Wash, and Patrick Fearon-Hernandez, CFA
[Posted: 9:30 AM EST] | PDF
Good morning!  After several days of risk-on, today is shaping up as a risk-off session.  Our coverage begins with economics and policy, where we discuss yesterday's JOLTS data and inflation.  Tomorrow we get CPI, and there are worries we will see a yearly rate in excess of 7%.  International news is next.  The Summit for Democracy begins today, and the situation in Ukraine continues to evolve.  China news follows; the real estate sector situation is moving toward restructuring. We close with pandemic coverage.
Economics and policy:  Job openings continue to exceed the level of unemployment, and inflation data comes out tomorrow.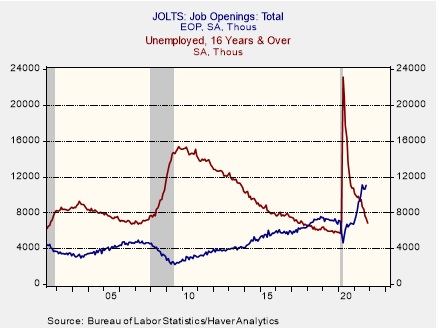 The JOLTS series only has about 23 years of data.  To get a feel for the longer-term pattern, we used a model to graft the JOLTS data to the older help wanted/unemployed ratio.  That data suggests the current labor market is as tight as it was in the late 1990s.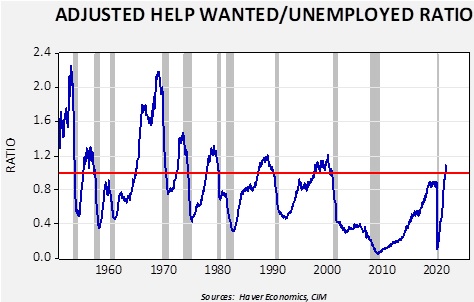 As this chart shows, the recovery has been remarkably strong and may prompt the Fed to conclude that the labor market has mostly recovered (see below).
International roundup:  The Summit for Democracy kicks off today, and negotiations around Ukraine continue.
China news:  More nations join the diplomatic boycott, and the real estate sector glides toward restructuring.
COVID-19:  The number of reported cases is 268,035,994, with 5,283,305 fatalities.  In the U.S., there are 49,538,960 confirmed cases with 793,228 deaths.  For illustration purposes, the FT has created an interactive chart that allows one to compare cases across nations using similar scaling metrics.  The FT has also issued an economic tracker that looks across countries with high-frequency data on various factors.  The CDC reports that 586,471,075 doses of the vaccine have been distributed with 475,728,399 doses injected.  The number receiving at least one dose is 237,087,380, while the number receiving second doses, which would grant the highest level of immunity, is 200,400,533.  For the population older than 18, 71.8% of the population has been fully vaccinated, with 60.4% of the entire population fully vaccinated.  The FT has a page on global vaccine distribution.  The Axios map shows a widespread rise in infections.