Daily Comment (December 7, 2021)
by Bill O'Grady, Thomas Wash, and Patrick Fearon-Hernandez, CFA
[Posted: 9:30 AM EDT] | PDF
In today's Comment, we open with a range of developments touching on the U.S. relationship with other major powers, including China and Russia.  We then move on to other international developments.  We close with the latest news related to the coronavirus pandemic, including some positive assessments of the Omicron variant, which are giving a further boost to global risk markets today.
United States-Russia-Ukraine:  In a video call scheduled for today, President Biden is expected to tell President Putin that the U.S. and its NATO allies will impose steep costs on Russia if it invades Ukraine.  The U.S. intelligence community has been warning that Putin may be preparing for an invasion, although CIA Director Burns emphasizes that it hasn't definitively concluded that Putin intends to carry it out.  Kremlin spokesman Dmitry Peskov told Russia's Channel One state television channel that Putin was ready to listen to Biden's proposals on settling the situation in Ukraine but cautioned against excessive expectations.
Ukrainian entry into NATO would be a clear red line for Russia and isn't likely soon.  Nevertheless, the U.S. and other NATO countries have increased their military, diplomatic, and economic support for Kiev in recent years, in what President Putin probably sees as a creeping, informal embrace of Ukraine.  Putin has seemingly decided to put his foot down on the matter and is essentially fomenting a crisis in order to exact U.S. and NATO security guarantees.  It is less likely that Putin actually intends to take over more of Ukraine, although the possibility can't be entirely discounted.
All the same, it's important to remember that anytime two great powers lock horns, there is the risk of miscalculation or accident.  We note that the Biden administration has already warned that a Russian invasion of Ukraine would lead to the U.S. beefing up its troop strength and equipment deployments in Eastern Europe.  At the very least, strident rhetoric or saber-rattling on either side would likely spook the financial markets and drive oil and gas prices higher, especially in Europe.
United States-Saudi Arabia:  U.S. officials are considering an urgent request from Saudi Arabia to replenish its stock of antimissile munitions.
Saudi Arabia has been facing about a dozen ballistic missile and drone attacks each week from Houthi rebels based in Yemen.
The Saudi military has successfully fended off most of the barrages with its Patriot surface-to-air missile system, but its arsenal of interceptors—missiles used to shoot down airborne weapons—has fallen dangerously low.
The Saudi request is likely to be approved, but the U.S. decision is being seen as a test of the Biden administration's commitment to the Middle East and its allies there.
United States-China:  U.S. Air Force Secretary Frank Kendall said his service is developing a pair of classified combat drones that are designed to operate alongside fighter planes and bombers.  The disclosure is the strongest indication yet that the service is banking on autonomous weapon systems to give it an edge in the increasingly fierce military competition with China.  Other autonomous military equipment being developed worldwide includes drone refueling tankers, drone ships and submarines, and drone resupply transports.
China Debt Crisis:  Major real estate developer Evergrande (EGRNY, $5.97) failed to make an $82.5 million interest payment on some of its international debt by the end of a grace period last night, according to bondholders.  If verified, the missed payment could trigger an official default and lead to a major restructuring.
More important, a default by Evergrande would signal the government's firm intention to rein in debt and what it sees as excessive real estate investment.
For the last several months, the government's moves have sparked sharp volatility in Chinese markets and beyond.  And official default could prompt further volatility, especially if it is handled poorly or if it opens the floodgates to other defaults.  Indeed, cushioning the potential blow to markets is likely one reason Chinese regulators yesterday loosened monetary policy, which is helping support developers' shares today.
The clampdown on real estate debt is just one of several headwinds that we see for Chinese markets going forward.  Other headwinds include the government's hyper-strict "zero-COVID" policies, new energy regulations that have crimped supply, and the rising U.S.-China geopolitical rivalry, which is decoupling the two countries in terms of both information and capital flows.
Peru:  Just four months into his term, radical left-wing President Pedro Castillo faces an impeachment vote in the national legislature today.  Although the vote is not expected to succeed, Castillo is facing rising anger and plummeting approval ratings because of a series of scandals and chaotic leadership.
Ethiopia:  With Tigrayan rebels advancing on the capital, masses of people are reportedly leaving their jobs to join the army, sparking concerns of all-out civil war and all the social and economic disruption that would likely flow from it.
United Arab Emirates:  In an effort to improve the work/life balance (and better synchronize with global financial markets and business activity), the UAE government will shift the country's official workweek to Monday through noon on Friday, beginning January 1, shifting from the current Sunday through Thursday.
COVID-19:  Official data show confirmed cases have risen to 266,622,610 worldwide, with 5,266,636 deaths.  In the U.S., confirmed cases rose to 49,278,724, with 789,745 deaths.  (For an interactive chart that allows you to compare cases and deaths among countries, scaled by population, click here.)  Meanwhile, in data on the U.S. vaccination program, the number of people who have received at least their first shot totals 236,018,871 .  The data show that 71.1% of the U.S. population has now received at least one dose of a vaccine, and 60.0% of the population is fully vaccinated.
Virology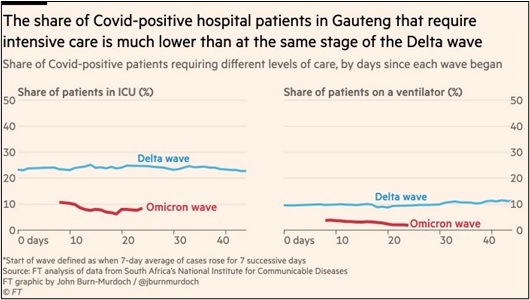 Economic and Financial Market Impacts