Daily Comment (December 2, 2021)
by Bill O'Grady, Thomas Wash, and Patrick Fearon-Hernandez, CFA
[Posted: 9:30 AM EDT] | PDF
Good morning.  Although U.S. risk markets are trying to stage a rally, U.S. equity futures are struggling to hold gains.  The pattern for the week has been for overnight rallies to fail.  It is a bearish pattern, as rallies seem to bring out selling.  We suspect this pattern won't last.  Barring outright policy tightening by the Fed, there is a long-standing tendency for equities to rally into year's end.  We expect something similar this year too.  But clearly, the combination of the Fed talking about withdrawing stimulus and the new Omicron variant are hurting investor sentiment.
Our coverage this morning begins with economics and policy.  We have comments on the supply chain situation.  Up next is China news, with notes on recent comments from Japan regarding Taiwan.  Pandemic news comes next, and we close with the international roundup; the turmoil in Turkey continues.
Economics and policy:  We lead with comments on the supply chain.
Supply chain issues remain an important factor in the path of inflation. The rise in prices we have seen is a combination of supply constraints (shifting the supply curve to the left), demand stimulus from fiscal spending, and the wealth effect (shifting the demand curve to the right).  We expect policy tightening next year.  Although we have our doubts about the efficacy of QE on the economy, there appears to be a wealth effect factor, so ending the balance sheet expansion could adversely affect asset prices.  Since GDP is a flow measure, there will be an unavoidable fiscal drag next year; simply put, we are not going to see another $4.0 trillion of emergency spending.  Those factors should move the demand curve to the left, at least a bit.  On the supply side, it's not easy to get a clear picture of what is happening.  The anecdotal evidence is mixed.  There are reports that goods are starting to flow.  Our own observations of local retailers suggest fewer out-of-stock labels.  On the supply issue, we observe a couple of points.
First, the ISM data suggests modest improvement; at least, conditions aren't getting a lot worse.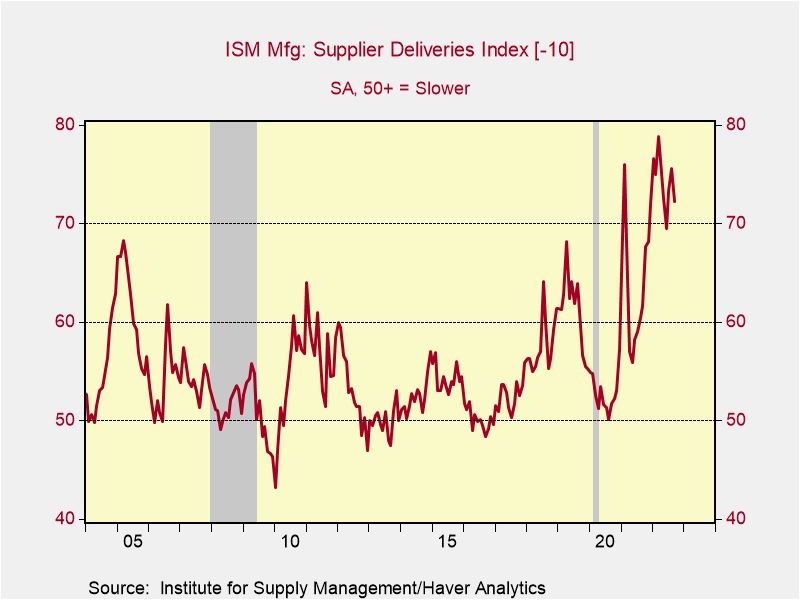 Supplier deliveries showed some improvement last month.  They are still elevated (we would like to see a number around 52 to confirm we have returned to normal) but are showing some signs of getting better.
On the other hand, we need to take note of the fact that China's impact on inflation may be shifting.  For years, China exported deflation.  It suppressed its labor costs and maintained an undervalued exchange rate.  Although this policy played havoc on U.S. manufacturing, it kept inflation under wraps.  Recently, the CNY has been appreciating, and there is a modest positive correlation between CPI and the CNY's effective exchange rate.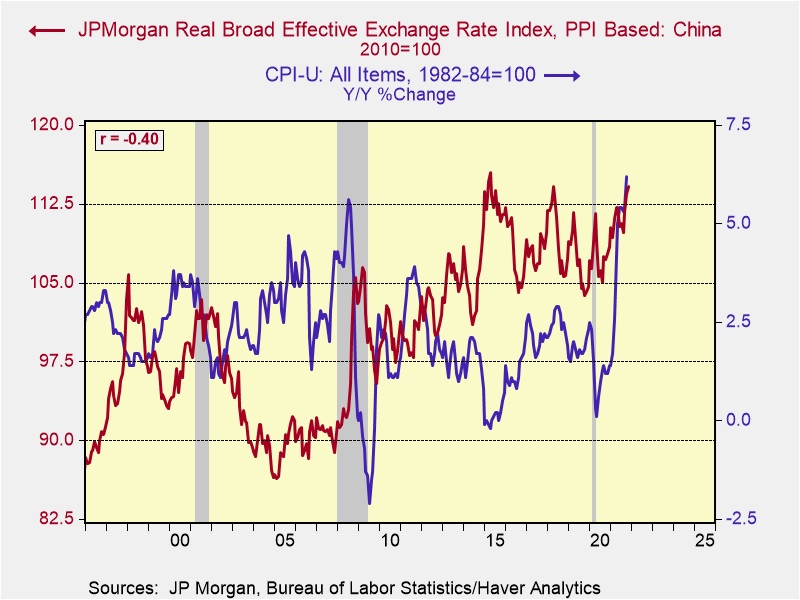 If China continues to allow its exchange rate to appreciate, its exports will become more expensive.  Over time, other nations may undercut China to gain access to U.S. markets.  But given China's size, the substitution impact may not be all the powerful.  Although these results are preliminary, they suggest that (a) we will almost certainly see supply chains heal, which will bring down inflation from current levels, and (b) changes in labor markets and trade probably means trend inflation settles in at around 3% instead of 2% in the future.
China news:  Comments from former PM Abe about Taiwan raise hackles, and the future of the variable interest entities is uncertain.
COVID-19:  The number of reported cases is 263,655,098, with 5,227,696 fatalities.  In the U.S., there are 48,692,582 confirmed cases with 782,100 deaths.  For illustration purposes, the FT has created an interactive chart that allows one to compare cases across nations using similar scaling metrics.  The FT has also issued an economic tracker that looks across countries with high-frequency data on various factors.  The CDC reports that 575,721,925 doses of the vaccine have been distributed, with 462,263,845 doses injected.  The number receiving at least one dose is 233,590,555, while the number receiving second doses, which would grant the highest level of immunity, is 197,363,116.  For the population older than 18, 71.2% of the population has been fully vaccinated, with 59.4% of the entire population fully vaccinated.  The FT has a page on global vaccine distribution.
International roundup:  Turkey's turmoil deepens, and the U.S. and EU try to contain Russia's threats against Ukraine.