Daily Comment (August 8, 2017)
by Bill O'Grady and Thomas Wash
[Posted: 9:30 AM EDT] Financial markets remain quiet.  Here are some of the headlines we are following:
Zuma out?  South Africa's president, Jacob Zuma, faces a parliamentary vote of no-confidence today (around 9:45 EDT).  That isn't exactly news as this is the sixth such vote Zuma has faced.  There is ample evidence of corruption which accounts for the earlier no-confidence measures.  Zuma heads the African National Congress (ANC), which holds 249 out of 400 seats in parliament.  Under normal circumstances, we would expect most ANC members to maintain party discipline and keep Zuma in office.  However, parliamentary leaders have decided to make this a secret ballot, which increases the odds that Zuma may be ousted.
What is interesting about this vote is that hopes of his ouster have actually lifted the exchange rate.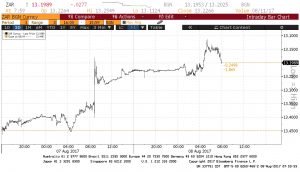 This chart shows the ZAR/USD exchange rate in ZAR per USD; we have inverted the scale.  When the vote was announced late yesterday, the ZAR jumped.  We are seeing some profit taking in front of the vote.
Equities behaved in a similar fashion.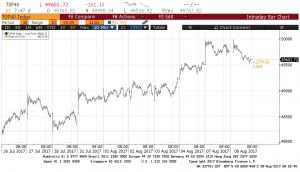 This chart looks at trading of the South African Top-40 equity index over the past 10 days.  The market has been trending higher recently but, just like what we saw with the ZAR, equities jumped when the vote was announced yesterday.  We are seeing some modest position squaring in front of the vote.
Normally, political turmoil weakens financial markets but it is clear that investors have concluded they would be better off without Zuma.  We will be watching the no-confidence outcome later this morning.  Although a secret ballot may doom Zuma, it will still take 50 ANC members to vote against their leader to oust the president.  If Zuma does lose, his government will resign en masse and the country will have a caretaker government for 30 days until new elections are held.   Investors are obviously expecting a better manager to be elected.
Saudi cut to Asia: Saudi Arabia announced today it will cut some exports to Asia in September in a bid to boost prices.  This is a risky move as it will likely encourage Russia and Iran to take market share from the kingdom.  Obviously, the Saudis hope that this won't happen and oil prices will lift.  The news has stabilized oil prices this morning in front of the weekly data.
Trump delays trade action against China: The administration plans to delay a trade investigation regarding China's intellectual property in the wake of China's vote to sanction North Korea at the UNSC.  The administration has been using trade "carrots and sticks" with China in hopes that it will force the Kim regime to the bargaining table.  Comments from Pyongyang do not indicate any softening of positions; in fact, if anything, the new sanctions have hardened positions.  Still, for economic nationalists who want the president to impede imports, it's becoming clear that Trump isn't an ideologue on this issue.  He views the trade situation instrumentally, meaning that it is something to bargain around.  Therefore, if he can use the threat of trade impediments to encourage China to press North Korea, he will "trade away" import restrictions for North Korea.