Daily Comment (August 7, 2018)
by Bill O'Grady and Thomas Wash
[Posted: 9:30 AM EDT] We are seeing some risk-on behavior this morning; global equities are moving higher, the dollar is a bit weaker, precious metals are stronger and Treasury rates are rising.  Here is what we are watching today.
Primaries today: The media will be mostly focused on primaries being held in numerous states.  There will be lots of commentary on who wins.  The prediction markets are currently putting the odds of Democratic Party control of the House at 65%.[1]  The same market puts the odds of the Senate remaining with the GOP at 74%,[2] meaning a divided government is the most likely outcome in November.  That outcome would indicate no meaningful legislation will be passed in the second half of the president's term.
The twilight of Abenomics?  There is growing evidence that the BOJ is giving up on pushing inflation higher, concluding that the costs of policy to the financial system are outweighing the benefits.[3]  In fact, according to Reuters,[4] the BOJ considered raising rates twice over the past year.  On a parity basis, the JPY is deeply undervalued; fair value, based on relative inflation rates, is around ¥58/$.  Japan's ultimate problem is oversaving in the corporate sector.  There is little investment opportunity in Japan but the political system is holding onto the same policies that led to the Japanese miracle—suppressing household consumption, building domestic saving in the corporate sector and using that saving for investment.  When the investment isn't there, the country has to either (a) run offsetting fiscal deficits, or (b) run current account surpluses.  Of course, ending the policy would make the most sense as giving more money to the household sector to lift consumption would do wonders for Japan…as it would for China.
Iranian sanctions: The first round of sanctions is now in place.  The EU is making brave sounds about refusing to cooperate but the trade-off between having access to the U.S. financial system or doing business with Iran will clearly favor the U.S.  China, on the other hand, will likely not cooperate.  We expect China to continue to do business with Iran and buy its oil even when the next round of sanctions, which specifically affects oil exports, goes into effect in November.  We are starting to see countries trading with Iran to conduct business in countertrade, which is an international economics concept similar to bartering.[5]  Instead of paying for goods in dollars, nations trade goods for goods.  During the Cold War, firms in Europe and the U.S. would sometimes trade with Eastern Bloc nations using countertrade.  Although possible, bartering is a less efficient way of doing business for two reasons.  First, it isn't always possible to find goods that meet reciprocal needs.  Second, it is harder to make intertemporal decisions, something that money makes easier.  We would also expect China to offer to buy Iranian oil with CNY; this, of course, will limit Iran's choices for reserve purposes.  There are fewer Chinese financial assets to purchase and Iran will be mostly forced to buy Chinese goods.  The other major problem is insurance.  Most of the marine insurance is provided by Western firms who will probably abide by sanctions.  Thus, buyers of Iranian crude oil may not be able to insure the cargos, which will almost certainly curtail sales.
There are reports that Iranians are hoarding gold, a normal response given the recent weakness in the Iranian rial.[6]  As is often the case, the poor in Iran are being hurt the most.  The less fortunate tend to spend more of their income on necessities, which are rising in price.[7]  For now, although we are seeing increasing unrest, the regime appears in control.  But, pressures are rising.
Turkey: Turkish 10-year sovereigns rose over 20% overnight, although yields did ease later in the day.  Here is a chart of yields for this debt over the past five years.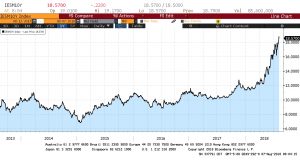 The Turkish lira remains under pressure as well.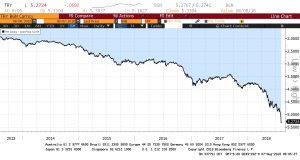 It is possible that if the U.S. and Turkey come to some sort of agreement to ease tensions, Turkish assets may enjoy a short recovery.  However, underlying problems of high inflation and the lack of political will to adopt austerity will prevent a sustainable lift in Turkish assets.
Sweden buys Patriots: Sweden announced last week that it will buy a $1.0 bn Patriot missile system from the U.S.[8]  Sweden is not an official member of NATO but does have close ties to the alliance.  Growing concerns about Russian aggression have prompted the country to consider the anti-ballistic missile system as its current systems cannot stop a ballistic missile attack.  As the U.S. pulls back from defending Europe and Russian aggression increases, European nations face the need to defend themselves.  This is an example of that situation.
The U.K.:Trade Secretary Liam Fox warned over the weekend that the likelihood of a no-deal Brexit is increasing, mostly due to the "intransigence" of EU negotiators.[9]  Fox puts the odds at 60/40 favoring a no-deal severing of ties.  A no-deal Brexit would likely be quite bearish for the GBP.
---
[1] https://www.predictit.org/Market/2704/Which-party-will-control-the-House-after-2018-midterms
[2] https://www.predictit.org/Market/2703/Which-party-will-control-the-Senate-after-2018-midterms
[3] https://www.reuters.com/article/us-japan-economy-boj-policy-insight/bojs-architect-of-shock-and-awe-plots-retreat-from-stimulus-idUSKBN1KR0TA?feedType=RSS&feedName=businessNews
[4] Ibid.
[5] https://www.wsj.com/articles/iran-and-its-oil-buyers-prepare-for-return-of-u-s-sanctions-1533553200
[6] https://www.wsj.com/articles/iranians-hoard-gold-ahead-of-u-s-sanctions-1533466801
[7] https://www.ft.com/content/d0e17cac-94dc-11e8-b747-fb1e803ee64e
[8] https://www.reuters.com/article/us-sweden-defence/sweden-to-sign-1-billion-patriot-missile-deal-this-week-report-idUSKBN1KM59N
[9] https://www.ft.com/content/cab3dcee-9897-11e8-9702-5946bae86e6d?emailId=5b67ca5dc4eb730004d09c31&segmentId=22011ee7-896a-8c4c-22a0-7603348b7f22