Daily Comment (August 30, 2018)
by Bill O'Grady and Thomas Wash
[Posted: 9:30 AM EDT] So far, it's a quiet morning with a bit of a "risk-off" tone.  Here is what we are watching today:
An EU trade proposal?  EU Commission President Juncker came to Washington this summer and convinced President Trump that the EU and the U.S. should negotiate on trade.  Since then, not too much has happened.  It is pretty clear that Juncker's plan was to delay any agreement through the midterms and hope that a change of power in at least part of Congress would distract the White House and mostly maintain the status quo.  At least, that's what it looked like to us.  However, to our surprise, the EU trade minister, Cecilia Malmström, has made a preliminary offer to end all tariffs on industrial products, including cars.[1]  In the original discussions between Presidents Trump and Juncker, the scope of products discussed was only non-auto industrial goods.  The EU currently applies a 10% tariff on imported U.S. vehicles compared to a 2.5% tariff on European cars imported to the U.S.  However, the U.S. has a 25% tax on foreign light trucks.  It will be interesting to see how the Trump administration responds.  If the goal is to simply reduce tariffs, then this looks like an interesting offer.  However, this deal would threaten U.S. automakers' strength in light trucks.  Although we don't have year-to-date data since some of the automakers stopped reporting monthly sales, the latest data available through April show that U.S. automakers only hold a 25% share of the car market but a 55% share of light trucks.  We would expect U.S. automakers to be cool to the change the EU is offering.  In order to show that the U.S. really wants low tariffs but doesn't want to hurt the U.S. automakers, the Trump administration could push to include agricultural products, which is a non-starter for the EU.  European carmaker equities have risen on the news, but we would be surprised to see the U.S. accept this offer.  However, we would not be surprised to see a tariff reduction on non-auto industrial goods.
The key to this proposal is that the U.S. does appear to be isolating China.  If the EU and U.S. can ease trade tensions and, as we note below, NAFTA is renegotiated, then China will be left out.  As we have noted before, this was the aim of TPP/TTIP.
So, you're saying there's a chance?  Both President Trump and Canadian PM Trudeau[2] said yesterday that there is a chance a deal could be reached by Friday.  Canadian dairy subsidies remain a sticking point but it does appear that Canada realizes the value of NAFTA to its economy.  The PM will lose a lot of political capital to make this deal; politically, it never looks good for a nation to accept a fait accompli.  We will be watching to see how the Canadians "spin" the agreement if one is reached.
Argentina's woes: Despite central bank intervention, the Argentine peso plunged yesterday after President Macri asked the IMF to accelerate its aid disbursements.[3]  The IMF indicated it would examine Macri's request.
As this chart shows, the ARS has declined to new lows.  A deepening current account and concerns about debt repayment have raised fears among investors.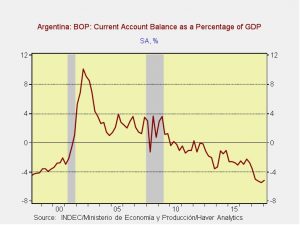 The famous "century bond," issued last year, is now trading at 70.5 cents on the dollar.  Argentina will need to pay $50 bn in debt service this year and apparently needs the IMF's support to ensure it can meet its obligations.  Crises like what we are seeing in Turkey and Argentina have weighed on emerging markets in general.
China in Afghanistan: China is building training camps in the Wakhan Corridor, a small land strip that connects China and Afghanistan.[4]  This is the first time in modern history that China has had a military presence in Afghanistan.  However, as China attempts to build out its "one belt, one road" system for trade and infrastructure, Afghanistan's role as a potential land bridge makes China's influence there increasingly important.  China is likely worried that Uyghur separatists in the Xinjiang region of western China could use the area around China to base operations.  Thus, the move into Afghanistan makes sense.  At the same time, as the U.S. is learning, Afghanistan's moniker as the "graveyard of empires" should raise concerns in Beijing that becoming involved in Afghanistan can become a persistent drain on resources.
Energy recap: U.S. crude oil inventories fell 2.6 mb compared to market expectations of a 1.5 mb draw.

This chart shows current crude oil inventories, both over the long term and the last decade.  We have added the estimated level of lease stocks to maintain the consistency of the data.  As the chart shows, inventories remain historically high but have declined significantly since March 2017.  We would consider the overhang closed if stocks fall under 400 mb.  This week's decline in inventories was in line with seasonal trends.  Refinery utilization did decline, falling 1.8% to 96.3%.  Oil imports were steady but a rise in oil exports helped reduce stockpiles more than forecast.
As the seasonal chart below shows, inventories are late into the seasonal withdrawal period.  This week's decline in stocks was consistent with seasonal patterns.  If the usual seasonal pattern plays out, mid-September inventories will be 399 mb.  We do note that we are approaching the end of the summer withdrawal season for crude oil inventories.  By mid-September, we will start to see a rebuild in stockpiles; the impact of oil exports will rise in importance in autumn because we may not see the full extent of the usual seasonal build if exports rise.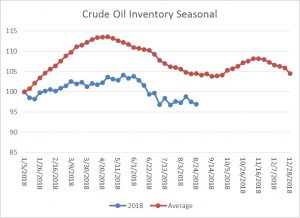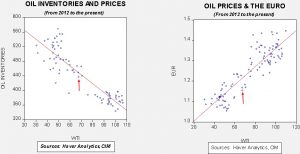 Based on inventories alone, oil prices are below fair value price at $72.22.  Meanwhile, the EUR/WTI model generates a fair value of $57.96.  Together (which is a more sound methodology), fair value is $62.48, meaning that current prices are well above fair value.   However, the most bearish factor for oil is dollar strength.  It will be difficult for oil prices to move higher without some reversal in the greenback.
---
[1] https://www.politico.eu/article/eu-says-it-is-willing-to-scrap-car-tariffs-in-us-trade-deal/
[2] https://www.ft.com/content/9d410eac-abad-11e8-94bd-cba20d67390c
[3] https://www.ft.com/content/042189e0-ab8f-11e8-89a1-e5de165fa619
[4] https://www.scmp.com/news/china/diplomacy-defence/article/2161745/china-building-training-camp-afghanistan-fight?wpisrc=nl_todayworld&wpmm=1