Daily Comment (August 29, 2017)
by Bill O'Grady and Thomas Wash
[Posted: 9:30 AM EDT] Financial markets are in "risk on" mode this morning after the North Korean missile test.  Treasuries and gold are higher, while equities and the dollar are weaker.  In fact, the EUR broke above the 1.200 level for the first time in two years.  Here is what we are watching this morning:
The North Korean missile test: North Korea launched what appeared to be a medium-range missile over Japan late yesterday afternoon (Eastern Daylight Time).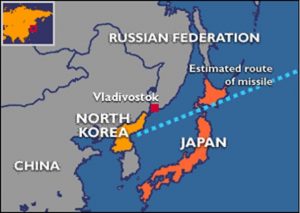 In Japan, warning sirens blared and text messages were sent to residents of the northern areas of Japan to take cover.  This is the third North Korean missile to overfly Japanese territory since 1998.  This test complicates the situation significantly.  The recent missile tests, in which three short-range missiles flew into the Sea of Japan, have been seen as something of a conciliatory gesture by the Kim regime.  The U.S. refrained from severely criticizing North Korea after this earlier launch.  However, yesterday's action is far more provocative.  The U.S. has been Japan's defender since the end of WWII.  If the U.S. is seen as not defending Japan, it will raise fears that American policy in the region has changed and likely bring a sharp escalation of defense spending among our allies.
In response, South Korea dropped eight MK-84[1] bombs from four South Korean Air Force warplanes near the 38th parallel as a show of force.  The UNSC is meeting to discuss additional sanctions.  Overall, though, it is doubtful that sanctions will have much of an impact.  So far, the Trump administration's response to yesterday's action has been guarded.  The president hasn't mentioned anything on Twitter yet and is visiting Texas today; thus, the opportunity to say anything provocative may be delayed.  It should be noted that during last week's rally in Phoenix the president suggested his tough talk appeared to be working as Kim Jong-un was not acting out; that perception has been shattered by this launch.
Overall, North Korea's action is quite worrisome.  This missile proves it can attack American military bases in Japan and Guam.   The launch appeared to come from a mobile launcher that was positioned near Pyongyang; most of the time, North Korea launches missiles from remote areas.  If the site is confirmed, this launch would suggest that Kim is putting missiles near areas of high population with the idea that the U.S. is less likely to strike missile sites before launch if they are near civilians.  If North Korea can demonstrate it can hit the U.S. mainland, Kim Jong-un may decide to test the idea that the Trump administration won't risk a major U.S. city if Guam or Tokyo is attacked.  In other words, if North Korea lobs a nuclear weapon on Guam, will the U.S. respond with a major nuclear first strike and risk a city in the western U.S.?  Simply put, the North Korean situation is getting complicated fast.  If conditions continue to escalate, it will put additional pressure on equity markets and the dollar.
Harvey update: Although the storm isn't over yet, it does appear that some refining capacity is being restarted.  Currently it appears that about 2.2 mbpd (roughly about 12.5% of capacity) is either down or at sharply reduced levels.  However, there are reports that some refiners, especially those south of Houston, are in the process of trying to restart their facilities.  Those facilities closer to Houston and the Ship Channel may take weeks before they can restart.  The Houston economy is roughly the size of Chicago; it will have a modest dampening impact on Q3 and Q4 GDP (perhaps a 0.2% drag on GDP), but that will be offset early next year by rebuilding.
More on tariffs: Last month, China and the U.S. were near an agreement where the former would cut its steel productive capacity in lieu of trade restrictions.  According to reports, Commerce Secretary Ross supported the decision but President Trump rejected it.  Instead, the president wants tariffs.  There are probably two reasons for this.  First, the president likely views any Chinese overture on trade skeptically.  Although the steel industry has too much global capacity, every producer wants some other producer to take the cuts.  Thus, China's offer, if legitimate, was important.  However, there is no way for the U.S. to enforce China's actions.  In the final analysis, the president may not have trusted China to follow through.  Second, tariffs are clear evidence to his base that he is taking steps to cut the U.S. trade deficit.  In other words, capacity cuts may or may not work and they are not obvious to the American people that U.S. steel jobs are being protected.  Tariffs are clear and convincing.  As we noted yesterday, tariffs invite retaliation.  We would expect China to put trade barriers on U.S. natural gas and agriculture products in response.  In addition, tariffs will make China less open to cooperating on the North Korean issue.
---
[1] This weapon is the largest of the MK-80 series of standard purpose weapons; although an unguided bomb, it is potent.  At 2,000 lbs, it is considered the third largest bomb in the U.S. conventional arsenal.