Daily Comment (August 27, 2018)
by Bill O'Grady and Thomas Wash
[Posted: 9:30 AM EDT] It's a solemn Monday as the nation mourns the passing of Sen. John McCain.  It is dominating the media's focus.  It is also the last week of summer and it is clear that trading desks are thin and quiet.  Here is what we are watching today:
Steadying the CNY: The PBOC took steps today to stabilize the CNY in the face of a stronger dollar.  In January, the PBOC stopped using an adjustment factor that took the stronger dollar into account.  Thus, as it priced the CNY against a currency basket, overall dollar strength was leading to a weaker CNY.  By reintroducing this adjustment factor, the CNY should be less prone to weakness when the dollar rallies.  The CNY's stabilization boosted emerging market equities this morning, offsetting continued worries in Turkey.
Turkey: As Turkey returns from a weak off of vacation, the TRY has resumed its downtrend.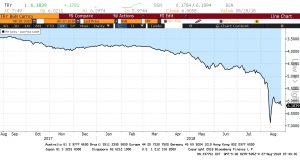 Over the past several sessions, the TRY had stabilized.  However, we are seeing weakness return this morning.  President Erdogan announced a visit to Tehran on September 7.[1]  We note that Iran's finance minister was fired by the legislature over the weekend due to the poor performance of the economy.
Is Powell a dove?  The Jackson Hole speech was taken as more dovish than expected.  His comment that "there does not seem to be an elevated risk of overheating" is being seen as evidence that he does not see a reason to accelerate the path of tightening, even though there will be a press conference after each meeting next year.  We caution that, as is often the case, this dovishness was offset by expressed worries about inflation and overheating financial markets.  In our view, nothing has really changed.  We note that the fed funds futures market is still expecting a 60% chance of a 25 bps rate hike after an almost certain rate hike in September.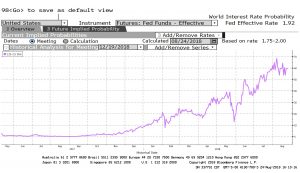 We also note that the two-year deferred Eurodollar futures market is still projecting a terminal rate of 3.00% for fed funds.  The market reaction, which was bullish for gold and equities and bearish for the dollar, suggests that the financial markets were somewhat fearful of a more hawkish speech, perhaps in response to recent comments from the White House.  In other words, financial markets may have been worried that Powell would overreact to Trump's criticism by signaling that he was going to push rates higher to prove Fed independence.  Instead, we got a fairly straightforward reiteration of the current approach that suggests policy will continue to gradually tighten; in other words, White House criticism against the Fed is being ignored.  The lack of reaction to criticism appears to have led the financial markets to give Powell's speech a dovish take.  We don't see it as dovish as none of the internal factors we monitor have changed.  Instead, the financial markets were discounting a hawkish speech and didn't get one.
Trade: It appears that we did not get a NAFTA deal on Friday because AMLO, the president-elect of Mexico, opposes restrictions on Mexico's ability to control foreign sector involvement in its energy sector.[2]  AMLO is an economic nationalist who has consistently opposed opening up the energy sector to foreigners.  Although he has softened this view recently, it appears he is not comfortable with the current structure of the agreement.  Talks continue but there is a real push to get the deal done before September 1.  NAFTA rules say that any new deal must have a 90-day waiting period before it can be approved.  If discussions extend past the end of August, the new Mexican administration will be the signatory, which might lead to an entirely new set of negotiations.
A big short: Speculators have built a massive short position in 10-year Treasury futures, likely anticipating mid-September rule changes for pensions that will reduce the attractiveness of these instruments.  However, the level of short positions is contrary to the narrowing of the yield curve.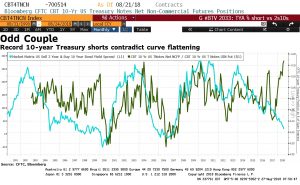 This chart shows the yield curve (teal) and the level of non-commercial short positions relative to open interest (which is the number of non-offset futures contracts), shown in green.  Note that the green line is unusually high, indicating a large speculative short position.  Speculative short positions are almost always resolved by an offsetting purchase; in futures markets, rarely do speculators take delivery.  If bond yields don't rise soon (and the narrowness of the yield curve argues against that in the near term), we could see a large short-covering rally in the next couple of weeks.
Italy's anger: Italy is planning on vetoing the EU budget to express its displeasure with the lack of progress on immigration.  Italy, due to its proximity to North Africa, is a popular landing point for migrants seeking to enter Europe.  Due to EU rules, when migrants disembark on Italian soil, that becomes their new EU nation.  Italy feels it is being unfairly burdened by this rule and wants it changed.  However, the rest of the EU is apparently fine with the current arrangement and has been slow to acknowledge Italy's predicament.  Unlike many EU rules, budgets do not require unanimity, but Italy has also threatened to withhold its payments to the EU, which would set a dangerous precedent.  We are still early in this process but it is a risk to the EU and the Eurozone.
Broken arrow?  Russia is apparently missing a nuclear powered missile.  Russia claims to have a new nuclear powered hypersonic missile[3] that could reach speeds of up to Mach 20, so fast as to be able to evade U.S. missile defense systems.  However, the technology has had four failures and one of the missiles is apparently lost somewhere in the Barents Sea.[4]  Although there has been no indication that the missile is an environmental threat, the Russians are attempting to recover it.  A missile traveling at those reported speeds is difficult to control because small changes in trajectory can cause large variations in flight.  So far, Russia has not worked out the kinks.
A pig problem: African swine fever has appeared in China;[5] the disease, which is highly contagious and often fatal, affects domestic swine and wild boars.  It is carried by ticks and can be spread by bodily fluids.  The incidence of this disease is the first time it has appeared in Asia. In previous events, large preventative slaughters have been reported.  The Chinese pork industry is decentralized; unlike the U.S., large operations in enclosures exist alongside small farm herds.  Thus, controlling the spread of the disease is difficult.  Food prices make up about 30% of China's CPI and meat makes up about 3% of the overall index.[6]  China consumes more than half of the world's pork, although the government is taking steps to reduce meat consumption, in general.[7]  The U.S. provides 13.6% of Chinese pork imports, the fourth largest supplier.[8]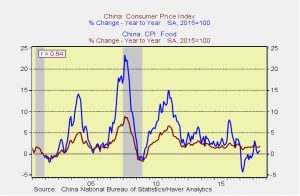 China is very sensitive to inflation and the strong impact of food prices means the leadership will need to take steps to contain a jump in pork prices if culling is necessary.  Pork is so important to China that it has a strategic reserve.[9]  We will be watching to see if China relaxes its recent tariff increases on U.S. pork imports in light of this crisis.[10]
---
[1] https://www.reuters.com/article/us-iran-syria-defence-minister/iran-and-syria-sign-deal-for-military-cooperation-idUSKCN1LC0GL
[2] https://www.bloomberg.com/news/articles/2018-08-24/amlo-s-oil-stand-said-to-keep-u-s-mexico-from-nafta-agreement
[3] https://www.livescience.com/62653-russia-hypersonic-weapon.html
[4] https://www.cnbc.com/2018/08/21/russias-nuclear-powered-missile-that-putin-claimed-had-infinite-range-is-currently-lost-at-sea.html?wpisrc=nl_daily202&wpmm=1
[5] http://www.sciencemag.org/news/2018/08/can-china-world-s-biggest-pork-producer-contain-fatal-pig-virus-scientists-fear-worst
[6] https://www.rba.gov.au/publications/bulletin/2017/dec/pdf/bu-1217-4-underlying-consumer-price-inflation-in-china.pdf
[7] https://www.weforum.org/agenda/2016/06/china-consumes-more-than-a-quarter-of-the-worlds-meat-the-government-wants-to-change-that/
[8] http://www.thepigsite.com/articles/5421/an-overview-of-chinas-pork-import-market-2017-forecast-of-2018/
[9]https://www.cnbc.com/id/100795405?utm_source=newsletter&utm_medium=email&utm_campaign=newsletter_axioschina&stream=top-stories
[10] https://www.cnbc.com/2018/07/04/us-pork-producers-brace-for-new-pork-tariffs-from-china-mexico.html