Daily Comment (August 20, 2018)
by Bill O'Grady and Thomas Wash
[Posted: 9:30 AM EDT] It's Monday…back to the salt mines!  It's a "green" day so far this morning—equities are higher, but so are longer duration Treasury prices and beleaguered metals are even bouncing a bit higher.  The dollar is a bit lower.  Here is what we are watching today:
Turkey update: The TRY is lower this morning despite news that the country has set up a currency swap line with Qatar.[1]  Turkey's financial markets will be closed this week for holiday.  There doesn't appear to be much evidence of a thaw between Ankara and Washington.  According to reports, Turkey has offered to release Pastor Brunson in return for the U.S. dropping the investigation into state-owned Halkbank, which has been fined for violating sanctions with Iran.[2]  The Trump administration's position is becoming clear—the U.S. doesn't intend to give Turkey anything for releasing Brunson.[3]  This puts Turkey and President Erdogan in a tough spot as Turkey will need U.S. help to extricate itself from a difficult economic position.  The U.S. appears ready to force Turkey to back down and lose face, something that Erdogan will try desperately to avoid.  This suggests to us that although the TRY is very cheap, it may take a while before Turkey becomes an attractive investment venue.  At the same time, we do note that the credit rating agencies have downgraded Turkey.[4]  Since they often make this type of move when all the bad news is known, paradoxically, this could be a good sign.
Oh, woe, Venezuela: The Maduro government administration is taking some steps to manage the nearly unmanageable situation of hyperinflation.  Today, the country is releasing a new currency, the "sovereign bolivar," which has lopped off five zeros (instead of the three announced earlier).[5]  This is a fairly common tactic, often seen in South America.  It really never works by itself.  The new currency will be tied to the state-issued cryptocurrency, called the "petro,"[6] which has had a checkered history.  Maduro also announced the Orinoco Basin oil reserves will be transferred to the central bank and will be included in the country's foreign reserves.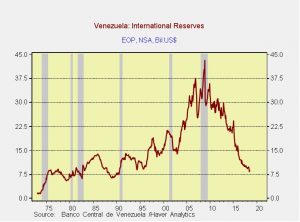 Official reserves plus gold are approaching $7.5 bn; although, in theory, a country can add any assets to foreign reserves, the key issue is liquidity.  Those oil reserves are not liquid and the fastest way to make them liquid would be to allow foreign firms to move in and develop them.  That isn't likely.  In response to this news, Venezuelans spent the weekend converting their bolivars to stuff.  Maduro did announce a 3,000% increase in the minimum wage but didn't set a start date.  The longer he waits (in a nation with 1,000,000% inflation,[7] waiting is deadly), the less impact it will have.[8]  Another indication of how bad things have gotten is that the U.S. Navy has sent the USNS Comfort, a hospital ship, to the coast of Colombia to assist that country with the crush of refugees coming from Venezuela.[9]  Finally, as we reported last week, Maduro did confirm that gasoline prices will be allowed to rise to market levels.[10]  This decision is perhaps the most politically risky one he has made and indicates the degree to which conditions have deteriorated.
Trade update: One of the "known/unknowns" is what is the eventual goal of the Trump administration's trade policy?  Is the goal to scare foreign nations to the negotiating table to get better deals or is the president bent on making the U.S. an autarky?  Evidence for either position is available.  Comments coming from China, for example, suggest that the CPC has concluded that the U.S. goal for American/Chinese trade policy is containment.[11]  At the same time, there is growing talk that the U.S. and China will reach some sort of agreement by November.[12]  And, there are reports that negotiations between the U.S. and Mexico are approaching an agreement as well,[13] although it may just be a bilateral agreement as Canada hasn't been privy to these talks.  Still, if the administration's trade rhetoric is designed to force negotiations and it is working, we would look for a pop in equities.  Equity indices have been marking time since peaking earlier this year, despite robust earnings.  We have seen a drop in earnings multiples, which we believe is mostly due to worries over trade.  If the Trump administration is really just trying to change global trading arrangements and not trying to destroy them, such an outcome should be a huge relief for investors.
Jackson Hole:The KC FRB will hold its annual meetings near the majestic Grand Tetons in Wyoming in the town of Jackson Hole.  The full roster of speakers will be announced later in the week but Chair Powell is scheduled to speak on Friday.  Previous Fed chairs have used this venue to make important policy announcements.  We don't expect this from Powell, but we would expect confirmation that the current path of policy will remain in place.
---
[1] https://www.reuters.com/article/us-turkey-currency-qatar/qatar-and-turkey-central-banks-sign-swap-agreement-qatar-central-bank-idUSKCN1L40NS
[2] https://www.wsj.com/articles/u-s-rebuffs-effort-to-tether-bank-fine-to-pastors-release-1534721674
[3] https://www.cnbc.com/2018/08/17/trump-us-will-not-pay-turkey-for-release-of-detained-american-pastor-brunson.html
[4] https://www.ft.com/content/ba68708a-a22d-11e8-85da-eeb7a9ce36e4
[5] https://www.ft.com/content/3edcdf1a-90fc-11e8-b639-7680cedcc421?emailId=5b7a439a87c35600041c545b&segmentId=22011ee7-896a-8c4c-22a0-7603348b7f22 and https://www.wsj.com/articles/venezuela-devalues-currency-and-hikes-wages-stoking-fears-about-instability-1534629512
[6] https://ftalphaville.ft.com/2018/03/07/1520419383000/About-that-Petro/
[7] https://www.washingtonpost.com/opinions/venezuelas-inflation-will-hit-1-million-percent-thanks-socialism/2018/07/27/44b5ac16-91e0-11e8-b769-e3fff17f0689_story.html?utm_term=.9750b01b7c2e
[8] https://apnews.com/04c33db9752f4d8ba62346f32701bc6c/Venezuelans-jittery-ahead-of-sudden-economic-reforms
[9] https://www.navytimes.com/news/your-navy/2018/08/19/us-to-send-navy-hospital-ship-to-colombia-amid-refugee-crisis/
[10] https://www.dw.com/en/inflation-wracked-venezuela-forced-to-end-cheap-oil-and-gas/a-45121732
[11] https://www.bloomberg.com/news/articles/2018-08-17/china-unsure-of-how-to-handle-trump-braces-for-new-cold-war
[12] https://www.wsj.com/articles/u-s-china-plot-road-map-to-resolve-trade-dispute-by-november-1534528756
[13] https://www.reuters.com/article/us-trade-nafta-hassett/white-house-adviser-says-trade-deal-with-mexico-very-very-close-idUSKBN1L221J?feedType=RSS&feedName=topNews