Daily Comment (August 2, 2019)
by Bill O'Grady, Thomas Wash, and Patrick Fearon-Hernandez, CFA
[Posted: 9:30 AM EDT]
Happy Friday employment day!  We cover the data in detail below but the snapshot is generally in line with expectations.  Payrolls were 164k, nearly bang on forecasts of 165k, although revisions lowered payrolls by a net 32k.  The unemployment rate was unchanged at 3.7% when a 3.6% report was expected.   Wage growth was a bit stronger than expected (although the non-supervisory growth was steady) and the participation rate rose to 63.0%, a bit stronger than the 62.9% expected.  Here is what we are watching this morning:
Trade: So much for stability!  Midday yesterday, President Trump announced he would put a 10% tariff on $300 bn of additional goods.  The reason given was that China had not purchased grain as promised and was continuing to send Fentanyl into the U.S. In a press conference later in the day, the president suggested these tariffs might be temporary, which may mean if China buys grain and cuts narcotics exports, he may lift them.  Here is our take:
We doubt China will react well to this action. The Xi government has already indicated that a deal has to include the removal of all tariffs, which is unlikely.  It's important to note that Chairman Xi will be heading off to Beidaihe   This seaside resort has been a long-time favorite of Chinese leaders going back to the Qing dynasty.  CPC leaders, both current and former, mingle and discuss issues.  We would expect Xi to find plenty of support to push back against the U.S.  After all, no nation likes to be bullied.  In addition, any criticism of Xi for poorly managing the relationship with the U.S. will likely be silent as Trump's latest actions tend to confirm he is erratic and probably unmanageable.
As we have noted in the past, trade wars, like kinetic ones, usually occur because both sides miscalculate the actions of their opponent. We suspect President Trump is overestimating how damaging tariffs are to China and underestimating the impact on the U.S.  Chairman Xi is probably doing something similar.  In addition, we think President Trump continues to hold the position that the incidence of tariffs is falling solely on Chinese exporters.  Although it is occurring to some degree, a weaker CNY is offsetting some of the pain.  Additionally, some of the tax is falling on U.S. consumers and, as we note below, that effect will likely increase.  However, if the president believes the incidence isn't affecting American buyers, he will tend to view tariffs as a "free tax" and have no compunction about continuing to apply them to China and others.  It should also be noted that S. trade negotiators knew the president was considering additional tariff measures before their most recent meetings with Chinese trade officials.
"Blinking" will be difficult for both leaders. It is hard to see how either side backs down without losing face.  If President Trump backs down, it will be a campaign issue.  If Chairman Xi backs down, he will face criticism for caving into foreigners.
China clearly can't retaliate 1:1 simply because of the trade imbalance. So, look for other retaliation measures, e.g., harassing American foreign investment in China, perhaps the arrest of Americans in China or other penalties for American firms (regulatory raids, etc.).  We could also see European firms given preferential treatment to harm U.S. competitors.  Look for the "unreliable entities list" to reemerge to pressure U.S. firms to show allegiance to China instead of the U.S.  And, the most simple action is to weaken the CNY, which is already occurring.
There is another angle to the president's surprise. In Chair Powell's press conference on Wednesday, he mentioned international economic weakness repeatedly.  The new tariffs will almost certainly increase pressure on the Fed to cut more aggressively.  In a sense, the tariff announcement may have more to do with affecting monetary policy than trade policy.
Perhaps one of the unintended consequences of the additional tariffs is that the $300 bn of goods that will face the new tariffs are mostly consumer goods. Previous tariffs were mostly on intermediate goods and thus the price impact was not obvious to consumers or did it appear in the inflation data.  However, the new tariffs will directly affect consumers.  Retailer stocks fell hard on the announcement and merchants have been critical of the announcement.
And finally, there is one other issue to consider. The president could be following the Mexican playbook and decide not to implement the tariffs on September 1st if China buys grain and cuts narcotics exports.  Since the tactic worked with Mexico, he may believe it will work with China as well.  Thus, there is a chance that nothing happens.
The market effects were swift.  The following are intraday charts of various U.S. markets.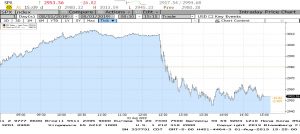 The S&P 500 fell over 60 points.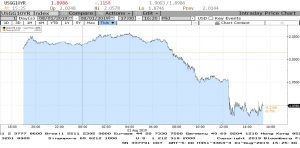 The 10-year T-note yield fell over 15 bps to decline under 1.90%.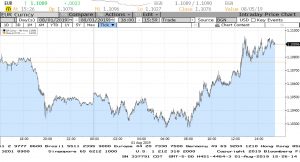 The dollar weakened on ideas that a trade conflict would likely force the Fed to cut rates more aggressively.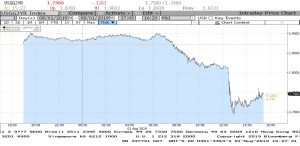 This chart shows the 2-year T-note yield.  Like it's longer duration "cousin" that yield fell sharply, confirming the comment on the EUR above.  In fact, the yield curve modestly steepened.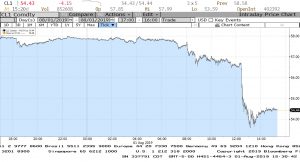 On the other hand, oil prices plunged on fears that a trade war will harm global economic growth.  We are seeing some recovery in oil prices this morning.
We also note that tensions between the U.S. and China remain high; SoS Pompeo criticized China at the ASEAN meetings in Bangkok, a clear indication of deteriorating relations.
Tories lose: In a by-election in Wales, the Liberal-Democrats won the seat, reducing the Tory-DUP coalition to a single seat.   The loss increases the odds of snap elections.  Labour continues to struggle, as it didn't perform all that well.  The Liberal-Democrats ran on a platform to Remain in a district that voted to leave.  Perhaps the signal for this election is that the most important issue is the "should I stay or should I go" decision and not the traditional issues of fiscal policy, foreign policy, etc.  The risk of new elections could be that there is a swift realignment of the parties, where Remainers in the Labour and Conservative Parties move to the Liberal-Democrats and the traditional parties fall to minority status.
North Korea: There were more missile launches by Pyongyang.  Clearly, the Young General is trying to get the world's attention.
United States-Russia: Today is the day that the United States has officially withdrawn from the Intermediate-Range Nuclear Forces Treaty of 1987, in which Washington and Moscow agreed not to develop, test, or deploy certain ground-based nuclear missiles that were seen as particularly dangerous and destabilizing.  The move, announced in February, follows the Russian deployment of a ground-based cruise missile in violation of the accord.  That violation was real enough, but we note that the immediate U.S. response didn't have to be a complete withdrawal from the pact.  The U.S. side is apparently gambling that in order to free its hands to develop its own new weapons to counter a rising China, it would be worthwhile to sacrifice stability in Europe.  As we've already seen in the U.S.-China trade dispute, the Western Europeans are the main losers, at least in the immediate term.  Separately, President Trump has belatedly imposed new financial sanctions against Russia for using the nerve agent novichok in its effort to assassinate former double agent Sergei Skripal in England during March 2018.  Under law, the administration was required to impose those sanctions last year, but resisted until Congress recently raised pressure on it with a number of new Russia sanctions bills.
Afghanistan withdrawal: Due to an agreement with the Taliban, the U.S. will reduce its troop strength in Afghanistan by 5k.
Russia-Japan:  In another provocative move, Russian Prime Minister Medvedev today visited an island in the Pacific Ocean that is claimed by both Russia and Japan, resulting in a strong diplomatic protest by Tokyo.
United States-European Union: As we mentioned yesterday, it's important to remember that while the overall global trade picture continues to slide, there are smaller-scale improvements from time to time.  Today, for example, the United States and the European Union will sign an agreement giving U.S. beef producers more access to the EU market.  The deal is a direct result of the Rose Garden meeting last summer between President Trump and European Commission President Jean-Claude Juncker.
International Monetary Fund: The European Union's finance ministers will vote today on their candidate to succeed Christine Lagarde as head of the IMF.  The Europeans traditionally name the IMF chief, while the United States names the head of the World Bank.  Frontrunners for the IMF job include former Dutch Finance Minister Dijsselbloem, Finnish Central Bank Governor Rehn, Spanish Finance Minister Calviño, and Bulgarian World Bank executive Georgieva.  The unusual need for a vote reflects disagreement between Europe's more affluent northern countries and the less developed southern nations.