Daily Comment (August 16, 2017)
by Bill O'Grady and Thomas Wash
[Posted: 9:30 AM EDT] Financial markets are quiet this morning, consistent with the late summer lull.  However, there has been a lot of news flow.  Here's what we are watching this morning:
Fallout from the president's press conference: President Trump's press conference yesterday was highly controversial and has given the media much to talk about.  However, what seems to have been lost in the comments is that he was expected to discuss infrastructure plans.  Infrastructure spending was one of the policies designed to boost the working class by creating construction jobs for projects around the country.  By shifting the focus to the events in Charlottesville, the president has muffled the infrastructure agenda and may have reduced any chances of getting a program through Congress.
GOP in disarray: The president's comments have also put his party in a difficult position.  In an upcoming WGR, we will discuss the philosophical roots of fascism and populism.  Although often tied together, we will argue they come from different sources and ultimately have different agendas.  GOP members of Congress can certainly support populism but want to avoid any hint of association with fascism.  The president seems to be, perhaps inadvertently, equating the two movements and thus GOP members are being forced to either abandon the president or support a position that Americans fought against in WWII.  The bottom line is that it will be difficult to implement legislation, such as tax changes, infrastructure, a debt ceiling, etc., when the leadership is divided.[1]
An interesting trend in manufacturing jobs: We were examining the recently released JOLTS report that surveys the labor market for open positions, hiring and separations.  With the labor market tightening, we are seeing a rise in hiring.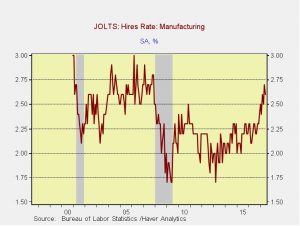 That's not a huge surprise.  What is a surprise is the jump in quit rates.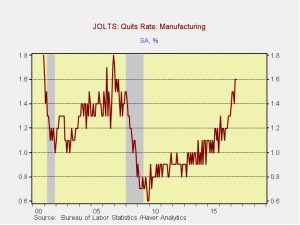 Usually, a rise in quit rates signals improving labor market confidence.  Workers who believe they can easily find another job are more inclined to quit.  Workers usually leave a job for one that has higher pay, so this is something we will be watching in the future.  We note an article in the Washington Post[2] offering anecdotal evidence that some of the quits are due to baby boomers reaching the point where the physical demands of the job are making separation packages look attractive.  Another factor mentioned is that the steady increase of automation has workers concluding that separation deals will become increasingly less attractive in the future and so taking one today is a better option.  The proof will be in the pay; we will be watching for signs of rising manufacturing wages but, so far, there isn't any evidence of that.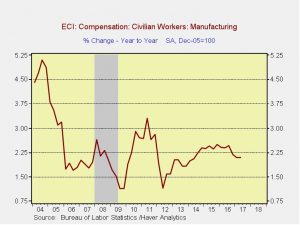 Jackson Hole may just be a vacation: Every year, the KC FRB holds a meeting in Jackson Hole, WY.  If you haven't ever visited the town, it is well worth it.  Near the Grand Tetons, it is simply beautiful.  The gathering, which will be held in late August this year, is often a forum for policymakers to unveil policy directions.[3]  Chair Bernanke signaled QE3 at this meeting in 2012; in 2014, Draghi laid out the bank's current QE program.  There were expectations that ECB President Draghi would unveil his tapering program at Jackson Hole.  Sources indicate that will not occur, although he will give remarks.  No other policymakers are expected to signal anything significant.
North Korea: Although tensions have eased in the near term, there are a few developments worth mentioning.  First, the U.S. and South Korean militaries will conduct the annual Ulchi-Freedom Guardian military exercises, a 10-day event that will begin on Aug. 21.  These war games infuriate the Kim regime and China has tried to set up a "freeze for freeze" scenario, in which the U.S. would suspend these games and North Korea would suspend its nuclear and missile program.  So far, neither side has agreed.  In what is a rare event, Gen. Joseph Dunford, Joint Chief of Staff, is visiting Chinese military facilities on the North Korean/Chinese frontier.[4]  This visit is thought to be a signal to the "Young Marshal" that China is displeased with North Korea's behavior.
---
[1] http://www.politico.com/story/2017/08/15/trump-charlottesville-ryan-republicans-241668?lo=ap_b1
[2] https://www.washingtonpost.com/business/economy/trump-tried-to-save-their-jobs-these-workers-are-quitting-anyway/2017/08/15/6a555f2a-7d50-11e7-a669-b400c5c7e1cc_story.html?stream=top-stories&utm_campaign=newsletter_axiosam&utm_medium=email&utm_source=newsletter&utm_term=.1290df930298
[3] https://www.bloomberg.com/news/articles/2016-08-25/a-look-back-at-jackson-hole
[4] https://www.wsj.com/articles/u-s-chinese-militaries-take-steps-to-coordinate-more-closely-1502812501?mg=prod/accounts-wsj&utm_source=Sailthru&utm_medium=email&utm_campaign=New%20Campaign&utm_term=%2ASituation%20Report