Daily Comment (August 16, 2016)
by Bill O'Grady and Kaisa Stucke
[Posted: 9:30 AM EDT] Risk markets are mixed today in the midst of relatively thin global trading volumes.  The dollar continued to slide lower amidst lower expectations for a Fed hike.  The chart below shows the year-to-date move in the dollar, which has given back the gains it made due to uncertainty from the Brexit vote.  Minutes from the FOMC's most recent meeting in July will be released tomorrow and will provide more color on the Fed's view of the strength of the economy.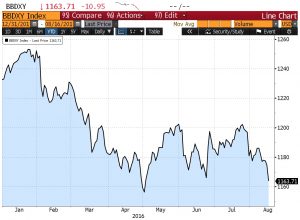 At the same time, emerging market currencies have moved higher as milder expectations for a Fed hike support emerging market equities.  The chart below shows the MSCI Emerging Market Currency Index since the beginning of the year.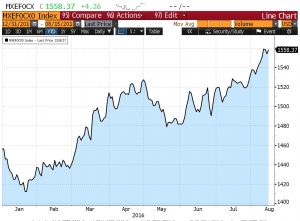 Yesterday, the June TIC portfolio flows data was released.  The long-term flows, which mostly mean Treasuries, declined $3.6 bn, much weaker than the $42.0 bn forecast.  Including short-term securities such as stock swaps, foreigners sold a net of $202.8 bn compared with net selling of $11.0 bn the previous month.  The data signals that global investing uncertainty has diminished somewhat as fewer investors sought the safety of U.S. stocks.