Daily Comment (August 15, 2016)
by Bill O'Grady and Kaisa Stucke
[Posted: 9:30 AM EDT] Equities are moving higher alongside oil as the outlook for a Fed rate hike has become more dovish.  The market-implied likelihood of a September hike fell to 18.0% this morning.  However, despite very short-term expectations falling, the probability of a hike has risen for next year.  The likelihood moved to over 50% by March 2017, up from a 50% likelihood in May before last Friday's retail sales and PPI data.
The chart below shows the year-to-date prices of the S&P index and WTI crude.  In the first four months of the year, the moves in equities and oil were highly correlated.  However, the high correlation has broken down since June as attention turns to central bank policies and political uncertainty.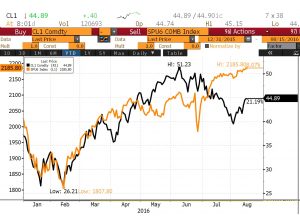 Japanese GDP came in lower than forecast (see below).  The details of the report revealed declining net exports and a drop in business investment.  However, consumption was stronger than anticipated.  The chart below shows the country's year-over-year GDP growth.  Growth has trended lower, but market expectations are still calling for the BOJ to keep monetary stimulus unchanged when they meet next month.