Daily Comment (August 13, 2019)
by Bill O'Grady, Thomas Wash, and Patrick Fearon-Hernandez, CFA
[Posted: 9:30 AM EDT]
It's an August Tuesday.  Risk markets are falling again this morning.  Although there is a lot of news most of it is a continuation of recent events.  Here is what we are watching:
Hong Kong:  Protests continue this morning; check-ins have been suspended but airport officials are trying to get some flights off the ground.  These airport protests are having a strong impact; they are keeping the unrest front and center on global media and the Communist Party of China (CPC) cannot ignore the tensions.  Beijing is dealing with the threat of separatism with Hong Kong, something that is a very sensitive issue for Chinese leadership.  Historically, in simple terms, China has tended to be poor but unified, or rich and divided.  When China turns inward, its economy is usually weak, but the country is politically unified. When it turns to the world, it prospers, but mostly from the coasts inward.  During prosperity, divisions develop and outsiders can use those divisions to dominate China.  The current unrest in Hong Kong has echoes of this pattern.  We note, for example, that CPC officials continue to blame outside forces for the unrest.  On its face, this claim is weak; there is no evidence to suggest that foreign intelligence services are supporting the protestors.  However, there is an element of truth to the claim; the protestors are pressing for democracy, which is a Western concept and thus "foreign" to China's view of governance.
In her press conference today, Hong Kong Chief Executive Carrie Lam refused to say whether Beijing has ordered her to avoid making any concessions to the protestors, such as fully withdrawing the extradition bill that touched off the demonstrations.  At least one municipal legislator said that was tantamount to confirming Beijing is now running the city, and that Lam is now just a "puppet" governor.
We continue to watch to see how long Chairman Xi will tolerate these protests.  He should return later this week from the "summer camp" for CPC leaders.  The policy thus far has been to wait out the protestors.  However, the lessons learned from Tiananmen Square were that crackdowns end protests and the costs of Western reaction are manageable.  Perhaps the only issue keeping the PLA from moving into Hong Kong with tanks is that it would make it clear to Taiwan that there is no "two systems" model for China.  We note that China has been actively trying to sway public opinion in Taiwan using various media outlets.
Crying for Argentina:  Argentine financial markets took a beating yesterday after the incumbent's poor performance in primary elections.  The fear is that Peronists will return, bringing default, inflation and capital controls back to the country.  In a world of negative interest rates, Argentina stands out—one can get a +12% yield on Argentine "century bonds."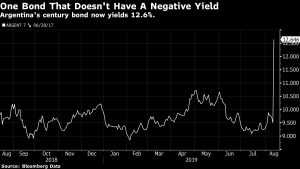 Fear rising:  Financial markets are signaling increasing levels of fear.  The VIX is up; yield curves are flattening and the U.S. 30-year T-bond yield is close to all-time lows.  Additionally, we are seeing a continued rise in money market funds.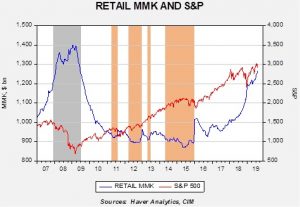 This chart shows the weekly level of retail money market funds with the S&P 500.  The gray bar is shows the recession, the amber bars show periods where money market funds fall below $920 bn.  In this bull market, equities tended to stall when money market funds fell to around $920 bn.  This suggests that equities ran out of liquidity, and had to retrench as households rebuilt cash levels.  As the trade war heated up in January 2018, households started aggressively building cash reserves.  Although equity markets did rise further, the path was far from smooth.  We view this chart as a measure of fear; households are showing a bias toward liquidity even though yields remain rather low.  If a catalyst for confidence was to emerge, there is enough liquidity available to boost equities significantly.  However, such a catalyst isn't obvious.  If liquidity preference continues to rise, it will be difficult for equities to move higher.
United Kingdom:  A lower-level Scottish court has accepted a petition to decide whether Prime Minister Johnson can suspend or "prorogue" parliament in order to force through a no-deal Brexit.  The court is scheduled to issue its decision on September 6.  Separately, the newspaper that Johnson previously worked for has released a poll claiming that more than half of Britons would support a suspension of parliament in order to force through Brexit, but the poll is being panned for how leading the questions were.
As the U.K. careens toward a hard Brexit, one of the factors that PM Johnson is holding on to is a quick trade deal with the U.S.  We would expect the U.S. to be quite open to such a deal but the costs to Britain might be staggering.  From food to technology and beyond, the U.S. will likely turn the U.K. into a vassal state through trade.
Italy:  The Italian Senate will meet later today to decide when to schedule the no-confidence vote demanded by Deputy Prime Minister Matteo Salvini.  The vote is expected to be scheduled for next Tuesday.  As we've discussed previously, we see the potential breakup of the current far-left/far-right government as a sign that such a "Nader" coalition is just too unstable to govern.
Congo:  In preliminary trials conducted since last November, two experimental anti-Ebola drugs were able to sharply cut the death rate from the disease.  When given early, one drug cut the death rate to just 10%, compared with 70% for untreated victims.  Although total deaths from Ebola have been relatively limited over the last decade, the disease has been a risk factor for the frontier markets of Africa.  More broadly, there has been concern about a widescale outbreak of the disease that spreads beyond Africa.