Daily Comment (August 12, 2016)
by Bill O'Grady and Kaisa Stucke
[Posted: 9:30 AM EDT] Eurozone economic growth came in on forecast, rising 1.6% annually.  While growth remains subdued, Q2 marked the 13th consecutive quarter of expansion.  German GDP came in better than expected, rising 3.1% annually compared to the 2.8% forecast.  At the same time, Italy's growth disappointed, coming in below expectations (see below).  The chart below shows the Eurozone's annual GDP growth.  The trend has been positive recently on strengthening consumption and robust trade numbers.  However, going forward, the uncertainty stemming from Brexit is expected to weigh on industrial production and exports.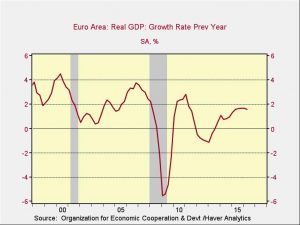 The British pound has declined further over the past two weeks, reclaiming its position as the worst performing global currency in 2016 (yes, weaker year-to-date than the Argentine peso!).  The chart below shows the pound's performance since the beginning of the year.  The currency plunged immediately following the Brexit vote and has continued to trend lower ever since, as the Bank of England restarted its stimulus program.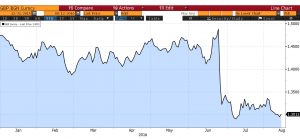 The chart below shows the GBP/USD exchange rate over the past three decades.  We have highlighted two major depreciations, the 1992 exit from the European Monetary System and the Great Financial Crisis.  Both events caused about a 30% decline in the currency.  So far, we are down 12.9% following the Brexit vote.  If history is any guide, the currency could trend lower from here.