Daily Comment (August 11, 2016)
by Bill O'Grady and Kaisa Stucke
[Posted: 9:30 AM EDT] European stocks advanced this morning alongside oil after the International Energy Agency (IEA) said it expects the global oil market to improve.  In its monthly report, the agency said it expects increasing refining to draw down the ample crude stockpiles, despite some large OPEC producers pumping oil at a record rate this summer.  However, the agency expects global production to decline to levels below demand as we head into autumn, which would eventually lead to a more balanced oil market.  The report comes a day after OPEC announced that the group's largest producers had failed to agree on production cuts.  Production is unlikely to fall until this happens.  Additionally, the IEA's projections rely on improving product demand, which is also seasonally unlikely as we exit the summer driving season.  Moreover, refining margins have declined over the past month and refiners are likely to wait for improving margins before their demand for crude picks up.  Thus, given the current circumstances, we would not expect short-term demand improvements.
Yesterday, the JOLTS report showed a rise in job openings in June.  Openings rose to 5,624 from 5,514 the month before, but fell short of the 5,675 level expected.  The largest percentage of job opening increases occurred in health care and social services, followed closely by professional and business services.  The chart below shows the total level of private job openings.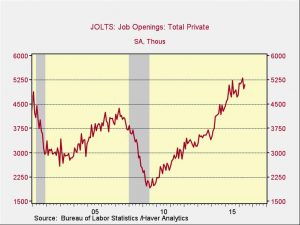 Hiring rose, which is good news for the labor market.  The chart below shows total private hires, which improved after two months of declines.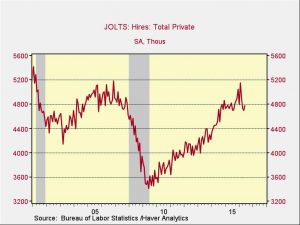 Although hires improved in June, hiring has remained well below job openings, with the ratio of hires to openings steadily trending lower as shown by the chart below.  The difference between the number of openings and hiring may simply be due to the lack of wage growth, although we suspect it is a combination of skills mismatch and lack of mobility that is probably causing most of the problem.