Daily Comment (August 10, 2018)
by Bill O'Grady and Thomas Wash
[Posted: 9:30 AM EDT] Markets are down as investors are concerned that a possible collapse of the Turkish lira could spill over to the Eurozone.  Here is what we are watching:
Economic warfare?  Proposed U.S. sanctions on Turkey and Russia have caused the currencies in the respective countries to fall precipitously (see charts below).  The sanctions are in response to a pastor being held on terrorist charges in Turkey and a Russian-sponsored nerve-agent attack earlier this year on a former Russian spy in Britain.  Representatives of both governments have accused the U.S. of waging economic warfare against their countries and have vowed to respond.  Although it is unclear how these countries will respond to the sanctions, it does appear their constituents support a strong response, therefore anything less would look like a sign of weakness.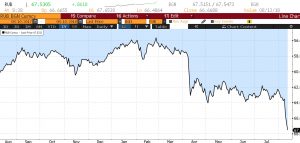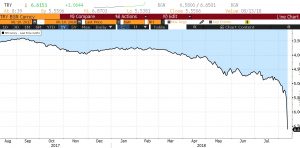 Both countries appear to be vulnerable to these sanctions.  A bill dubbed as "the sanctions bill from hell" by one of its backers is currently making its way through Congress.  If the bill passes it will limit Russian state-owned bank operations in the U.S. and limit the banks' access to U.S. dollars; this action could suppress GDP growth.  Turkey's situation is much worse as its economy was already being hurt by inflation and a weakening Turkish lira prior to the sanctions.  Due to Turkish President Recep Tayyip Erdogan's unwillingness to impose austerity in order to combat inflationary pressures, his government has been dependent on short-term, dollar-denominated loans.  As a result, sanctions that limit his government's access to U.S. dollars could possibly lead to a collapse of its banking system.  The next few days will be critical as neither country can afford to back down without receiving blowback from its citizens.  Both leaders run authoritative democracies so their legitimacies are rooted in nationalism and therefore their popularity hinges on their ability to demonstrate strength domestically and abroad.
Space Force 2020: Yesterday, Vice President Mike Pence announced that the Pentagon will begin the process of establishing a Space Force as the sixth branch of the U.S. military by 2020. In order to establish Space Force, Pence has asked Congress to allocate $8 billion dollars over five years for the project.  Despite Pence's announcement, there is a bit of ambiguity as to what this space force will actually entail.  Last month, U.S. Secretary of Defense James Mattis stated that Space Force will not attempt to weaponize space, but his comment runs counter to claims that Space Force would be established in order to counter Chinese and Russian technological advancement in anti-missile technology.
Economic capacity: This morning, the WSJ reported that suppliers are beginning to run out of parts to fill orders and deliveries have slowed as a result.  This isn't necessarily a bad sign in the economy as it suggests demand is still very strong, but it could also mean the U.S. is currently running at or above its economic potential.  In order to make shipments, companies have been digesting higher costs.  In the long run, this could be inflationary as companies will try to push some of those costs onto consumers.  That being said, this development is consistent with the late-cycle boom and we have expected demand to settle as the stimulative effects of the tax cuts wane.  We will continue to monitor this situation.