Daily Comment (August 9, 2021)
by Bill O'Grady, Thomas Wash, and Patrick Fearon-Hernandez, CFA
[Posted: 9:30 AM EDT] | PDF
Good morning and happy Monday.  It's inflation week—the CPI comes out on Wednesday.  U.S. equity futures are modestly lower this morning, but the real story is in commodities.  Oil and precious metals are tumbling this morning in the face of higher Treasury yields.  Overnight, gold futures fell over $60 per ounce; prices have recovered well off their lows but are still down this morning.  What's going on?  The solid employment data has lifted expectations of Fed tightening.  But it is also important to remember that market liquidity tends to thin in August as traders take vacations.  Thus, market moves can be exaggerated.  Our coverage this morning begins with economics and policy.  China news is up next, followed by the international roundup.  We close with pandemic news.
About that employment data: Much of the turmoil we are seeing in markets was tied to the employment report.  The data showed clear improvement in the labor markets and raises pressure on the FOMC to react.  Although there is some concern that the survey period did not catch the recent delta variant issues, we suspect that labor markets will continue to recover.  One item worth watching is the participation rate of the 24-54 age bracket.  The 65+ participation rate continues to decline as older workers, more vulnerable to COVID-19, opt for retirement.  Although we are not at a level of complete recovery, we are at a point consistent with a fed funds target of around 1%.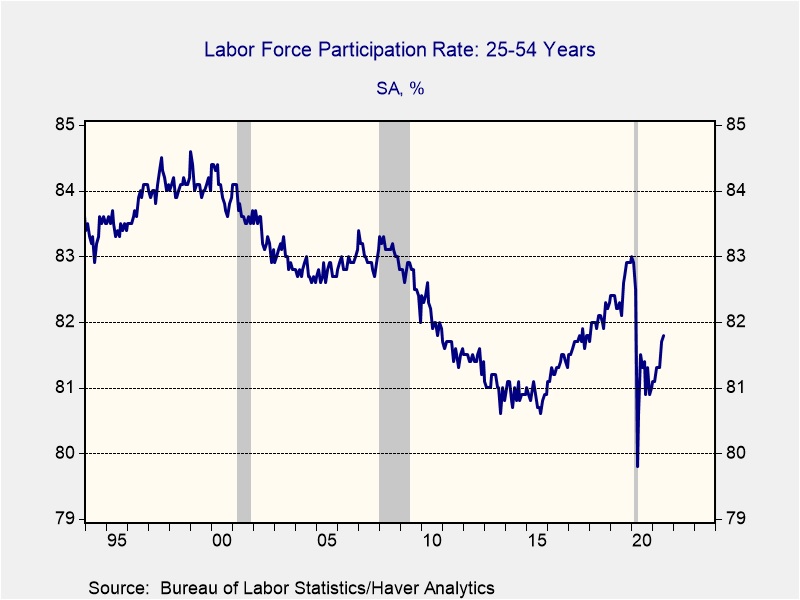 A reading above 82 will increase the likelihood of some form of tightening.
Economics and policy: The infrastructure bill is near the finish line in the Senate.  The IPCC has released its updated climate report.
 China: Markets continue to grapple with regulatory changes, and nationalism is on the rise.
 International roundup:  The Taliban's role; Lukashenko remains in power in Belarus a year after the elections.
COVID-19: The number of reported cases is 202,872,928 with 4,297,550 fatalities.  In the U.S., there are 35,765,233 confirmed cases with 616,829 deaths.  For illustration purposes, the FT has created an interactive chart that allows one to compare cases across nations using similar scaling metrics.  The FT has also issued an economic tracker that looks across countries with high frequency data on various factors.  The CDC reports that 407,561,705 doses of the vaccine have been distributed with 351,400,930 doses injected.  The number receiving at least one dose is 194,866,738, while the number receiving second doses, which would grant the highest level of immunity, is 166,477,481.  The FT has a page on global vaccine distribution.
The delta variant continues to spread rapidly across the U.S. Community transmission rates remain elevated across the country.  States with high infection rates are scrambling to find hospital bed capacity.  The variant has become dominant due to its high contagion rates.
Although the mRNA vaccines were the first out of the gate, the technology remains finicky. Handling procedures make them difficult to distribute and the new technology is probably one factor behind vaccine resistance.  Much of their success was due to deft management; the companies involved tested their vaccines when infection rates were elevated, which gave them lots of test subjects, and emerging firms teamed up with established ones to ramp up production.  The Novavax (NVAX, USD, 189.89) vaccine is near the end of its clinical trials and should be available soon.  It has some distinct advantages.  Because it's based on an existing technology, its handling is less stringent.  The fears surrounding mRNA should not be part of this vaccine.  And, trial data so far suggest it is more effective than the mRNA vaccines.  Reports indicate that side effects are less, which has been a barrier for some low-income groups who fear missing work if they become ill from the injection.